This story will be updated throughout the day as new information is released.
Texas Motor Speedway will be a new vaccine site starting at 8 a.m. Tuesday in Denton County, officials said Friday.
The details are still being worked out and more information is expected to be released Monday, said a Texas Motor Speedway spokesperson.
Meanwhile, Collin County will also see two additional vaccine hubs and a large increase of doses, with an allocation of more than 42,000 next week.
The city of Dallas will receive more than 4,800 doses for the Kay Bailey Hutchison Center next week.
More than 520,000 doses of the COVID-19 vaccine will be distributed across the state starting Monday.
Thousands of vaccines headed to Collin County
Thousands of doses of the COVID-19 vaccine are headed to Collin County in the next few days, according to Collin County health officials.
Two more local vaccine hubs are also set to open soon.
The Department of State Health Services notified county health officials that 42,900 doses of vaccine will be sent to Collin County providers for next week. This is the single largest shipment sent to the county by the state since the vaccination program began in late December.
Officials with Baylor Scott & White Health have notified county officials that they will begin using the county list, too.
The city of Allen is operating a vaccine hub independent of the Collin County Vaccine Wait List. For more information about the City of Allen vaccine registration process, Collin County residents may visit the city website or call (214) 509-4333.
A total of six vaccine hubs, operating by appointment only, will be open in Collin County beginning next week:
Collin County Health Care Services (CCHCS), currently operating at Plano ISD's John Clark Stadium
City of Frisco, which will be operating next week at a site to be determined
City of Allen, currently operating at the Allen ISD football stadium
City of McKinney, currently operating at the McKinney ISD football stadium
Texas Health Resources, which will be operating at the Sam Johnson Recreation Center in Plano
Baylor Scott & White Health, currently operating at the BSW facility in Frisco
All six locations will be operating by appointment only. Collin County officials expect significant progress will be made on the waitlist next week. The county's list topped 200,000 registrations by Thursday morning.
Texas' DSHS advises that the vaccine will not be readily available for the general public until late spring or early summer 2021.
City of Dallas to receive 4,875 doses of the Pfizer vaccine next week
Dallas will receive 4,875 doses of the Pfizer vaccine next week from the state, the city said in a news release.
The vaccines will likely be distributed at the Kay Bailey Hutchison Center. People must be invited for the vaccine and make an appointment.
People who are registered with Dallas County Health and Human Services and who are eligible to receive the vaccine at this stage will be contacted by the City of Dallas to make an appointment at the convention center.
Residents with technological challenges can call 214-671-4456 for assistance. The City is working to address a high call volume at the number.
Dallas leaders urge the business community to help with vaccine registration
In a news conference Friday morning, Dallas leaders asked business owners and everyone in Dallas to help with registering others for the COVID-19 vaccine. Especially members of the Black and Latino community.
"We need all hands on deck. We need everyone. Our business community, city leaders, neighborhood leaders, local diners, and restaurants. We need everyone helping people register to get the vaccine," City Councilman Casey Thomas said.
Dr. Elba Garcia said unity is key while fighting COVID-19 and that the steps needed include getting people educated with reliable information, registered, and vaccinated.
"We have to make it known in our African American community that this vaccine is safe," Casey said.
Officials also stressed that the digital divide is more apparent than ever and that's why they're asking with vaccine outreach.
"There is a lack of registration from Hispanics. With the amount of Hispanics over 65 that are registered now, in about 2 or 3 weeks, the county will no longer be vaccinating any people in that group," Jenkins said.
City councilman David Blewett then called on Gov. Greg Abbott for more vaccine supply for the Dallas-area.
"The truth is the city of Dallas, the county of Dallas is the economic engine of the state of Texas, if not the nation. And we need more vaccines. We need more supply," he said.
How to register for the vaccine through Dallas County:
Call the registration hotline at 469-749-9900, Monday to Friday, 8 a.m. to 5 p.m. Registration assistance available in English and Spanish
Call City of Dallas librarians for assistance signing up by phone. Call your local library or the main library at 214-670-1400.
Beginning Feb. 4, Dallas County will extend phone registration hours and offer a new toll-free phone number for residents without internet access.
One day ago, Jenkins announced that a request has been submitted to have the Fair Park site considered as a federally-run COVID-19 mass vaccination site — a decision that could come by next month.
"We all share the same goal of getting this vaccine distributed as quickly as safely and effectively as possible," the judge said.
The Fair Park vaccination hub has distributed approximately 28,000 shots in its first 14 days of operation, according to Jenkins.
Dallas County adds more than 100 new deaths over past three days
Dallas County health officials reported 30 new deaths Friday. This comes after there were 37 deaths on Thursday and the county's record daily total 40 deaths on Wednesday.
The deaths range from a Dallas man in his 40s to a Dallas woman in her 90s. All but three of the 30 people had underlying high-risk health conditions.
Health officials added 1,809 new cases with 315 considered probable because they came from antigen tests.
There have now been 225,282 total cases since tracking began in March.
There are also currently 1,007 people hospitalized with COVID-19 in Dallas County hospitals.
The last time there were less than 1,000 hospitalizations was on Jan. 1.
Tarrant County reports 37 coronavirus-related deaths
The victims' ages ranged from being a Fort Worth boy between the age of 10 to 19 to Tarrant County residents in their 90s.
According to officials, all of the victims had underlying health conditions.
Officials said the confirmed death number is expected to be larger on Fridays because of death certificate information shared by the state health department.
Each week, data received from the state is compiled and reconciled against previously known deaths and where the person lived. This data is reported each Friday, Tarrant County officials said.
Tarrant County has reported 2,160 confirmed deaths since tracking began in March 2020.
Health officials also added 1,437 new cases, bringing the county total to 215,048 since tracking began in March.
There are currently 1,177 people hospitalized with COVID-19 in Tarrant County hospitals.
This is the first time since Dec. 25 the county's hospitalizations have been below 1,200.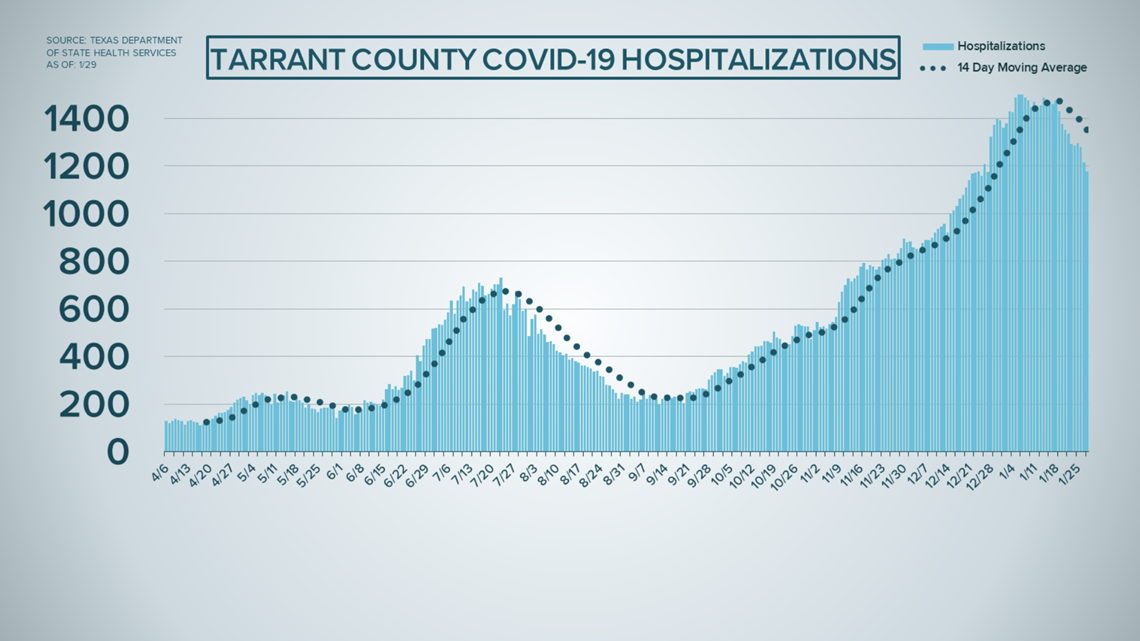 Denton County adds more than 600 cases for fifth straight day
Denton County Public Health announced 654 new COVID-19 cases Friday.
Health officials have now reported more than 600 cases each day the past five days. There have 53,248 total cases since tracking began in March.
There were five new reported COVID-19 deaths in the county, according to health officials.
a woman over 80 in Flower Mound
a female in her 60s from the unincorporated northeast Denton County
a male in his 60s from the unincorporated northeast Denton County
a male in his 60s in Justin
a female in her 70s in Justin
There are currently 191 people hospitalized with COVID-19 in Denton County hospitals, up from 171 from the day before.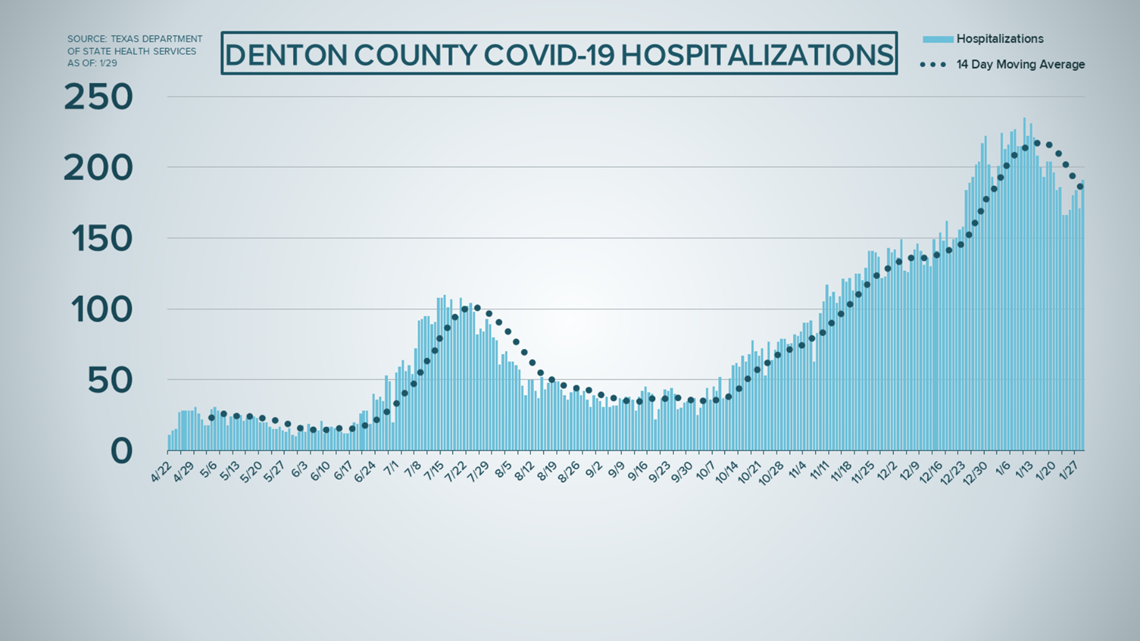 Collin County reports 496 hospitalizations
Collin County health officials reported there are currently 496 people hospitalized with COVID-19. This is the third time in the past four days this number has been below 500.
These COVID-19 patients currently make up 18% of the total hospital bed capacity in Collin County.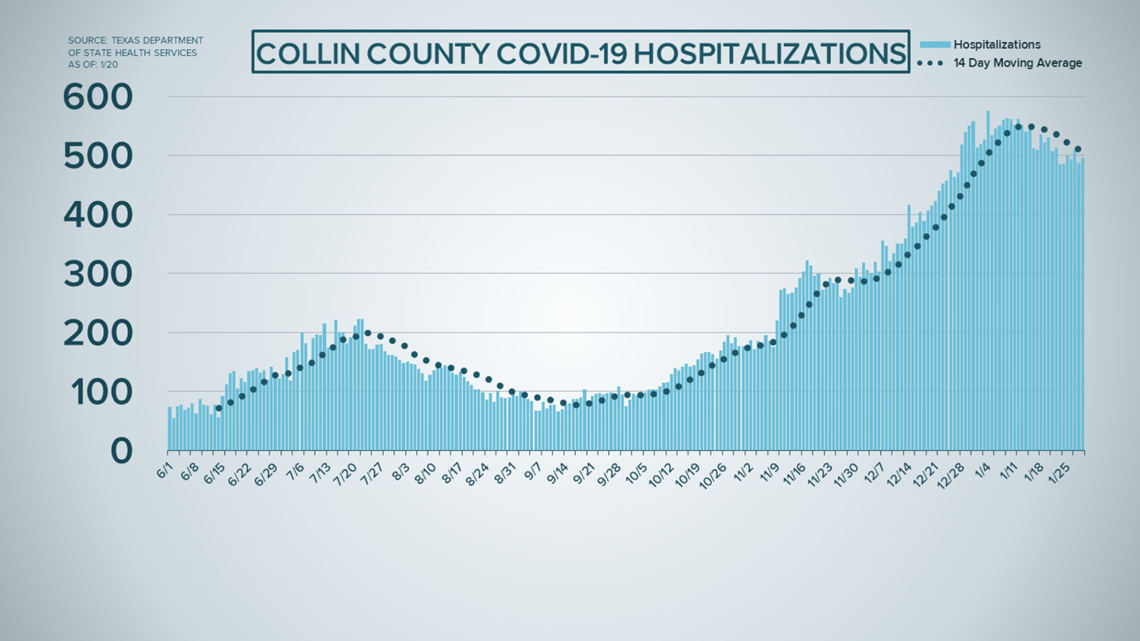 Texas marks 2 million vaccines during virus' deadliest month
Texas has now administered more than 2 million COVID-19 vaccinations, and the new Biden administration could help determine who's next in line.
Texas surpassed the milestone for doses Thursday while lurching toward the end of the state's deadliest month of the pandemic.
More than 1 in 5 of the 35,000 reported deaths have come in January. Texas moved away from federal vaccine guidelines in December and moved a broader population of older residents to the front of the line.
But Imelda Garcia, who chairs the state panel that recommends Texas vaccine prioritization, says the Biden administration may make some changes that they'll want to consider for the next phase.
Mineral Wells elementary school moves to online learning
Houston Elementary in Mineral Wells is temporarily going to online learning, according to Mineral Wells ISD superintendent John Kuhn.
Kuhn says there has recently been a spike in the number of COVID-19 cases and exposures among the staff. There has also been a shortage of available substitutes.
The school will go to remote learning for the week of Feb. 1 through Feb. 5.
Houston Elementary is in Palo Pinto County, which had 17 new cases Thursday.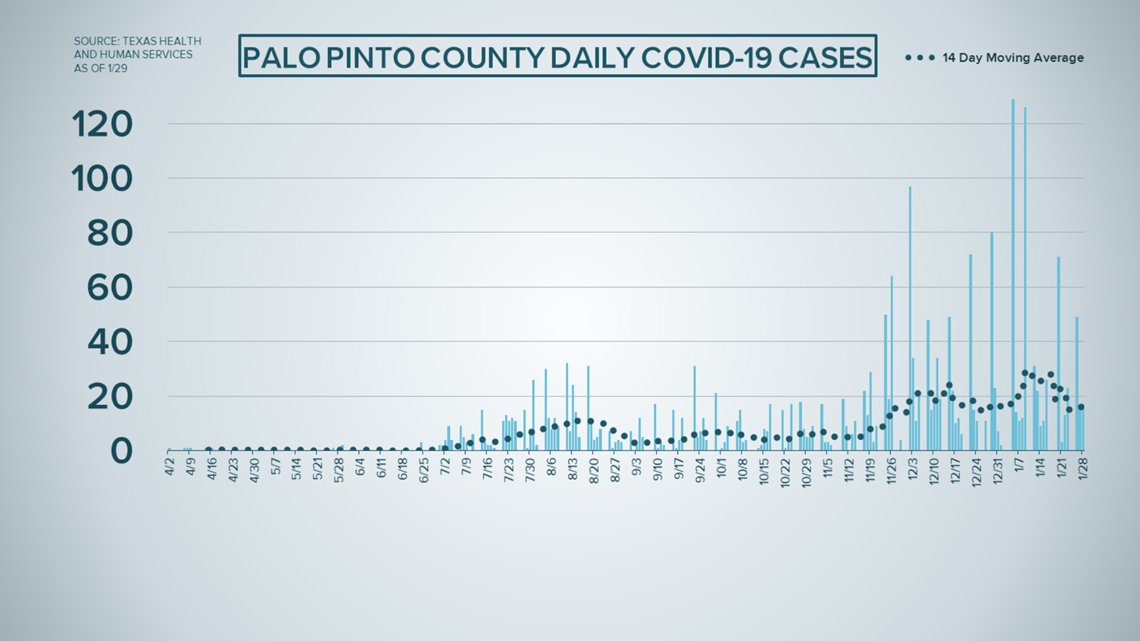 Texas child care centers hit 17th straight day with more than 100 new daily cases
There were 105 new cases of COVID-19 in Texas licensed child care centers, school-age programs, and before- or after-school programs Wednesday, according to the Texas Department of State Health Services. This includes both employees and children.
The record-high happened on Jan. 19 when the state reported 257 additional cases.
This is the 17th straight day when more than 100 new COVID-19 cases were reported.
The facilities that reported multiple cases Wednesday include:
Cypress Creek Childrens Montessori Frisco in Frisco (two children, one employee)
Kids Corral in Providence Village (two children)
Kids Corral at Savannah in Savannah (two children)
Pebblecreek Montessori in Plano (two employees)
The Family Place Child Development Center in Dallas (two employees)
Tadpole Learning Center in Lake Worth (two employees)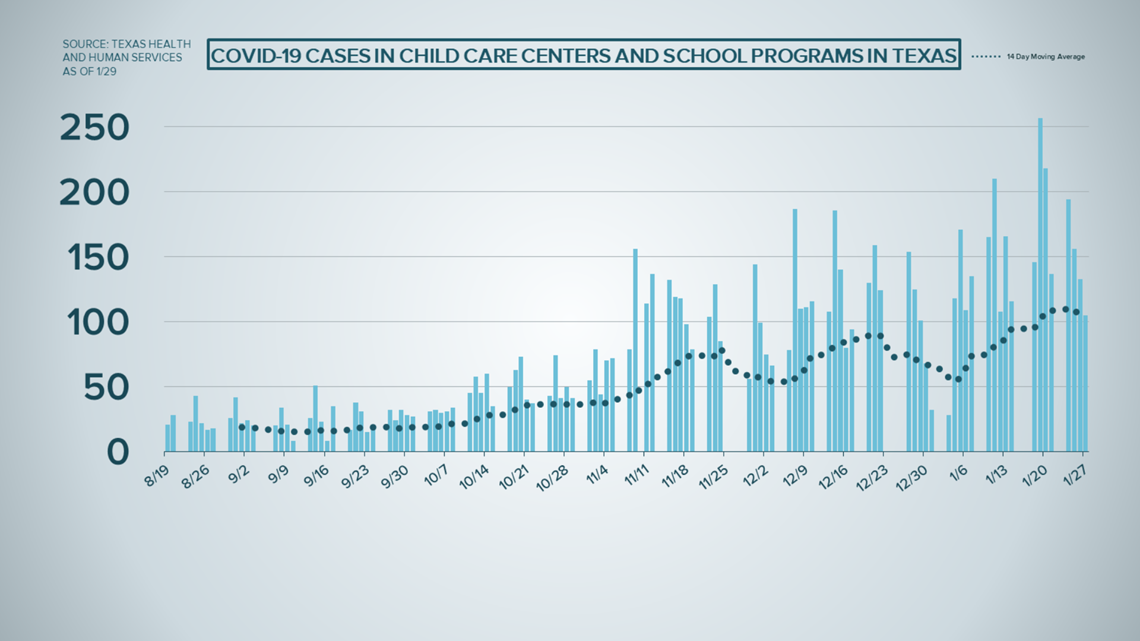 The Associated Press contributed to this report.