The forum began at 6:30 p.m. inside the ballroom at the Fort Worth Convention Center.
But the forum looked much different than previous ones because of the pandemic.
Still, that didn't quell the appetite of many who wanted to hear how each candidate would handle an increase in violent crime and cultural change within the department.
The six finalists are mainly from Texas, with one from Nevada:
Wendy Baimbridge, Houston PD Assistant Chief
Troy Gay, Austin PD Assistant Chief
Christopher C. Jones, Las Vegas Municipal Police Department Assistant Sheriff
Derick D. Miller, Carrollton Police Chief
Neil Noakes, FWPD Deputy Chief
Julie Swearingin, FWPD Assistant Chief
Miller is the only candidate that has actually led a department. He's been chief for Carrollton police since 2017.
In-person attendance was limited as fewer than 150 chairs were set up in the ballroom, usually holding more than 3,000 people.
City staff and family members of the candidates were also there, allowing for about 100 members of the public to attend.
"We did want a component to allow people to come in person if they'd like," Assistant City Manager Jay Chapa said. "Having some people in the audience helps the candidates actually feel like they're speaking to people there."
He added that people in attendance would also "get a little better perspective of [the finalists'] demeanor, how they command a room," he said.
The majority of people watched online; the forum was live-streamed on social media, FWTV, and the city's website.
Masks were mandatory for people who attended, and temperatures were taken at the door.
In recent weeks, the City had asked the public to submit questions for the candidates; Chapa said they received about 100.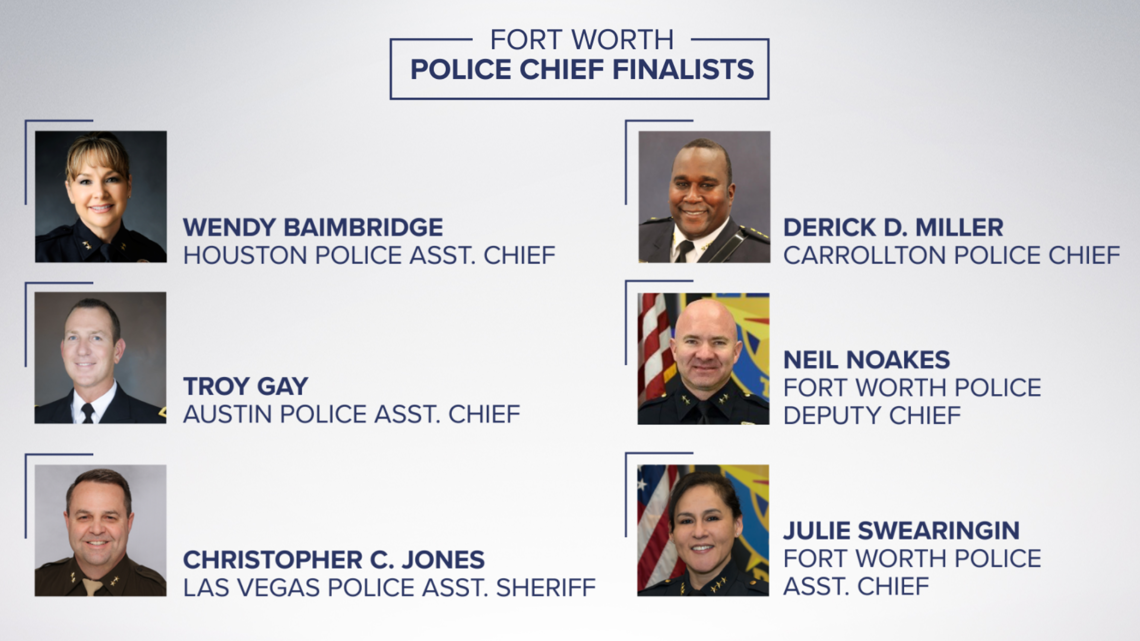 The two subjects that stood out the most revolved around reducing violent crime in the city and building trust with minority communities.
In 2020, Fort Worth saw more than 100 homicides, which was the most since 1995.
Each candidate had a nuanced answer when it came to tackling crime. It was a mixed bag of gathering intel on where to focus patrols, community policing and working with the city to reduce social issues that fueled crime.
However, those in attendance were more interested in cultural change.
The department has been criticized for not hiring more diversely (something each candidate agreed should happen) and for being connected to high-profile use of force incidents involving those in black and brown communities.
In 2019, the city fell underneath a national microscope when Atatiana Jefferson, 28, was shot in her own home by former officer Aaron Dean.
The call began as a welfare check after a neighbor saw Jefferson's door open.
She was inside babysitting a relative. However, Dean and another officer went around the house and into the backyard without announcing their presence.
When Jefferson came to a window to see who was in her yard, she was shot police body camera footage showed.
Chief Miller answered first when the topic of culture change came up. He is the only African-American being considered.
"We have to model the behavior that we want our officers to exhibit," Miller said.
"Procedures and structures need to be inside a police department so people can trust we're doing what we say we're doing," he continued talking about trust and accountability.
Fort Worth Police Department Deputy Chief Neil Noakes answered next. He was blunt with his answer.
"We're not going to arrest our way out of crime," Noakes said. "We need to show our communities our heart, commitment, and to do that we need to show up."
Julie Swearingin, Fort Worth Police Department assistant chief, suggested that cultural change starts in the police academy.
She shared that she's had community members impacted by policing come and talk with cadets about their experiences.
"There has to be a clear understanding of what our policies are, and what the consequences are," Swearingin said.
Wendy Baimbridge, Houston Police Department assistant chief, said that officers must focus on every interaction they're apart of if they're going to build trust with the people they serve.
"Culture change has to happen one interaction at a time. We need to go to them. They need to foster those relationships so we can build trust," Baimbridge said.
Austin Police Department Assistant Chief Troy Gay was the only candidate who tackled issues with race head-on with his answer.
"There needs to be zero tolerance for any forms of discrimination or harassment," Gay said. "We need to go groundwater analysis when it comes to the culture of an agency and we can't change that culture until we acknowledge that there is a problem."
Chris Jones, a Texan serving as assistant sheriff with the Las Vegas Municipal Police Department, harped on how his agency swiftly implemented suggestions from the Department of Justice to better relations and policing with the community.
Speaking from experience, he said the department must listen when there are issues facing it.
"We need to listen to the community and our critics. They will tell us when we're getting it wrong. We need to be sitting at the table with them," Jones said.
Each candidate also endorsed support for a civilian police oversight arm with Jones being the only one who mentioned subpoena power for that government body.
Chapa says City Manager David Cooke hopes to have the final candidate selected by the end of January; the city council needs to ratify the decision.