DALLAS — Make sure to wake up with Greg Fields on Daybreak and watch Pete Delkus on WFAA News at 10 before bed to get the latest.
Winter weather has returned to North Texas, with sleet and freezing rain a threat to cause issues on the roads on Wednesday and Thursday.
Scroll down for the latest updates from around North Texas as we move through the day.
Latest weather conditions
A Winter Storm Warning was issued for most of North Texas on Wednesday morning, including Dallas, Tarrant, Collin and Denton Counties.
This will be an ice and sleet event for us, not a snow event.
Accumulations of 0.10" to 0.20" of ice are possible between Wednesday and Thursday.
Latest forecast from WFAA meteorologist Pete Delkus:
ERCOT reports 'tight conditions'
ERCOT announced Wednesday it anticipates tight grid conditions in the evening through Friday, Feb. 25, due to inclement weather.
ERCOT says to make sure there's enough generation to sustain the demand during wintry conditions, it has requested that the Texas Commission on Environmental Quality (TCEQ) "exercise its enforcement discretion with respect to generator exceedances of TCEQ air permit limitations."
TCEQ's enforcement discretion will apply beginning at midnight tonight. Unless TCEQ provides notice otherwise, the period of enforcement discretion will continue until ERCOT issues a notice that it has ended.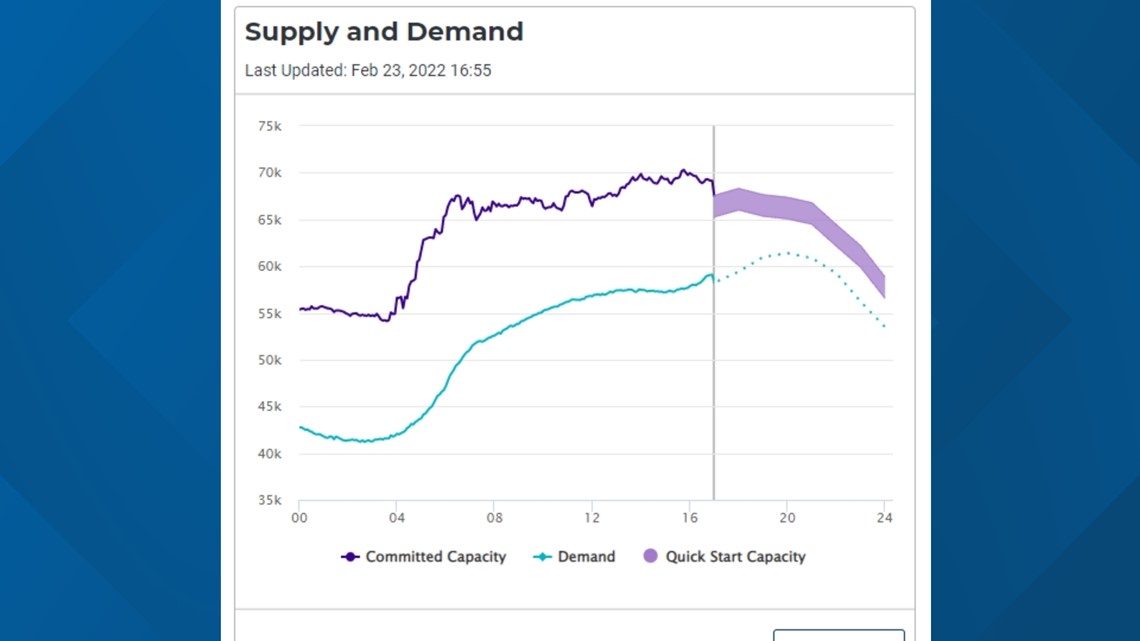 Evening road conditions
The City of Dallas reported around 4:30 p.m. that there were so many crashes that the city was experiencing a shortage of tow trucks. Dallas police didn't have an exact number on how many crashes it was working, but data provided by the city indicated that police responded to roughly 450 accidents between midnight to 5 p.m. on Wednesday. Police said most were minor. The department urged drivers to slow down.
Meanwhile, the city's public works crews began scouting road conditions at 6 a.m. They launched "ice force one" and began sanding at noon. They've sanded all DART routes once and will begin sanding all DART routes again around 5 or 6 p.m.
They are currently operating 45 sanding trucks, focusing on DART routes and critical infrastructure locations, like fire stations, DPD stations, hospital entrances and the medical district.
On the western side of the Metroplex, around 4:45 p.m., southbound lanes of I-35 were shut down, and all traffic was being diverted to 380, because of a seven-vehicle crash at the split, according to the City of Denton Fire Department. It was later reopened around 5:30 p.m.
Trinity Metro adjusts service
All Trinity Metro bus routes will run on a Saturday schedule on Thursday, Feb. 24.
All ZIPZONE services are ending at 6 p.m. Wednesday and will restart at 9 a.m. Thursday.
All normal Saturday bus services will operate as scheduled with the following exceptions:
There will be no service on Molly the Trolley.
There will be no service on The Dash.
Route 31/CentrePort Circulator will not operate.
Routes 23, 30, 111, Burnett Plaza Lunch Line, Express Routes 61, 63, 65, 66 & 67 do not operate on a Saturday schedule, so they will not operate Thursday.
TEXRail will operate on its regular schedule.
TRE will operate on a Saturday schedule.
ACCESS will be available for life-sustaining trips.
Polling locations close early and will be closed Thursday
Collin, Dallas and Denton counties said their polling locations will be closed Thursday. Tarrant said it will make a decision by 6 a.m. Thursday.
Polling places had also closed early on Wednesday throughout the area. In Denton County, all voting locations closed at noon. All polling locations in Collin County closed early at 2 p.m.
Tarrant County closed theirs at 5 p.m. Meanwhile, Dallas County elections office has a running list of early voting locations on their website that will either be closing early, or closed Friday because of the winter weather.
Latest school closings and delays
After most school districts had a normal schedule Wednesday, the closures for Thursday began to rack up.
Dallas ISD and Fort Worth ISD both announced that classes will be canceled on Thursday, as slick road conditions are expected to worsen overnight.
Other districts, including Carroll ISD, Coppell ISD, Richardson ISD and Garland ISD, also announced canceled classes Thursday.
Morning road conditions
Traffic was slow-moving, and several accidents were being reported across North Texas on Wednesday morning, including a crash involving 18-wheelers on Interstate 30 in west Fort Worth at Linkcrest Drive.
MedStar was also responding to a crash on the Interstate 35W overpass to Loop 820 westbound and requesting that the ramp be shut down.
Also in Tarrant County, the North Tollway Express Lanes along Interstate 35W were being shut down in both directions, and the toll roads along Texas 183 through the Mid Cities were also being closed, officials said.
Later Wednesday, officials planned to shut down all TEXpress lanes along LBJ Freeway.
U.S. 75 southbound was shut down in Allen at Stacy Road due to a crash involving an 18-wheeler. The highway remained closed in the southbound lanes at 8:30 a.m.
Grapevine police tweeted that bridges and overpasses in the city were "covered in ice," and that officers had already responded to four accidents along Texas 114 and Texas 121.
In Denton County, WFAA crews spotted black ice along the Interstate 35E bridge over Lewisville Lake.
Warming stations
Here are some warming station options for anyone who needs shelter in the cold weather this week:
McKinney Emergency Overnight Warming Station (MEOWS) – Salvation Army McKinney, 600 Wilson Creek Pkwy., McKinney, TX 75069 – 972-542-6694
Plano Overnight Warming Station (POWS) – Salvation Army Plano, 3528 E. 14th St. Plano, TX 75074 – 214-988-9434
Flight delays
The impact on flights was being felt by mid-morning, as Dallas-Fort Worth led the country in most delays and cancellations, according to Flight Aware's Misery Map. Over half of the flights into North Texas were either delayed or cancelled.
Crews have been able to keep the single runway open
Outbound planes are being de-iced
De-icing has been the protocol all day. This deicing location is at the south end of the runways in the west side of the airport. American Airlines telling us they have plenty of deicing supplies, but the pace is steady and time consuming.
All runways at DFW are open.
However, it can be difficult just getting to the airports. WFAA's crews passed plenty of accidents on icy freeway bridges between DFW and Love.
Check with your airline for the latest on your flight.
Check your flight status
DART suspends rail service
After altering rail and bus service for Wednesday, Dallas Area Rapid Transit said is is also suspended all rail service for Thursday with bus routes operating on a Sunday schedule. DART will provide shuttles between stations to help make up for the lack of rail service, as winter weather moves into North Texas.
Abbott orders storm preps
Gov. Greg Abbott late Tuesday ordered the Texas Division of Emergency Management to increase its readiness to "Level II," meaning an escalated response for expected winter weather across the state.
Starting 7 a.m. Wednesday, state agencies involved with the Texas Emergency Management Council will report to the State Operations Center at 7 a.m. to help with any winter weather response. The agencies include the Public Utility Commission of Texas, the Electric Reliability Council of Texas (ERCOT) and the Texas Department of Public Safety.
"The State of Texas is taking action to prepare our communities and equip first responders and local officials with necessary resources to respond and address severe winter weather in the coming days," Abbott said. "As we continue to monitor weather conditions, Texans are encouraged to heed the guidance of local officials and stay mindful of changing weather conditions to keep themselves and their loved ones safe."
Check back for more updates throughout the day