DALLAS — Updated at 10:54 p.m. Sunday, July 11 with more information.
Two people were hurt after gunfire broke out early Sunday morning in Deep Ellum, Dallas police said. A source told WFAA Sunday night the two people who were shot were preaching on the corner when they were hit by gunfire.
Officers responded around 2:40 a.m. to the scene at Crowdus Bar near the 2700 block of Elm Street. When they arrived, they determined that the shooting began near the intersection of Main Street and Crowdus Street.
Storefront windows were visibly shot out in the heart of the entertainment district.
Deep Ellum shooting at intersection of Main and Crowdus Streets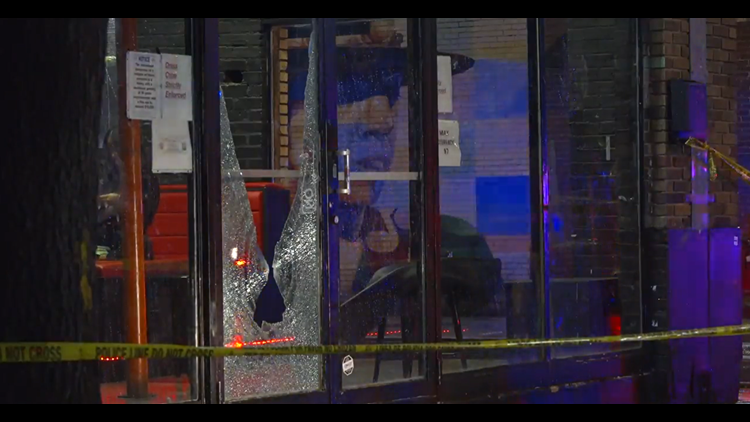 Both people who were shot are expected to survive their injuries, according to officials. They were stable as first responders took them to a local hospital for treatment.
The shooters fled the scene and police are investigating the incident, but say information is limited at this time. The search continued Sunday night, as more bullet holes were found on a bouncer's SUV and one business owner bemoaned the amount of violence in Deep Ellum.
"It's getting far too common is the biggest problem," Bucky Moonshine's owner Ivan Pugh said.
Pugh has cameras surrounding his business.
"It's a sickening feeling when you're watching news reports. It's going to hurt more and more businesses," Pugh said.
One employee was stacking beers, while others heard gunfire, and ran for cover. At first, they thought it was fireworks.
"There are a handful of people that come out here and want to create violence. But they're coming with the intention to cause violence," Pugh said.
Pugh wants more cameras across Deep Ellum.
"If they come to me for the cameras, then cameras seem to be effective. Then why not string up cameras for two blocks, on two different streets?" Pugh asked.
Pugh said he is terrified after the shooting and makes sure his employees are safe.
"I always have them leave in a group," Pugh said.
Many owners don't want a few bad apples to ruin the beauty of Deep Ellum.
"Deep Ellum is a fun place. It's creative, artistic, great bars," Pugh said.
The 2 victims are expected to make a full recovery.
Police said they will review surveillance video for evidence. Call Dallas police with anonymous information at 1-877-373-8477.