DALLAS — The Dallas-Fort Worth area ranks second among metropolitan areas nationwide experiencing a boom in new residential construction.
The study looked at more than 360 metropolitan areas in the country.
Houston and the Dallas-Fort Worth area are both among the top metros that issued the most building permits for residential units in 2019, according to the study.
The Houston area topped the list for the posting building permits issued for residential units in 2019. According to the data provided, 36,073 were issued this year.
The Dallas-area landed the No. 2 spot on the list with 34,523 building permits issued and Austin landed ranked no. 6, with 17,848 permits issued so far this year.
The study states the average metropolitan area issued 1,843 building permits, meaning North and Central Texas are pacing at a much faster rate than the national average.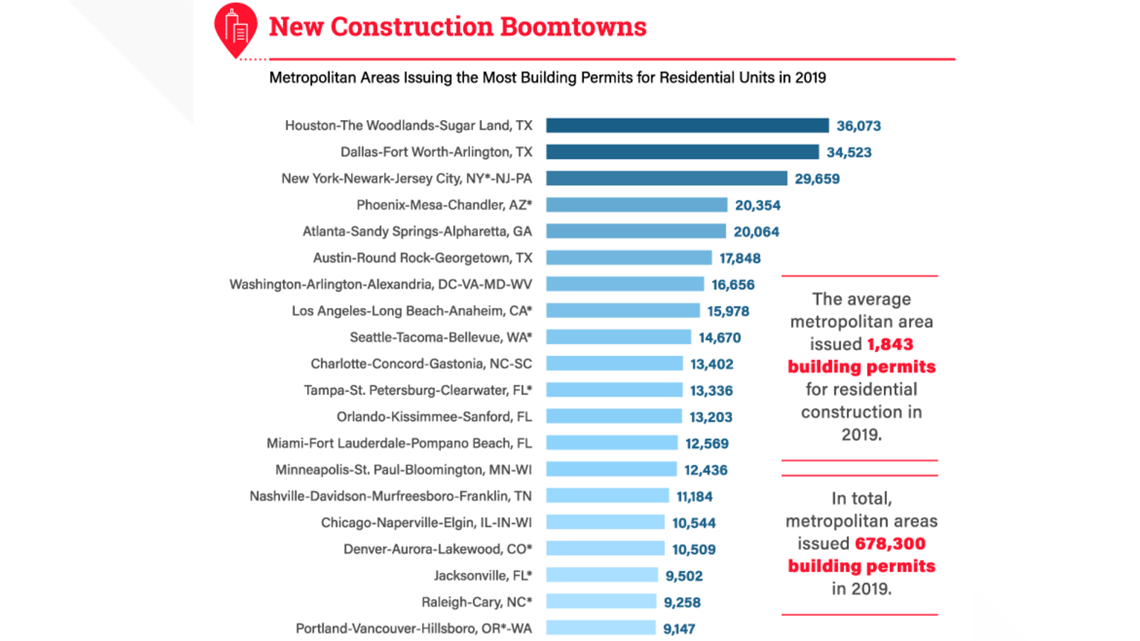 Experts say the spike in construction is likely because of job growth in Dallas-Fort Worth
Between August 2018 and August 2019, the area saw a 3.1% increase in employment, which is more than twice the national rate of 1.4%, according to the study.
In the past months, major companies such as Uber and Charles Schwab announced the opening of new headquarters in D-FW.
Apartment Guide states houses in the Texas area are affordable compared to the rest of the country.
According to the study, Brownsville-Harlingen, Texas, was the metropolitan area with the lowest value per new construction in 2019.
The averaged estimated value of a single-family home was $103,000, its nearest competition was Jacksonville, N.C., where the average value of new construction was $141,200, the data show.
Other cities that listed at a low construction value included Laredo, Midland, Corpus Christi, Killeen, Temple and Houston.
Apartment Guide accessed the data in August 2019. It was collected through a monthly and annual mail survey of building permit offices in metro areas throughout the U.S. For more information, click here.
More on WFAA: