DALLAS — 1980 and 2011 are the most miserable and memorable summers on record here in North Texas.
In the summer of 1980, we marked the hottest temperatures ever recorded at DFW Airport -- including a high of 113° -- and also set numerous daily high temperature records.
So, now that we've reached the halfway point in the summer of 2022, where does this year's summer stack up compared to those other milestone years?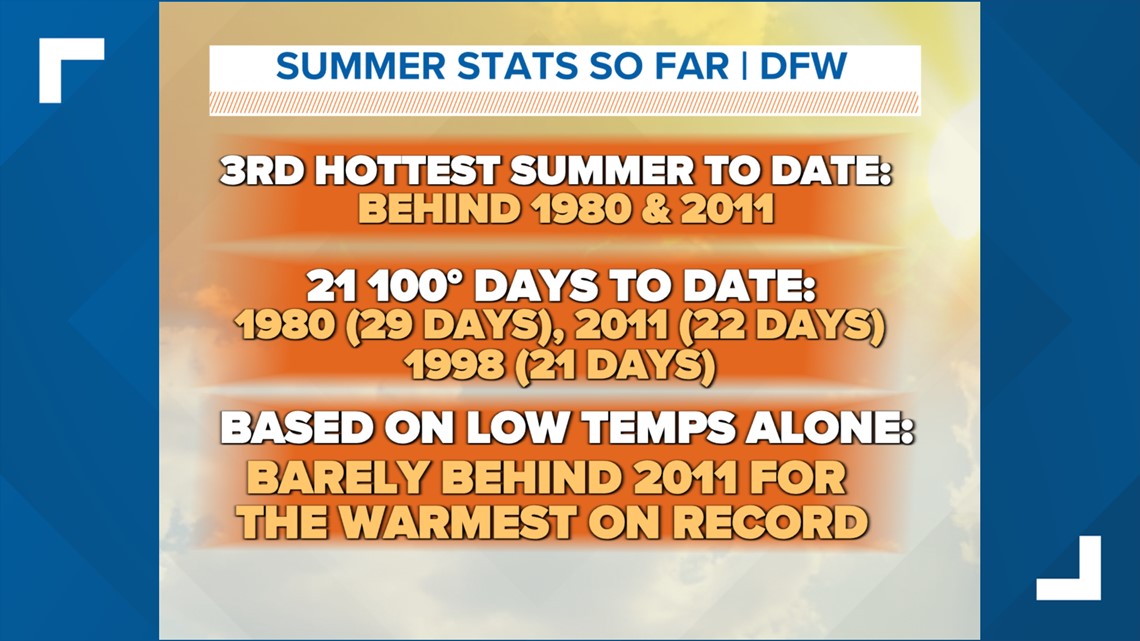 Average Temperature
The first thing we look at is average temperature.
Simply, you take the high and low from each day and get an average temperature for the day. Then you add up all of those temperatures and divide by how many days have passed.
I'm writing this article on the morning of July 17, so we'll use June 1st through July 16 for the dates we want to consider.
(Side note: Meteorological summer is the months of June, July and August, so July 15 or 16 is the mid-point in the summer.)
Average temps through July 16th:
This year is the third hottest summer to date, trailing 2011 by 0.6° at the moment.
(I've also included 1998 because that summer ended up being the 3rd hottest summer on record.)
Triple-digit days
Ah, the magical 100° mark. How does this year's first half of summer stack up to those others?
Number of 100° days through July 16th:
At this point in the summer, 1980 was ahead by mile. That year had already seen a week's worth more 100° heat compared to this point in 2011. Consider, though, that 2011 ended up being hotter later into the summer than 1980.
Still, there were also higher summer temps in 1980 than compared to 2011. That year had a three-day stretch of highs at 112°, 113° and 113° -- the single hottest temp ever recorded at DFW Airport.
At the time of this writing, 2022 is on pace with both 2011 and 1998.
Now, if you're wondering how many 100° days those summers ended up with in total, let's take a look there, too.
Number of 100° days all summer long:
2011 - 71 total 100° days
1980 - 69 total 100° days
1998 - 56 total 100° days
Morning Low Temps
It has been hard to cool off at night so far this summer.
That was also the case in 2011. At this point in the summer, the average morning low temp in 2011 was 77.4°.
So far, this year's average is 77.3° -- just barely behind 2011 by only 0.1°.
In case you're wondering, 1980's average morning temp at this point was 76.3°, which is the sixth warmest to date.
In my opinion, one of the driving factors behind 2011 and this summer being warmer in the mornings compared to 1980 is the Urban Heat Island Effect.
Tons more concrete, asphalt, buildings and what have you have been built around DFW Airport since 1980. Those surfaces trap more heat than bare ground, and they have a harder time cooling off at night.
This is why urban areas usually run warmer than surrounding, more rural areas.
While the nights were definitely warm in 1980, it's just harder to cool off nowadays thanks to all the urban development in the DFW area over the past 40 years.
So, what about the rest of the summer?
Unfortunately, I don't have a ton of good news here.
A major pattern change -- like a stronger "cold" front or widespread rain -- does not look likely to pop up anytime soon.
But there are a few things we can hope for!
A tropical system. We are officially in hurricane season. If a tropical depression, storm or hurricane can move into Texas -- and eventually North Texas -- this could bring us rain, cloud cover and cooler temps.
A weak cold front and some rain. We saw this recently. A weak "cold" front moved into North Texas bringing highs back down below 100° for a couple of days, along with scattered showers and storms to the area.
But, looking ahead to the rest of the summer, forecasts are calling for above-normal temps and below-normal rainfall. This means drought conditions will get worse, and our triple-digit count will only continue to increase.
While this summer may not end up being as hot as 1980 or 2011, I can definitely see it ending up in the top five hottest summers for our area, as well as ranking in the top five for number of triple-digit days.
Here's hoping a pattern change can arrive sooner than later!