As storms cross through North Texas, there have been at least seven high-water rescues reported in Fort Worth. Others have reported downed power lines, flooding and hail in various areas across DFW.
Storms are now out of North Texas and clouds will also begin to clear overnight. The storms left behind some serious rainfall totals. Parts of the Metroplex saw as much as 7" of rain in just a few hours! Sunday brings a much nicer day. It'll be mostly sunny with highs in the mid to upper 80s.
Severe threat is very low for most of North Texas, but will continue for another couple hours in eastern North Texas.
Severe threat has decreased for the DFW area, but lingering storms are possible into the early evening. General trend will be decreasing coverage the rest of the day. Severe storms are still possible for eastern North Texas through the evening. Damaging winds and large hail are the main threats, but can't rule out a few tornadoes.
Flooding will continue to be a concern in areas that see heavy rain.
A Tornado Warning has been issued for parts of Ellis and Navarro counties.
Texas Rangers game is now in a rain delay. However, widespread storms will clear to the east shortly.
Heavy rain continues to fall. A Flash Flood Warning has been issued for parts of Collin, Denton, Tarrant, and Dallas counties.
DFW Airport just recorded a wind gust of 62mph. Severe storms are packing a punch. Winds of 60-65mph possible along with very heavy rain and small hail.
Flash flooding is possible across portions of Tarrant and Denton counties. Streets and roads are flooded in places. Please do not try and drive into or through flooded roadways!!
12:45 p.m. Update:
Storms are starting to intensify a little bit over the DFW area. They are now becoming strong to severe at times. Hail up to quarter size and strong winds are possible with severe storms. Also heavy rain is causing flooding issues in parts of Denton and Tarrant counties. Do not drive into or through flooded roadways!
Chief Meteorologist Pete Delkus has an update on storms in North Texas.
Storms are about to arrive on the west sides of the DFW area. Here's an updated look at timing...
Storms are creeping closer to the DFW area, and are widespread across western North Texas. They are mainly not severe right now (just very heavy rain and lots of lightning), but will likely intensify as they move east especially heading into this afternoon.
A Tornado Watch has been issued until 5 p.m. for almost all of North Texas.
Since storms are a little slower than previously expected, the "enhanced risk" has been expanded to include all of North Texas. However, NOT EVERYONE WILL SEE SEVERE WEATHER. While storms are likely for pretty much everyone, not everyone will see severe storms. The potential for severe storms exists pretty much everywhere, so all of North Texas needs to stay weather aware the rest of today.
A Tornado Watch has been issued for western parts of North Texas. Does NOT include the DFW area. Storms are most likely in this area this morning. Main threat will be damaging winds, but can't rule out an isolated tornado so a Tornado Watch has been issued.
If I had to narrow down a window for highest chance at storms in the DFW area, I'd say from around 10 a.m. to 2 p.m. Storms from midday into the afternoon could be severe.

Storms today will have the potential to become severe. All types of severe weather will be possible especially from midday thru the afternoon. The more likely severe type will be damaging winds and large hail, but some tornadoes are possible as well. Just stay weather aware the rest of today!
STORMS ARE LIKELY TODAY, BUT NOT ALL-DAY
Storms are likely today, but it will not be an all-day rain event. Severe storms are possible, but not everyone will see severe storms. Keep checking back for updates, and stay weather-aware today!
Next chance for storms will be Monday into Tuesday. Potentially Monday night into Tuesday morning for most places.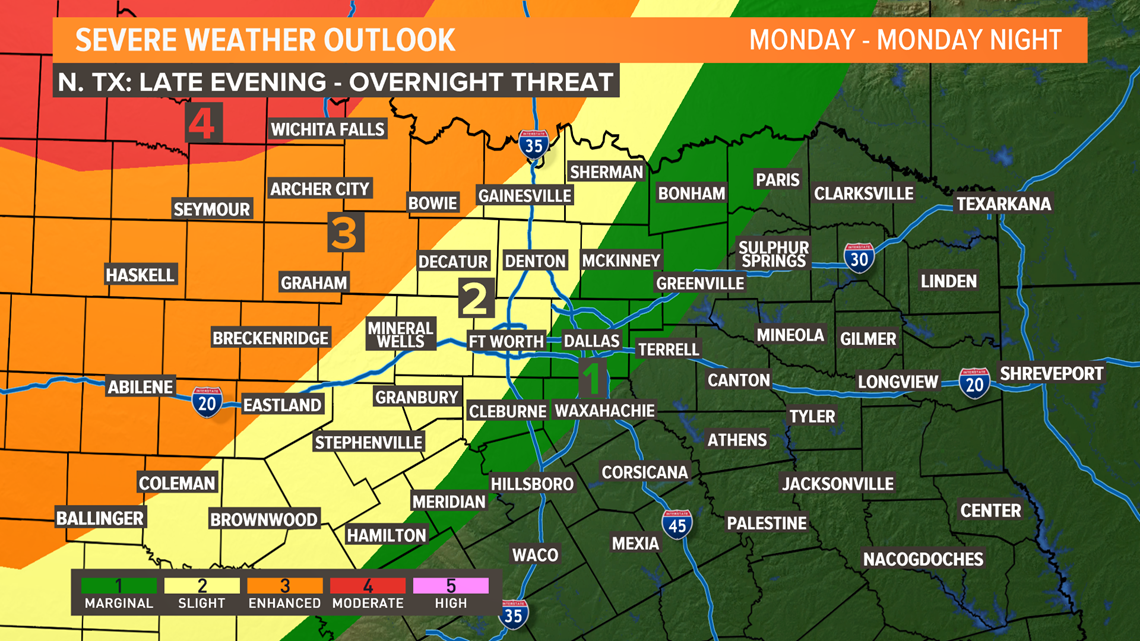 Strong to severe storms are possible across mainly western North Texas Monday evening into Monday night. Looks like a more significant severe weather event will take place for parts of the Texas Panhandle into western Oklahoma. Those storms will likely move west to east during the nighttime hours sweeping across North Texas. Given the timing, severe threat will be lower, but not zero compared to areas to the northwest of North Texas.
Severe threat on Tuesday will be lower, but not impossible since storms will be arriving mainly during the morning hours.
Since this round is a few days away, plenty of questions remain on timing, severe threat, and coverage.