DALLAS — Make sure to wake up with Greg Fields on Daybreak and watch Pete Delkus on WFAA News at 10 before bed to get the latest.
Winter weather continues throughout North Texas on Thursday, with icy conditions expected to create hazardous conditions on the roads.
Scroll down for the latest updates throughout the day.
Latest weather conditions
The Dallas-Fort Worth Metroplex and much of the North Texas area were under a winter storm warning until 6 p.m. It has since expired.
However, dangerous road conditions remain, as lingering precipitation will re-freeze on surfaces overnight.
Watch WFAA meteorologist Jesse Hawila's forecast:
Dallas ISD and Fort Worth ISD to delay classes Friday
Dallas ISD said it will operated on a two-hour delay for students and staff Friday, Feb. 25. Buses will also run on a two-hour delayed schedule.
The district said afternoon buses will run on its normal schedule after school is let out for the day.
The Fort Worth ISD said it will operate on a two-hour delay for students on Friday, Feb. 25. Buses will run on a two-hour delayed scheduled, as well.
Elementary schools will open at 9:50 a.m.
Middle schools will start at 11:15 a.m.
High schools will begin at 10:25 a.m.
Staff are being asked to report at the usual time, unless they are transportation employees, who should report two hours later than usual.
In addition to the delay, all non-UIL after school events on Friday are canceled, including the Fort Worth After School Program. The district said head coaches would update athletes about any change in schedule for games.
Meanwhile, DeSoto ISD, Everman ISD, Pilot Point ISD and Spring Creek Academy announced they would still be closed Friday, Feb. 25, due to inclement weather.
Krum ISD announced it would have a 2-hour delay
Mansfield ISD announced it would have a 2-hour delay
Northwest ISD announced it would have a 2-hour delay
TCU announced it would have a 2-hour delay
Weather ISD announced it would have a 2-hour delay
DART extends suspended rail, limited bus services through Friday
DART rail operations remain suspended and DART bus routes will operate on a Sunday schedule on Friday, from 5:00 a.m. - 9:00 p.m.
DART said it will continue to operate 14 shuttle bus routes between rail stations, and service will be available every 45 minutes. However, DART said delays would be possible until temperatures get above freezing.
DART operations teams are working to complete inspections and make any necessary repairs to the light rail right-of-way. The goal is to return to regular service on Saturday morning. Final determination of the service schedule will be confirmed Friday afternoon.
Meanwhile, the Trinity Railway Express (TRE) will operate regular weekday service.
Airport delays
The roads weren't the only place where travel delays were happening Thursday. Lines at DFW Airport were piling up as passengers dealt with delays and weather-related cancellations for the last two days.
DFW still topped Flight Aware's "Misery Map" with nearly 3/4 of flights delayed or cancelled. As of early afternoon Thursday, there had been 112 delays and 1,122 cancellations at DFW.
At Love Field, which operates many fewer daily flights, there were 41 delays and 202 cancellations.
Officer OK after I-35W crash
A Northlake police officer had to be rescued after a crash involving an 18-wheeler on Interstate 35W near Texas Motor Speedway.
The officer was able to walk away with a bloody nose but no other reported injuries, according to the Fort Worth Fire Department, which helped respond to the crash.
It wasn't immediately clear if weather played a role in the crash, but roads were icy and slick across North Texas.
Firefighters said the 18-wheeler jacknifed after trying to avoid, or getting hit by, a speeding vehicle. The 18-wheeler landed on top of the officer's vehicle and he had to be cut out of his vehicle, officials said.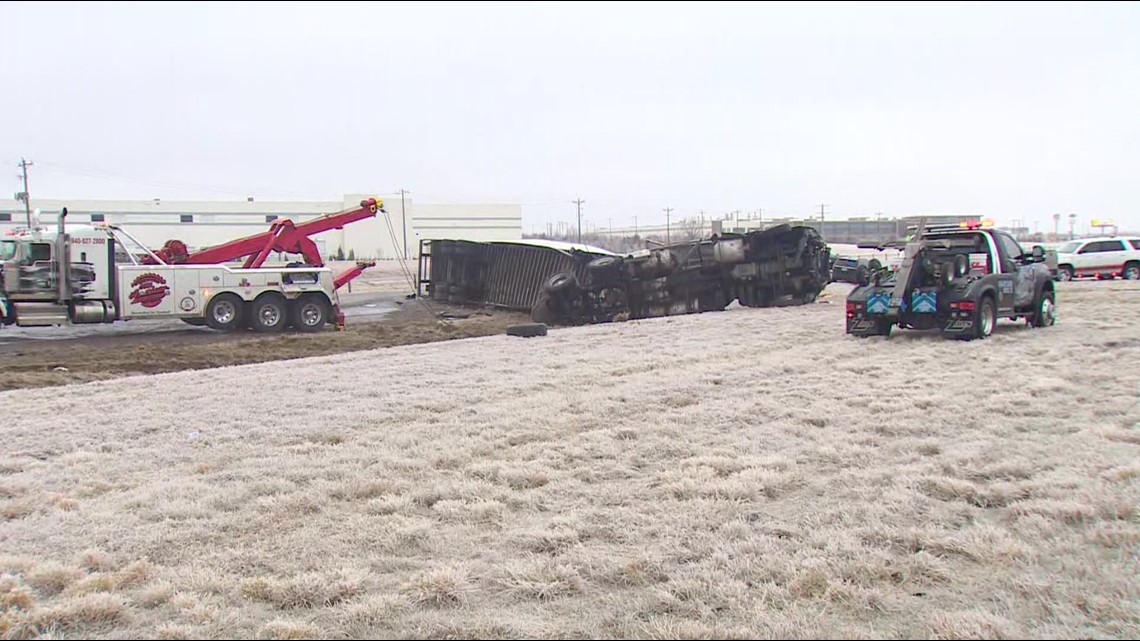 Current road conditions
With ice comes traffic issues. If you have to be out on the roads Thursday, make sure to check conditions and give yourself plenty of time.
Slow-moving traffic and hundreds of accidents were reported on Wednesday throughout North Texas due to slick roads. And that was expected to be the case on Thursday morning.
In Keller, officials reported seeing cobblestone ice on the roads. Cobblestone ice, which wreaked havoc on North Texas roads in 2013, is when we see partial melting and refreezing of ice and get rock-hard formations on the roadway.
Here's what our reporters were seeing on the roads early Thursday morning:
In downtown Dallas, WFAA's crew saw cars struggle to get up the I-30/I-35 mixmaster bridge as the icy surface made it difficult to gain traction.
ERCOT reports 'tight conditions' but grid OK
ERCOT announced Wednesday that it anticipated tight grid conditions through Friday, Feb. 25, due to inclement weather.
While ERCOT's projections had the demand nearing the supply around 8 a.m. Thursday, enough of a margin remained through the early morning to keep the grid in good operating condition.
ERCOT says to make sure there's enough generation to sustain the demand during wintry conditions, it had requested that the Texas Commission on Environmental Quality (TCEQ) "exercise its enforcement discretion with respect to generator exceedances of TCEQ air permit limitations."
TCEQ's enforcement discretion will apply beginning at midnight tonight. Unless TCEQ provides notice otherwise, the period of enforcement discretion will continue until ERCOT issues a notice that it has ended.
On Thursday morning around 7 a.m., there were about 1,200 Oncor customers without power in North Texas but no widespread outages had been reported.
Many polling locations closed Thursday
Early voting for the March 1 primary elections ends Friday, Feb. 25. But many polling locations will be closed on Thursday to keep poll workers and residents safe and off the roads, according to officials.