ALLEN, Texas — As this story continues to develop, we will update as more information becomes available.
Nine people died, including the suspect, in a shooting at an outlet mall in Allen, Texas, on Saturday, May 6, and President Joe Biden confirmed the victims who were killed included children, though he did not specify how many.
The victims' names have not been released at this time. The Texas Department of Public Safety, which is investigating the shooting, identified the suspect as 33-year-old Mauricio Garcia.
Investigators provided no further public comment on Sunday.
Several law enforcement agencies responded to the mass shooting at the Allen Premium Outlets on Saturday.
Allen Fire Chief Jonathan Boyd confirmed in a news conference Saturday night that nine people died, including the shooter.
Biden's statement said the suspect was "in tactical gear armed with an AR-15 style assault weapon" as he shot people at the Allen Premium Outlets mall.
"Eight Americans — including children — were killed yesterday in the latest act of gun violence to devastate our nation," Biden said. "Jill and I are praying for their families and for others critically injured, and we are grateful to the first responders who acted quickly and courageously to save lives."
Those who were at the mall at the time of the shooting began retrieving their vehicles through law enforcement on Sunday night. People were told not to go directly to the mall.
Vehicle retrieval continues Monday morning at 10 a.m. at Edge Skate Park at 201 St. Mary Drive. This service will end at 2 p.m.
The outlet mall remains closed.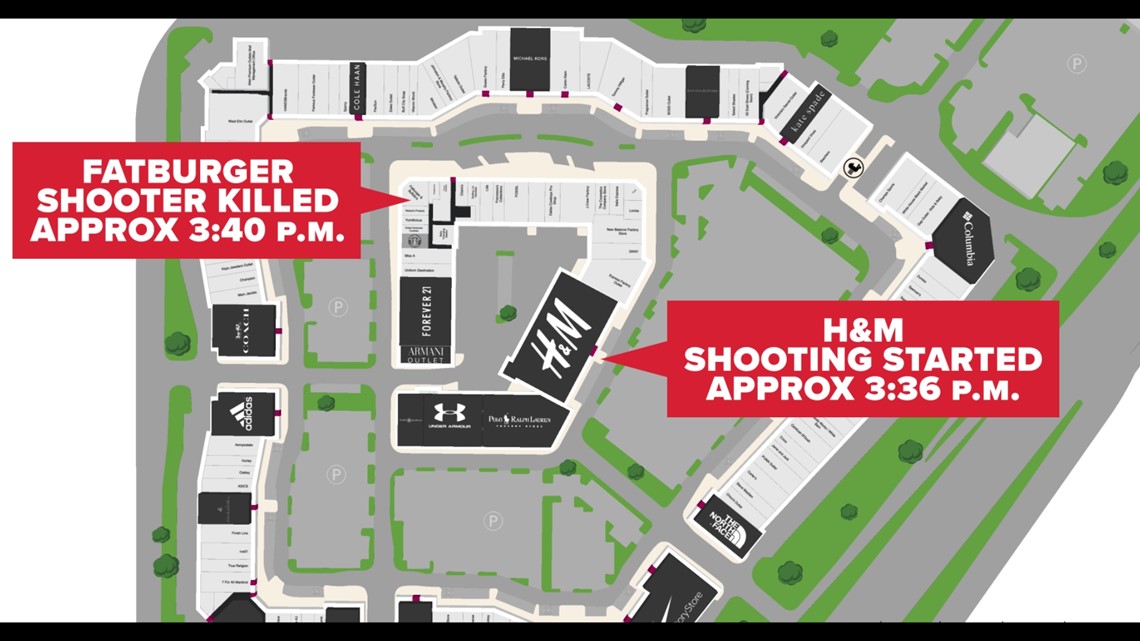 Sources said FBI agents have been looking into two locations in the shooting investigation: the Dallas home where Garcia lived with his parents, and an extended-stay hotel where he was staying recently.
A search warrant obtained exclusively by WFAA stated that Garcia's driver's license listed his current address as a Budget Suites of America in Dallas, which is an extended-stay hotel. Employees at the hotel confirmed he had been renting a room there, according to the warrant.
The search warrant for Garcia's hotel room was obtained as police stated they believed it could contain additional evidence.
Medical City Healthcare told WFAA that they were treating eight of the shooting victims ranging from 5 to 61 years old. It is unclear which of those victims are deceased.
In a Sunday update, MCH said most of their patients were first sent to a Level II Trauma Center in McKinney.
Four patients are still getting treatment at the McKinney location. Three of them are said to be in critical condition, according to MCH.
Another person was sent to Medical City Plano. The MCH official said the patient is expected to recover.
One other patient is at the Medical City Children's Hospital in fair condition.
There is no information for the other two patients.
"Our thoughts and prayers are with the first responders, victims, their loved ones, and the North Texas community during this tragic event," the facility said.
What happened
According to officials, the shooting occurred at about 3:36 p.m. at Allen Premium Outlets, 820 W. Stacy Road.
Witnesses told WFAA they saw the shooter, who was reportedly dressed in all black, near the location of the Fatburger restaurant in the mall complex. Witnesses also described seeing the shooting begin in front of the H&M store at the outlet mall.
H&M officials on Sunday morning said they were "extremely saddened about the events that occurred at the Allen Premium Outlets in Allen."
All H&M employees were safe and accounted for, the company said.
The Allen Police Department confirmed that an officer who was responding to an unrelated incident in the area heard the gunshots and ran toward them. The department said that officer "neutralized" the shooter and called for emergency personnel.
"He heard gunshots, located the gunshots, located the shooter, neutralized the shooter, neutralized the threat," Allen police Chief Brian Harvey said. "We believe at this point the shooter acted alone."
The city of Allen issued a public safety alert warning residents to stay away from the area of the outlet mall. The city reunification point has been created on Chelsea Boulevard.
Congressman Keith Self for Texas' 3rd congressional district, which includes Collin County, shared his thought's during Saturday night's press conference.
"First and foremost we need to keep the families of this tragedy in our prayer. We owe a debt of gratitude to first responders who ran toward gunfire... and acted swiftly to neutralize the threat," said Self.
Texas state Rep. Jeff Leach, whose family lives in Allen, also responded to the scene to offer his support.
"This community is home for us, and our hearts are devastated," he said.
At this time, police have not released the name of the male suspect, but believe he acted alone. They are asking anyone who witnessed this shooting or have information concerning this crime to call them at 1-800-CALL-FBI (1-800-225-5324).
US officials, Texas state leaders react
Gov. Greg Abbott issued a statement following the shooting, saying in part, "Our hearts are with the people of Allen, Texas tonight during this unspeakable tragedy."
Abbott said he's in contact with city of Allen Mayor Ken Fulk, DPS Director Steven C. McCraw, North Texas law enforcement and city officials "to ensure all needed assistance and resources are swiftly deployed, including DPS officers, Texas Rangers and investigative resources."
U.S. Rep. Self also issued a statement on his social pages.
In a tweet, Self said, "We are devastated by the tragic news of the shootings that took place at the Allen Premium Outlets today. Our prayers are with the victims and their families and all law enforcement on the scene."
State Rep. Leach said he was working with local law enforcement with any resources they may need.
"I am thankful for the Allen Police Department, the Collin County Sheriff's Office, Texas DPS – and all of our law enforcement agencies – for responding heroically, swiftly and for taking immediate action. I will continue to monitor the situation and keep you apprised of information as I receive it," said Leach in a statement where he offered prayers to the victims and those affected.