DALLAS — At least 16 women were found at a northwest Dallas massage parlor Wednesday during a sex-trafficking raid, WFAA has learned, and four people have been arrested on charges of aggravated promotion of prostitution.
Pornthipa Khan, 54; Steven Eix, 53; Josip Maric, 42; and Yenrudee Anuson, 44, have been taken into custody in the case.
Eix was arrested in Lewisville, while Maric and Anuson were arrested in Commerce, northeast of Dallas. Khan was arrested in Honolulu, Hawaii.
The four suspects were "directly responsible for the illicit massage businesses" involved in the sting, according to a police news release.
One of the suspects, Josip Maric, was an assistant basketball coach at Texas A&M University-Commerce but was fired from the position after his arrest Wednesday, the university confirmed. Maric previously coached at UNT, Illinois State and Angelo State. He had been at A&M-Commerce for less than two years.
The women found at the northwest Dallas massage parlor were inside a warehouse-type building in the 11000 block of Emerald Street, an industrial area near Stemmons Freeway and Royal Lane. The parlor was operating under the name Passion.
The women were put on buses and taken to a safe location, Dallas police sources told WFAA.
The City of Dallas on Wednesday also filed a lawsuit against New York Co., the owners of Passion and the other two massage parlors involved in the sting, Jasmine and Blue Star/Charming.
The three businesses are located at the same commercial building, and the lawsuit alleged that "all three [massage parlors] have a reputation as places where people go to engage in prostitution and unlicensed massages from multiple women, who appear to be living inside" the building.
The lawsuit also included pictures from inside the businesses. Photos from inside Passion showed mattresses and bedding on the floor inside, along with purses, makeup accessories and clothes.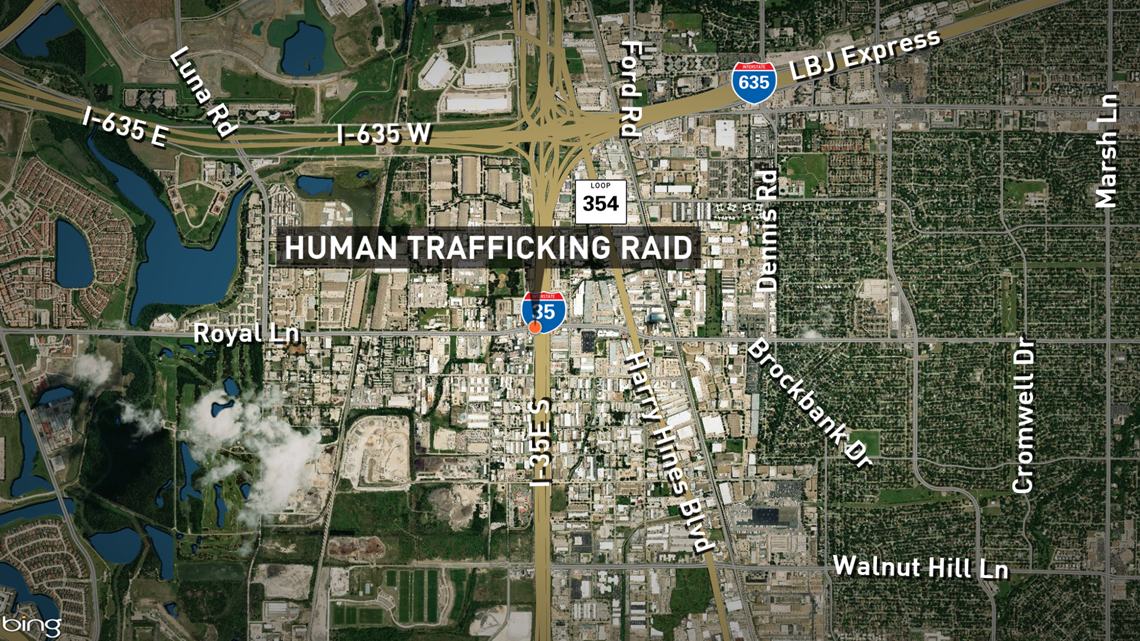 The operation was one of the first conducted by the recently resurrected Dallas police vice unit.
For a year, those crimes were handled by narcotics and patrol officers after Chief Renee Hall disbanded the vice unit in November of 2017 over "numerous policy violations," according to the memo.
Investigators looking into accusations made against the former vice officers found no crimes were committed. An internal investigation found only minor violations.
Residents in northwest Dallas have complained about a growing prostitution problem since the unit was disbanded.