WAXAHACHIE, Texas — Jo Bhore still has a large map of the Superconducting Super Collider, or SSC, along with a workbag of memorabilia — including old newspaper clippings, a work ID and a 485-page book on why it failed — all stored away like old baseball cards. It's been 30 years, but he doesn't like to look at them.
"I kept these old files," Bhore said. "I don't know why, but I did."
Bhore was one of the world's leading tunneling experts when he was picked as construction manager for the SSC's above-ground buildings and 54-mile tunnel.
"[These files] have wonderful memories of what we did, how we did it, and then the letdown," Bhore said. "You know, this is the biggest project I ever built, and I'd given up a lot for it."
'We were going to be creating energy by smashing atoms'
The SSC is described by those who worked on it as one of the world's most ambitious scientific projects. It was fully designed and partially built, but most outside of North Texas and even many here today have never heard of it.
The SSC started as just an idea among scientists in the 1970s to improve the study of particle physics. By 1983, the U.S. Department of Energy recommended building the project and assigned a design group to draw up plans. In 1987, President Ronald Reagan approved the 54-mile super collider that would have been three times larger than the largest collider in existence today.
Physicist Roy Schwitters left a professorship at Harvard when he was assigned to oversee the project as laboratory director in 1989.
"It was a really important experience," Schwitters said. "It was a great opportunity and I still consider it a tragedy."
Schwitters says he still has a handful of keepsakes, but the most meaningful photo he kept depicts two workmen in hardhats staring up at a 200-foot shaft leading down to the tunnel surrounding them.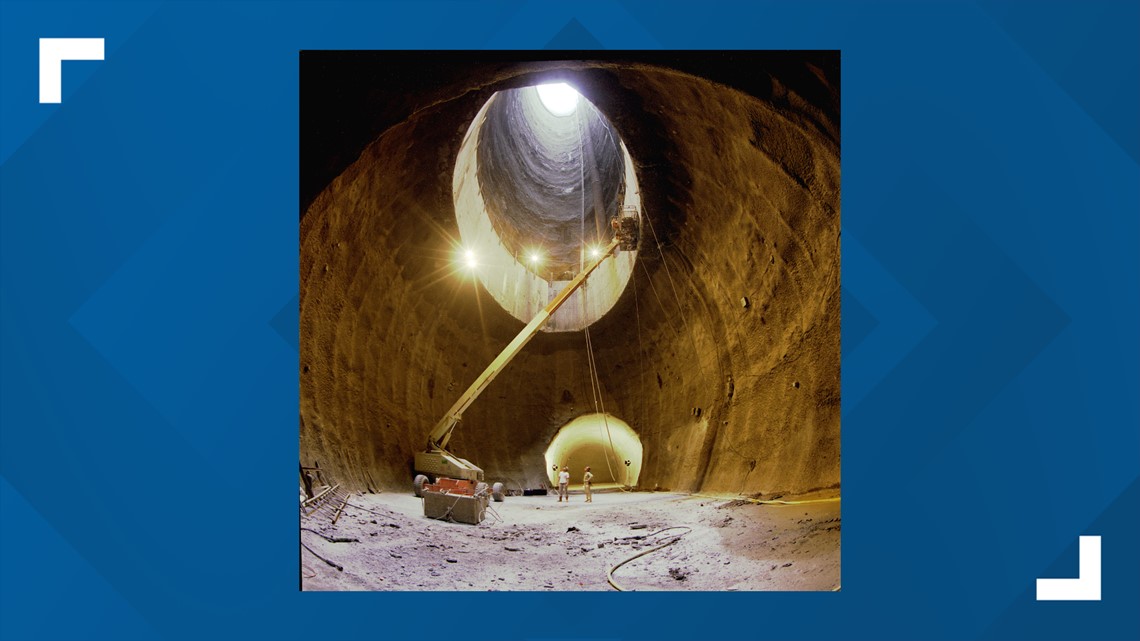 He was also on the site selection committee for the project that nearly every state in the country applied for, with 43 total proposals submitted.
Edwin Farrar was on Waxahachie's city council from 1981-1985 and helped put together Ellis County's proposal to lure the project and its 8,000 jobs.
"It really was a dream project," he said. "It's something that would really elevate our educational system."
Ellis County Judge Todd Little was just 18 when the project got approved in 1987.
"I think it would have absolutely put us into a different trajectory," he said. "I think that scientists would have poured into this region from all over the world. I mean, we were going to be creating energy by smashing atoms, and there's no telling what technology would have actually come off of that."
Ellis County was selected to be the home of the project in November of 1988, primarily because it sits on top of Austin Chalk, a bed of limestone perfect for tunneling and was just 30 miles south of the airports and major resources of the Dallas-Fort Worth metroplex.
"There's no question in my mind that the that the Waxahachie site was head and shoulders above all the others," Schwitters said.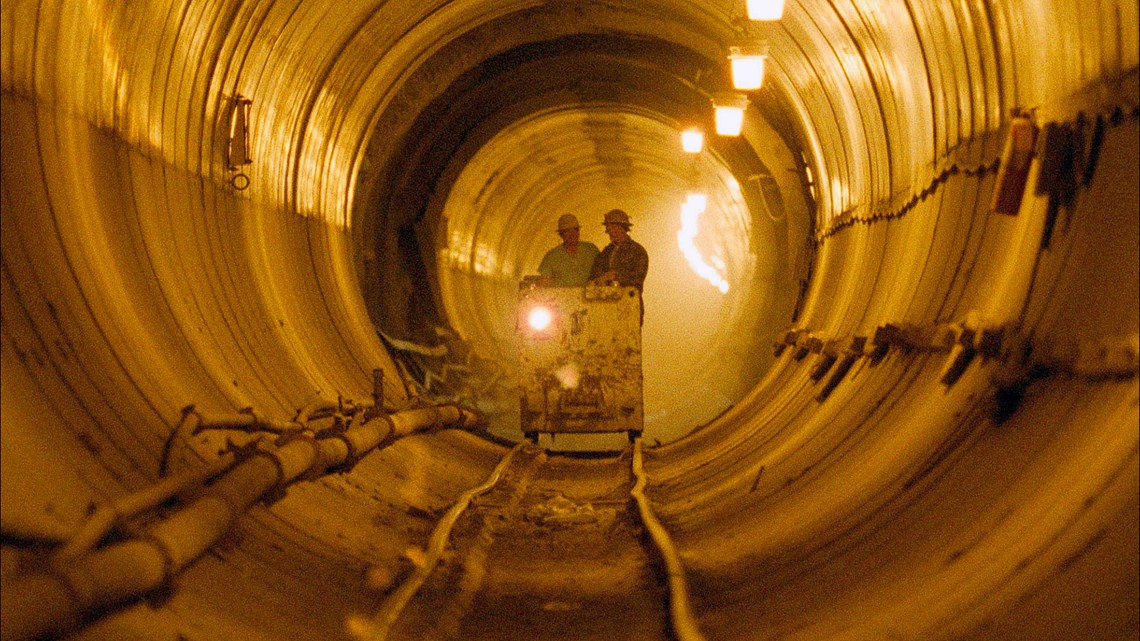 "I remember a lot of people didn't even know how to pronounce [Waxahachie] because they weren't from here," Little joked.
The irony of the project's massive scale is its goal was to study the tiniest particles in the universe and suggested there would be practical uses improving medicine, computers, and more.
The super collider would squirt hydrogen gas into a chamber and then use magnets and electricity to separate and spin part of an atom called protons around the 54-mile tube close to the speed of light. When the protons crash into each other, scientists study reactions that haven't happened since the Big Bang.
"I can't say this as terribly imaginative, but we basically smash the hell out of them and see what they're made out of," Schwitters said. "These big detectors had capabilities for seeing lots of different kinds of particles and assembling them together."
Billions of dollars and miles of tunnels
The initial cost estimate was $3 billion, but it was approved at a time when being first mattered more than the price tag.
"The Superconducting Super Collider is that doorway to the new world of quantum change," Reagan said in a speech at the White House at the time. "The United States must maintain the leading edge in science and technology."
The price quickly increased, though. Schwitters says the design group left out important parts of the project, assuming it would likely end up at Fermilab in Chicago. On top of that, a 1-centimeter change to the aperture of the collider's tube increased costs by $1 billion.
"That lowballing of the costs in that first design may have been a fatal flaw from the get-go," he said.
Construction above ground started in 1991 and the tunnel work began in 1993. Bhore takes pride in how crews worked 24/7 with five tunneling machines.
"This would've been the world's largest underground project," Bhore said. "We set world records in tunneling on this job."
Machines dug 16 miles of the project that would've been twice as large as the Chunnel and 10 miles bigger than Dallas's Loop 12.
"I mean, you had to drive 2.6 miles of tunnel, and within 1/4 of an inch of tolerance. Hadn't been done before," Bhore said.
To help with costs, President George H.W. Bush took a trip to Japan in 1992 with the goal of getting a $1 billion commitment on the project. The plan, Schwitters recalls, was originally to take the trip in December of 1991 and mark 50 years since Peral Harbor. Instead, the trip happened in 1992, and Bush became sick at a state dinner and vomited into Prime Minister Kiichi Miyazawa's lap.

Schwitters believes it wasn't Bush's illness, but his attack on Japan's auto industry that killed the help.
"There's a lot more going on there under the surface that has not been documented properly," he said. "Bush's sickness was, of course, an embarrassment, but the real message was that Japan-bashing on the automobile industry."
By 1992, the cost had gone from $3 billion to $10 billion, and the Texan president had lost the election.
"Bill Clinton came on and didn't support it," Schwitters said. "Period, it was just that. I mean, Bush supported it and Clinton didn't."
With a focus on budget cuts, the super collider was an easy target. Even the space program was nearly axed.
"There were a lot of freshmen congressmen that went to Washington at that time knowing absolutely nothing about a super collider," Farrar said.
Bhore says he swore as he watched the hearings. He blames scientists on the project for not knowing how to lobby.
"You should be begging them, explaining to them what the benefits beyond the scientific experiment is," he said. "I think the world of Schwitters. He's a friend of mine. I think we missed the boat when we try to explain the project."
Schwitters says government reports took cheap shots at the project, like attacking the $21,000 spent on buying and watering plants in the buildings.
"Our lab was a two-acre building under one roof, and guess what? We put some potted plants in it," Schwitters said. "Those were all just cheap shots."
In October of 1993, with $2 billion already spent, 20% of the work finished and 2,000 people still working on the project, Congress finally killed the SSC.
"My biggest concern was that Waxahachie itself would just fold up when it left," Farrar said. "We were just devastated because we'd really given it a big part of our lives."
Bhore kept digging until the last dollar ran out in 1994, hoping something would change.
"To me, it's very, very, very simple. It's strictly politics," he said. "How could they cancel a project like this? It's the first and only one in the whole world."
Giant photo boards of work at the site were tossed in dumpsters by scientists and engineers leaving town. The Ellis County Museum tucked them in an upstairs storage area away from any exhibits.
While many on the project left, some, including Bhore, stayed. It would be four years, though, before he could bring himself to visit the site again.
"I actually had to go see a doctor. You know, I hate to admit it," he said. "I don't want to think about it. It comes up quite often, and I have to blank it out of my mind because it persists. I keep thinking about it. What could have been?"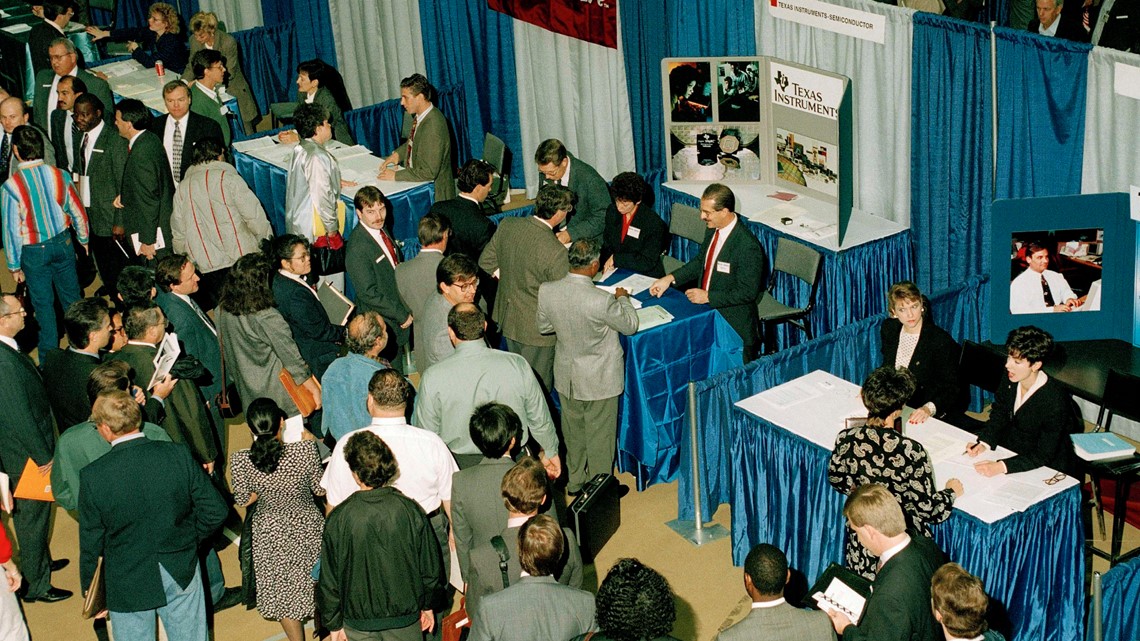 'An opportunity lost,' 'A feeling of sadness'
The tunnels are now flooded with water. The shafts are capped, and the buildings now house a chemical manufacturer.
"What comes to my mind is opportunity lost," County Judge Todd Little said. "What most people were expecting is that for the first time we were going to be on the map of a major scientific project, and it was going to be world-renowned."
Five thousand miles away, Switzerland's Large Hadron Collider at CERN was eventually completed after a decade of work in 2008 and is responsible for multiple Nobel Prizes, including the discovery of the Higgs boson, often called the "God particle."
"It would have come on and found the Higgs particle 10 years before CERN," Schwitters said of the SSC. "I mean, it was really a major step ahead."
CERN attracts 120,000 visitors a year and is now home to 70% of the world's particle physicists.
"We'd have them coming to Waxahachie," Schwitters said. "So how much is that worth to you?"
"That's something you just can't — you can't go out and buy that," Farrar said.
The SSC remains an unknown history to many and a buried memory for those who almost changed the world.
"There hasn't been anything else like it to come down the road," Schwitters said. "The whole country, the whole community, had invested in this."
Farrar has held onto an old Dallas Life magazine with a cover that reads "Tunnel Visions: How North Texas became a contender for a $6 billion hole in the ground." He protects it inside a paper envelope.
"I think it's really — really a feeling of sadness," Farrar said. "We'll never know what could have been."