Updated at 3:32 p.m. with information from National Weather Service.
The storms moved out of the Dallas-Fort Worth area early Monday, leaving behind significant damage, tens of thousands without power and at least three confirmed tornadoes.
The systems had moved east and will continue in that direction. Monday is expected to be breezy and cooler, as residents and businesses survey the damage.
The storms that moved through the metro area late Sunday were supercells. The isolated thunderstorms quickly formed when the "cap" broke. Meteorologist Kyle Roberts said they especially intensified when they got into the Interstate 35 area.
On Monday, the National Weather Service said the tornado that went through Dallas was an EF-3 and had wind speeds of up to 140 mph.
That started around 9 p.m. north of Love Field. It ended around 9:50 p.m. possibly east of PGBT near or in Sachse.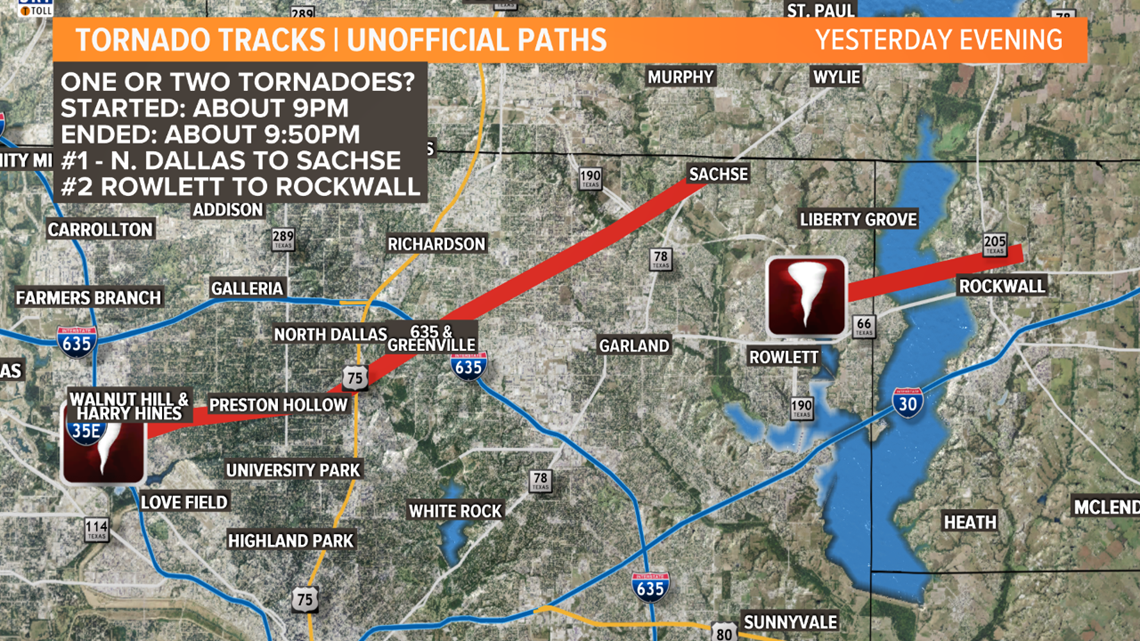 The National Weather Service will conduct damage surveys on Monday, which will give a better idea of how strong the tornado was and its approximate path.
Two other tornadoes were confirmed on Monday. The National Weather Service says an EF-1 touched down in Rowlett and an EF-0 was confirmed near Wills Point.
There were reports of at least one other tornado.
The second round of storms producing strong winds across a good chunk of North Texas. Highest wind speed recorded with those storms was 75mph in Mineral Wells. Quite a few gusts of 65-70mph happened in and around the DFW area including a 67mph wind at DFW Airport.
Storms in October
Other than March thru June, October has the most tornadoes of any of the remaining months. This is what we call our "second severe weather season".
Dallas County has seen 11 tornadoes on record in October.
The last October tornado in Dallas County was Oct. 21st, 1996 (F-1 and F-0).
The strongest October tornadoes in Dallas County were an F-3 on Oct. 12th, 1969 and another F-3 on Oct. 4th, 1959.
The last October tornados in North Texas were in 2018. A few EF-0s and an EF-1 in Ellis and Hill counties.
More storm coverage from WFAA: