As of Saturday morning, the heaviest showers and storms have moved into East Texas, but lingering showers remain over parts of North Texas.
Showers will linger through the mid-morning hours before generally ending heading toward midday.
Memorial Day Weekend
On and off showers and storms are possible over the weekend. Saturday overall looks more dry than wet with scattered rain and warm temps.
Rain coverage will increase Sunday and through Memorial Day with on and off showers and storms possible during the day.
The severe threat this weekend looks rather low, but heavy rain could cause standing water or minor flooding in spots.
If you have outdoor plans, an indoor alternative is a good idea or just move plans indoors.
From Friday through Monday, 1 to 3 inches of rain will fall across the Dallas-Fort Worth area.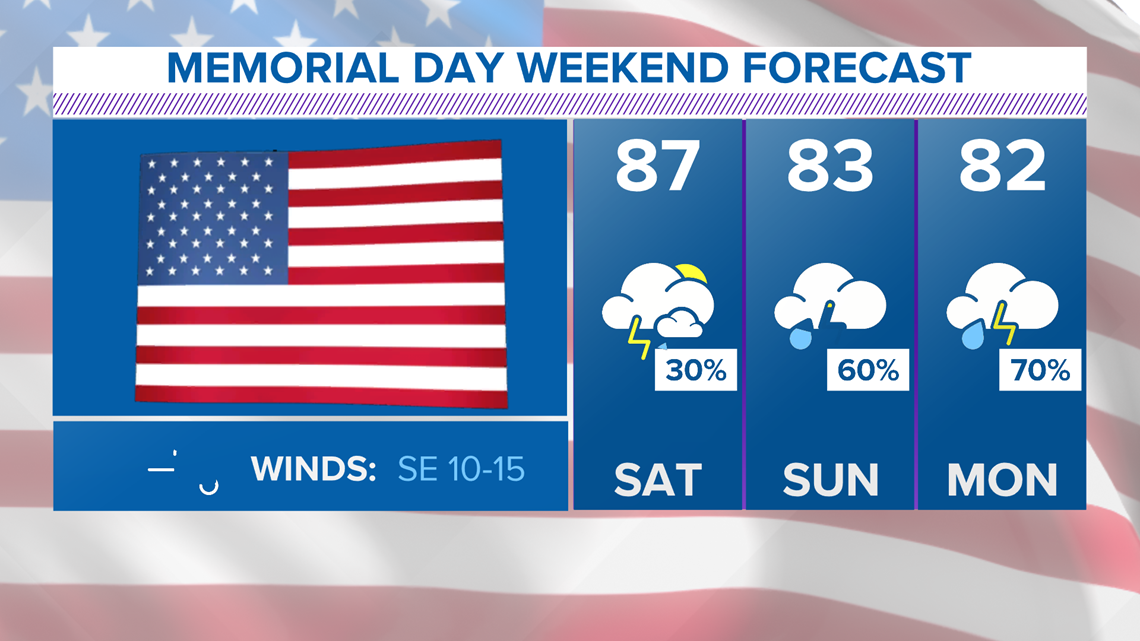 In addition to a wet Memorial weekend, rain is forecasted for the next 10 days. From Friday night through the end of the month, 4 to 6 inches of rain is forecasted.
Friday night storms cause damage in Bowie
A cluster of thunderstorms formed along the Red River on Friday night, bringing large hail and heavy rain, including flash flooding to some areas.
Earlier in the evening, a tornado warning was issued for parts of Montague County but has since expired. Damage has been reported in the Bowie area, including roofs and homes, as well as reports of downed trees and power lines.
Bowie was hit by a possible tornado followed by flash flooding rains because the storm was moving slowly.
Baseball to almost softball-sized hail fell in Clay County, west of Montague County, according to reports online.
Remember to download the WFAA app to check one of our dozens of local radars near you as well, as the latest forecast, cameras, and current conditions.
More on WFAA: