DALLAS — You don't want to miss out on the out-of-this-world "Super Flower Blood Moon" this week. Wow, that is a mouthful! If we break it down, the full moon of May (known as the Flower Moon because this is the month of blooming) will pass through the Earth's shadow, causing it to appear red. This is why total lunar eclipses are commonly called, "blood moons."
This isn't the only thing happening! Around the same time, the moon will reach the closest point to Earth in its current orbit. The full moon can appear up to 14% larger and 30% brighter because the full moon coincides with when the moon reaches its perigee.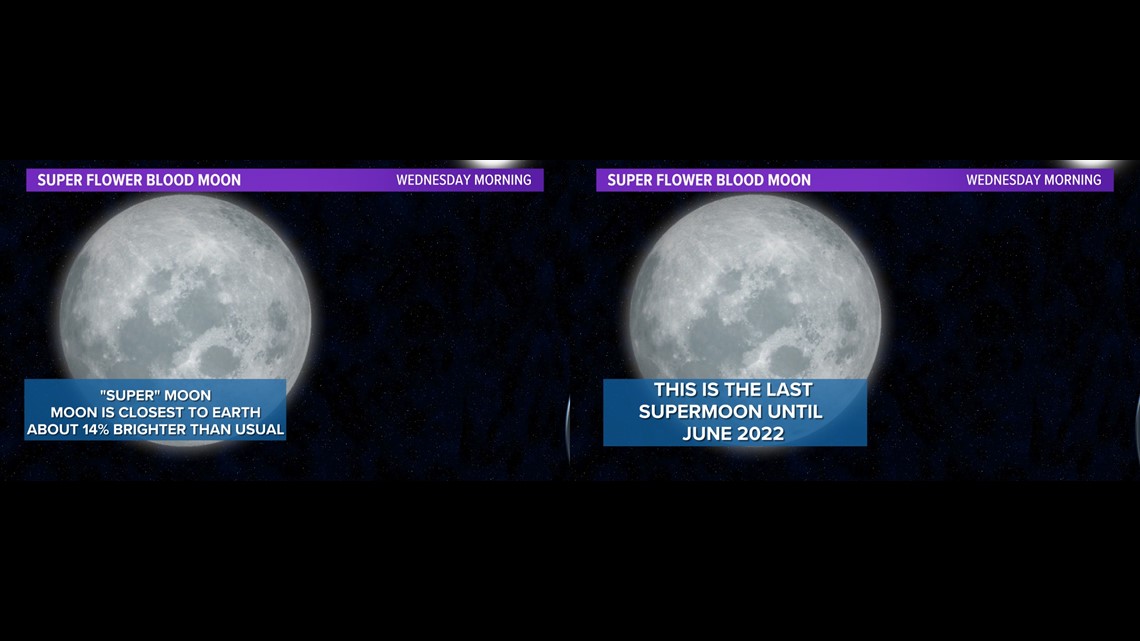 Will we be in the right spot to see this spectacular event?
States west of the Mississippi River are in the prime locations to see the total lunar eclipse. The moon will drop below the horizon for part of the eclipse, so that part will not be visible.
Here are the lunar eclipse details for Dallas-Fort Worth Wednesday morning: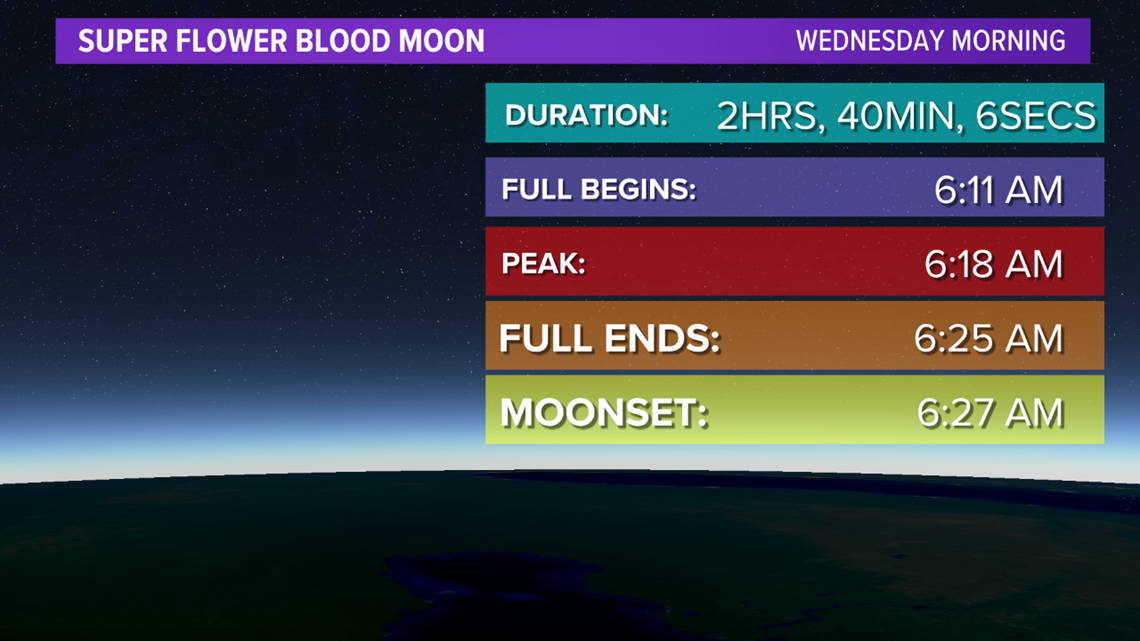 Duration: 2 hours, 40 minutes, 6 seconds
Duration of totality: 14 minutes, 28 seconds
Penumbral begins: May 26 at 3:47:39 am
Partial begins: May 26 at 4:44:58 am
Full begins: May 26 at 6:11:26 am
Maximum: May 26 at 6:18:42 am
Full ends: May 26 at 6:25:54 am
Moonset: May 26 at 6:27:45 am
Even though we are in a good spot to gaze at this supermoon, it will all depend on the weather. Clouds and rain have dominated our forecast the last several weeks and not much will change between now and the supermoon. We should be dry Wednesday morning with a few breaks in the clouds. The breaks in the clouds will give us a small opportunity to view this eclipse.
Unlike solar eclipses, lunar eclipses are safe to view, so mark your calendars for early Wednesday morning and maybe we'll catch a break and witness the last of three supermoons!