This story will be continuously updated as the forecast changes and WFAA receives more weather reports.
Plenty of North Texans were under a winter storm warning or winter weather advisory as they woke up Wednesday morning.
Much of the northwestern portion of North Texas will be particularly impacted, with Jack, Montague, Palo Pinto and Young counties under a Winter Storm Warning until 6 p.m.
Comanche, Cooke, Denton, Erath, Hamilton, Hood, Parker, Somervell, Tarrant and Wise counties will be under a winter weather advisory until 6 p.m. Wednesday as well.
For Wednesday's complete forecast across North Texas, click here.
About a quarter of an inch to half an inch of snow had been reported in northwest Jack County along U.S. Highway 281 and Highway 2190 by 2:15 a.m., according to information from the National Weather Service station in Fort Worth.
By 6:45 a.m., ice and snow had accumulated off of U.S. Highway 380 in Bryson, which is about an hour and a half drive northwest of Fort Worth in Jack County. NWS officials said about half an inch of snow and sleet had built up there, leading to hazardous driving conditions.
Snow could be seen coming down in Graham, which is the county seat of Young County. Residents told WFAA it began to come down around 5 a.m., with a significant amount of accumulation on the ground by 6 a.m.
Downtown Decatur was already experiencing freezing rain by 4 a.m. with a temperature of around 32 degrees.
That freezing rain and some sleet was starting to come down consistently in Jack County by 5:45 a.m., with ice seen accumulating on windshields.
Moderate amounts of sleet could come down at times Wednesday morning from McKinney to Dallas and down to Cleburne, officials with the NWS said. The sleet could lead to particularly slick spots on the roadways.
Freezing rain occurs when rain comes down in an area and freezes upon contact with some elevated surfaces. This can particularly be a concern for overpasses and bridges on the roadways.
A number of school districts had canceled classes for the day in anticipation of potentially slick and dangerous roads. Aledo, Bowie, Chico, Decatur, Jacksboro, Bridgeport, Gordon, Mineral Wells, Montague, Palo Pinto, Weatherford and White Settlement are just some of the school districts on the list.
In Bowie, snowflakes turned to freezing rain and sleet later in the morning, coating tree branches and elevated surfaces like bridges and overpasses in ice.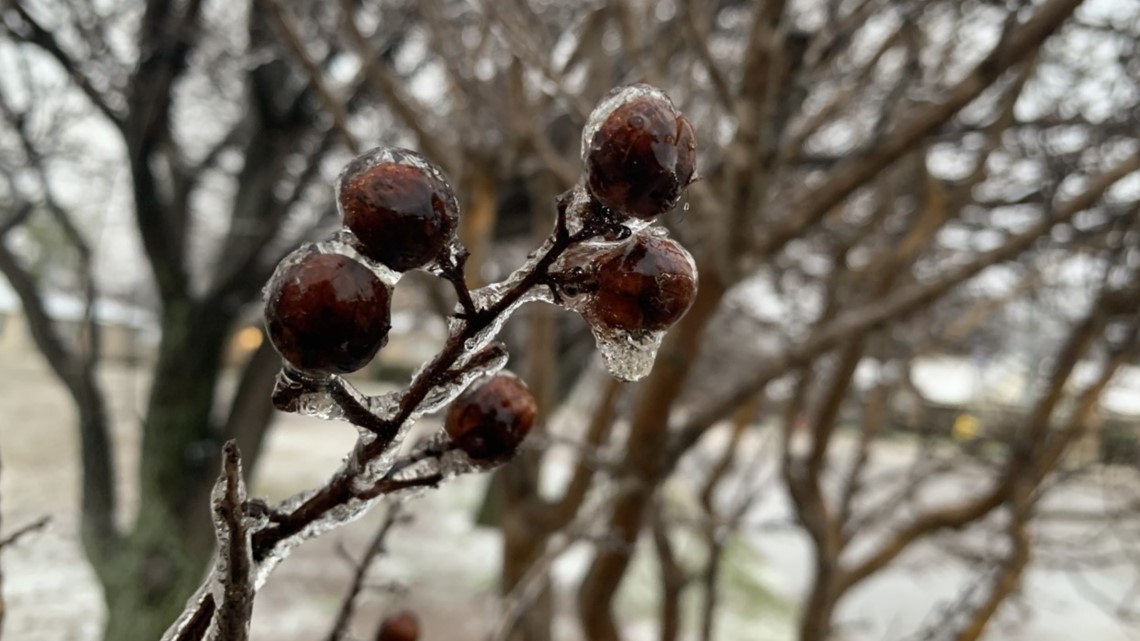 The temperatures to look out for are anything below 31 or 32 degrees, which is when rain will begin to transition from liquid precipitation to frozen precipitation. Road conditions are expected to worsen as temperatures get closer to 30 degrees, according to the NWS.