DALLAS — Drought conditions will only get worse this week as our stretch of rain-free weather continues.
While we saw a pop-up shower or two move through DFW on Monday morning, we haven't had any measurable rain in more than a month, since June 3.
Last week brought a few isolated showers to North Texas, but conditions have been mostly dry, and the scorching hot weather isn't helping matters.
According to the latest Texas Drought Monitor, a large portion of Texas is under "exceptional" or "extreme" drought conditions.
The drought monitor considers "exceptional" conditions as being when there are widespread crop/pasture losses and shortages of water in reservoirs, streams and wells that can cause water emergencies.
"Extreme" conditions are when there are crop/pasture losses and widespread water shortages and restrictions.
Almost all of Texas, except for a few pockets here and there, is under some form of drought; North Texas ranges from "exceptional" drought conditions in Johnson, Hood and Ellis counties, and parts of Tarrant and Parker counties; to "extreme" drought conditions in Tarrant County and parts of Dallas County.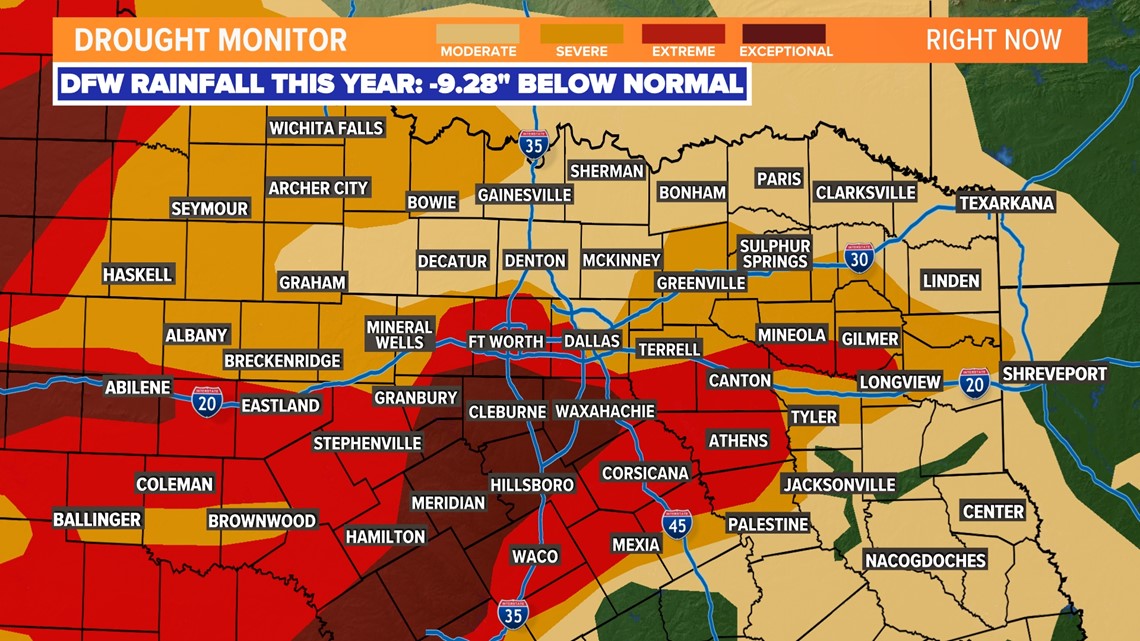 Other areas of North Texas are under moderate and severe drought conditions. The Dallas-Fort Worth area is 9.28 inches of rainfall below normal for the year, so far.
In all, 22 million Texans are living in areas where drought conditions persist. And the state Drought Monitor shows how the situation has worsened in recent weeks.
On the week of July 5, 16% of the state was under exceptional drought conditions. One week later, that number had jumped to 21%.
With the intense heat and increasing southwest to south winds of 10-20 mph, an elevated fire danger will also exist this week and for the foreseeable future. Crews over the weekend battled a wildfire near Cresson in Johnson County that burned nearly 300 acres. The fire was 100% contained by Monday morning.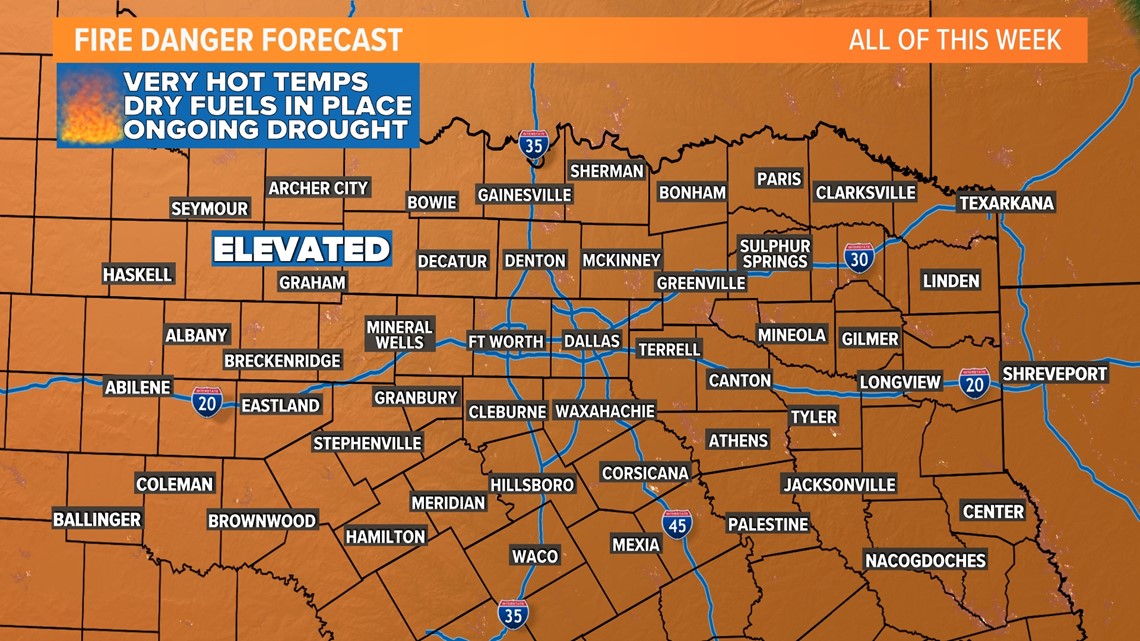 As a result of the dry conditions, many residents have upped the watering on their yards. And as a result of that, water officials have asked North Texans to try and conserve as much as they can.
The City of Plano has issued a notice to all of its residents, asking that they conserve water use through at least Wednesday, July 20.
The notice follows a similar call for conservation issued on Saturday by the city's water provider, the North Texas Municipal Water District (NTMWD). In that ask, the NTMWD requested that all municipalities that receive the provider's purified water "immediately" reduce their water use -- and "especially outdoor water use" -- due to maintenance meant to relief stress on some of its water treatment facilities.