10:00p The Flash Flood Watch and Tornado Watch have been cancelled for North Texas.
8:00p The DFW area is in the clear for the rest of the evening in terms of severe weather. You could still see a shower or storm, but the severe threat will remain east of the metroplex. That's also where a Tornado Watch continues until 11:00pm tonight.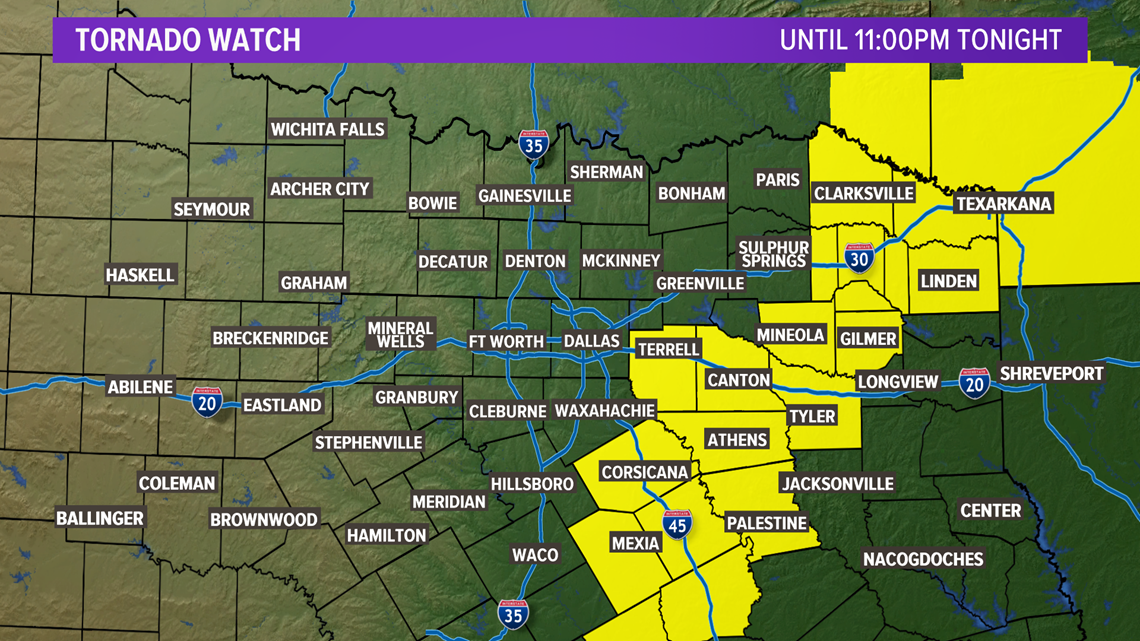 7:00p In non-weather news, today's episode of "General Hospital" will re-air Thursday at 2:41 a.m. Set your DVRs accordingly.
6:50p While scattered t-storms are still possible in and around the DFW area the rest of the evening, severe storms are unlikely, and the tornado threat has come to a close. Severe storms and isolated tornadoes are still possible for eastern North Texas through 8 p.m. this evening before activity shifts into East Texas.
6:21p The tornado watch is over for the North Texas area, but a tornado watch continues for areas east of the metroplex until 8 p.m.
6:20p Another Tornado Warning for Kaufman & Van Zandt County until 6:45 p.m.
5:31p Folks in Grand Saline, you need to be in your safe place right now. This tornado is rain-wrapped, headed toward you.
5:17p Very dangerous situation in Canton. Large tornado on the ground. Seek shelter.
5:05p Another Tornado Warning for the city of Canton. Seek shelter immediately. Tornado is on the ground west of Canton. Debris visible.
PHOTOS: Aerial view of storm damage in Canton, Texas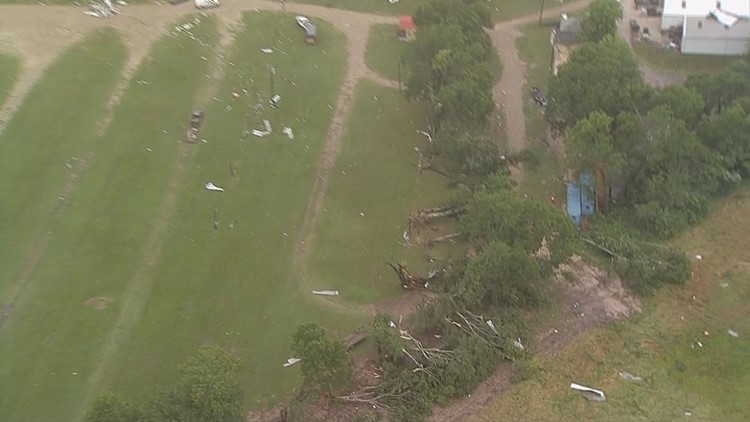 4:37p Tornado Warning for Kaufman and Van Zandt counties until 5:15 p.m. Seek shelter immediately. A tornado has been confirmed south of Kemp. There is a well-defined "hook" on this supercell over Cedar Creek Lake. Canton, you need to stay alert as this storm moves toward you.
4:20p Severe T-storm Warning issued for Henderson, Kaufman and Van Zandt counties until 5:15 p.m. This storm is just crossing Cedar Creek Lake. There is broad rotation between Kemp and Seven Points.
4:05p Tornado Warning continues for Hunt and Kaufman counties until 4:30 p.m. An area of rotation continues near West Tawakoni and Quinlan, moving northeast. Folks in this area need to seek shelter immediately and stay alert as this storm moves through.
3:51p Oncor has reported outages in counties across North Texas:
Collin: 12
Dallas: 2018
Denton: 1030
Tarrant: 6612
Rockwall: 386
3:49p Tornado Warning for Rains and Van Zandt counties until 4:15 p.m.
3:44p Tornado Warning for Hunt, Kaufman and Rockwall counties until 4:30 p.m.
An area of rotation spotted north of Terrell, moving northeast. Seek shelter immediately.
3:34p A dangerous situation in Grand Saline. Numerous reports of a tornado on the ground, moving northeast. You need to seek shelter immediately.
3:32p Tornado watchers say there's a tornado northeast of Canton.
3:31p Tornado Warning continues for Rains and Van Zandt counties until 3:45 pm. We had a confirmation of a tornado just outside of Canton. Debris was spotted near I-20. Seek shelter immediately as this rotation crosses HWY 80.
3p Tornado Warning for southeastern Collin and northern Rockwall counties until 3:45 p.m. A confirmed tornado was reported near Mobile City moving near Rockwall at 20 mph, according to the NWS.
Mikayla Smith captured video of a rope funnel cloud she said was in Rockwall.
2:52p All Tornado Warnings have expired right now. However, the tornado threat continues through this evening. Don't let your guard down! A brief spin-up is not out of the question. Along with that, heavy rain, strong winds, and hail are possible.
2:21p Much of the metroplex under a Severe T-storm Warning until 3 p.m. Tornado Warning continues for southern Denton County until 2:30 p.m. Though we've been focusing on severe threat, storms will also be great rainfall producers. Flash flooding is a concern.
2:20p Tornado Warning continues for the southern portion of Denton County. Seek shelter immediately! The rotation is located right around the Flower Mound area moving toward Frisco and The Colony. Folks in the western side of Collin County need to stay alert!
2:15p There has been a lightning strike reported at a residence in Denton County. According to the report, the strike put a hole through the roof. Firefighters called to the home.
2:08p Downed power lines and trees were reported in Saginaw.
2p The National Weather Service in Fort Worth has issued a Severe Thunderstorm Warning for southern Denton County in north-central Texas, Tarrant County in north-central Texas, Southwestern Collin County in north central Texas and Western Dallas County in north-central Texas.
1:59p There has been a report of an overturned 18-wheeler in Sanger.
1:43p Tornado Warning including Lewisville, Flower Mound, Grapevine until 2:30 p.m.
1:39p Southern Denton, northeastern Tarrant and northwestern Dallas counties under Tornado Warning until 2:30 p.m.
1:35p Confirmed tornado just northwest of Denton and approaching I-35 and Ganzer Road West. Take shelter.
1:29p Tornado Warning issued for northern Denton County until 2:15 p.m.
1:13p Viewer captures image of potential tornado in Fort Worth
1p: Parker and Tarrant counties in a tornado warning. Also a concern with this tornado warned storm, is the risk of golf ball size hail. This has already been confirmed close to Pecan Acres. If you're in this track, prepare for large hail.
TORNADO WARNING in effect until 1:45 p.m. for Parker and Tarrant counties after rotation was spotted at about 1:02 p.m. in western Parker.
TORNADO WATCH is now in effect for North Texas including the DFW area until 8 p.m. We can't rule out tornadoes today, but our main concern continues to be hail and wind.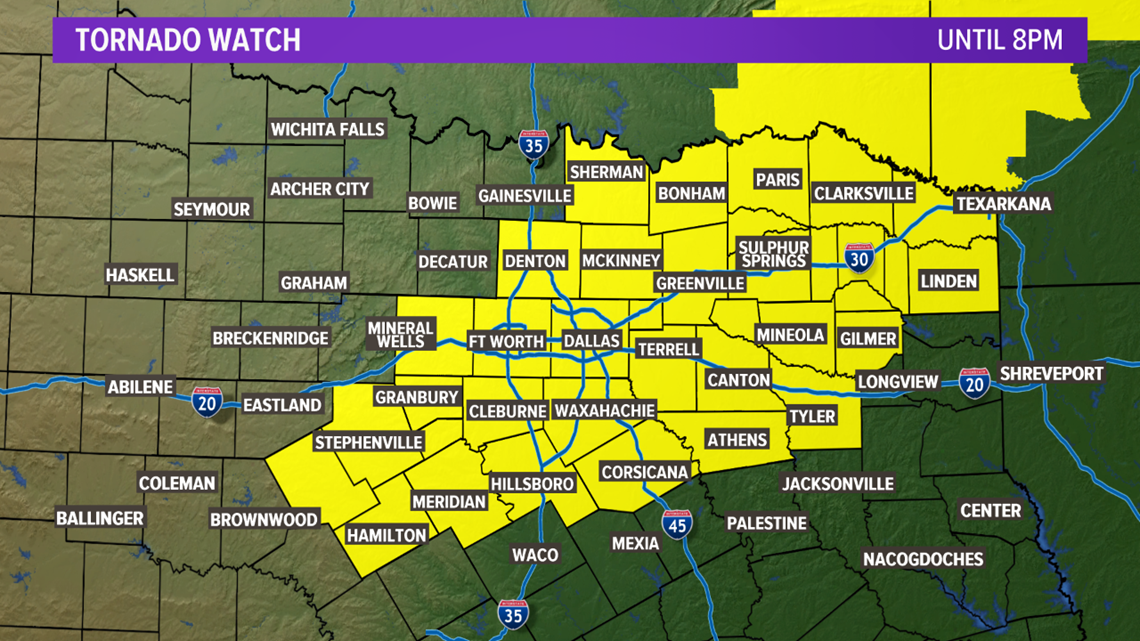 Storms from western North Texas will move east into central parts of North Texas including the DFW area. Isolated t-storms ahead of the western activity are possible as well. Those storms are the one that will need to be watched the closest as they could quickly become severe. Large hail and damaging winds would be the main threats, but the tornado threat will not be zero.
DFW AREA: Isolated to scattered t-storms possible from noon until 3 p.m. with higher coverage of storms possible from 3 p.m to 9 p.m.
Storms will be ongoing mainly across eastern North Texas with a threat of them being strong to severe. They will continue moving east with most activity out of North Texas into East Texas by midnight.
A Flash Flood Watch goes into effect Wednesday morning through Thursday morning for DFW and areas to the north and east. These areas are expected to see the highest rainfall totals.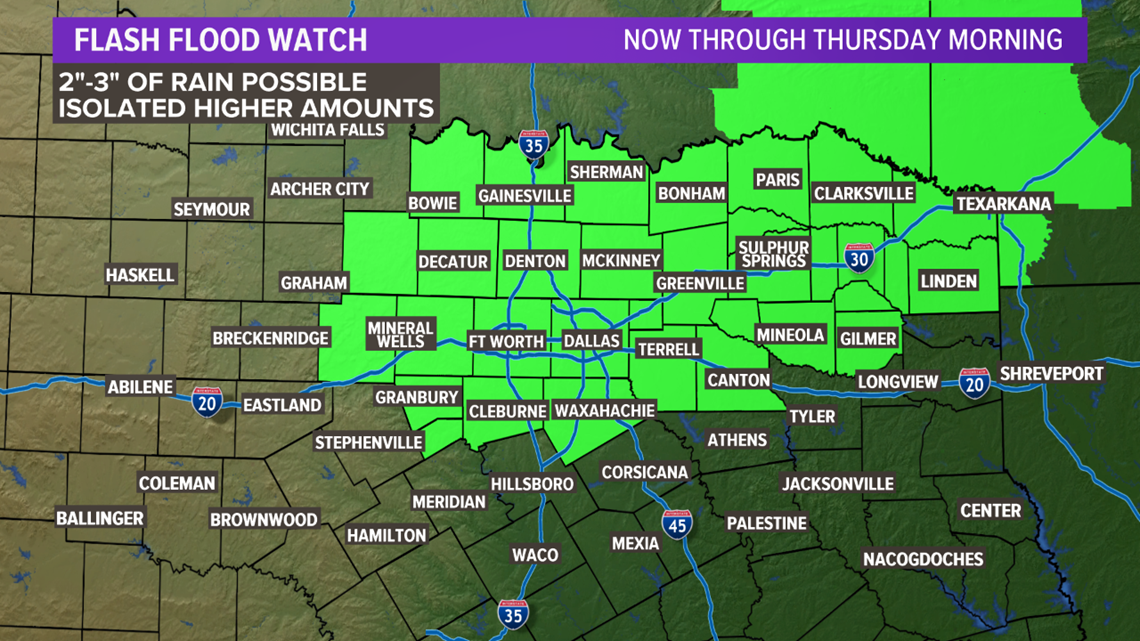 Any t-storms will also be capable of heavy rain. With saturated ground, repeated rounds of heavy rain could cause localized flooding or flooding of flood-prone locations. Remember do not try to drive into or through flooded roadways!