DALLAS — Denton was under a tornado warning until 2:30 p.m., and most of the metroplex was under a tornado watch until 8 p.m.
Though we've been focusing on severe threat, storms will also be great rainfall producers. Flash flooding is a concern.
In non-weather news, today's episode of "General Hospital" will re-air Thursday at 2:41 a.m. Set your DVRs accordingly.
Storm Effects
A lightning strike was reported at a residence in Denton County. According to the report, the strike put a hole through the roof. Firefighters were called to the home.
Funnel clouds and storm clouds were spotted in Fort Worth as well.
Downed power lines and trees were reported in Saginaw, and there were also reports of an overturned 18-wheeler in that area around 2 p.m.
We are also getting reports of Azle ISD evacuating students from buses and placing them in shelter until parents could pick them up earlier today.
Power outages
Oncor is reporting more than 10,000 affected customers and more than 290 active outages in its coverage area.
Customers affected, by county:
Check back for more detailed numbers.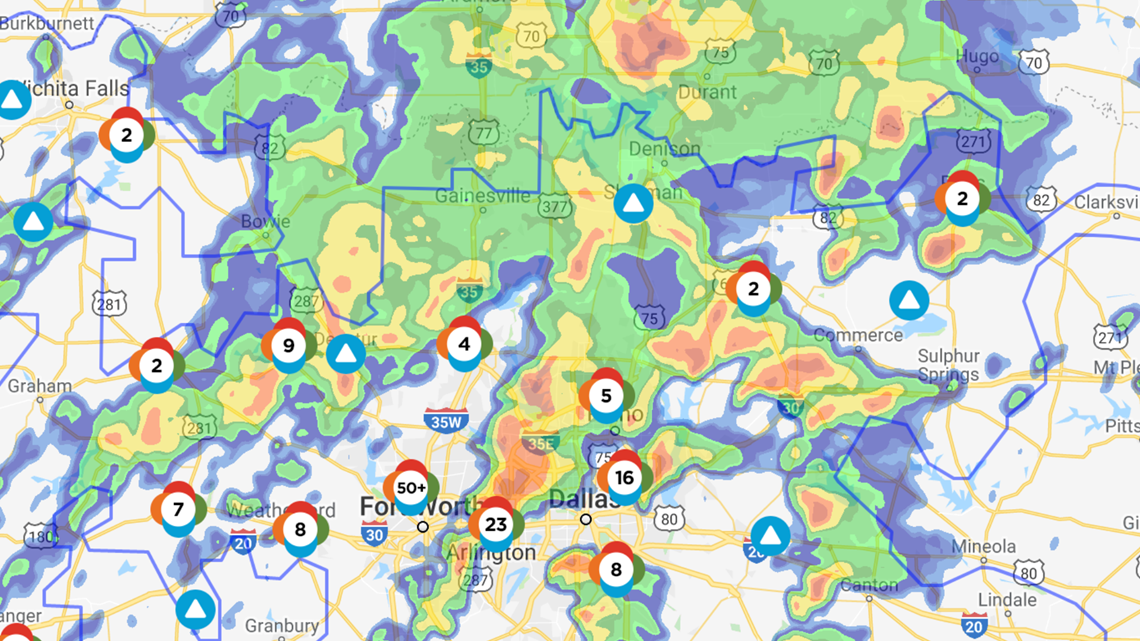 Flight delays/cancellations
Dallas-Fort Worth International:
Flights at Dallas Love Field are currently experiencing departure delays of 16 minutes to 30 minutes (and increasing) due to thunderstorms.
Photos/videos from around the metroplex
We want to remind our viewers to stay safe and take shelter if you need to. Your safety is always the No. 1 priority. But if you feel so inclined, send us what the weather looks like in your neck of the woods, either on Facebook, through Twitter @wfaa using #wfaaweather, or by emailing news8@wfaa.com.
DFW metroplex storm photos 5/29/19