An area of low pressure that moved into the Mediterranean Sea earlier this week has strengthened into a "medicane" before turning toward Greece.
This low moved off the northern coast of Libya on Tuesday and drifted to the north across the Mediterranean Sea into Wednesday.
Once over water, the storm was able to strengthen and was designated as a medicane on Wednesday.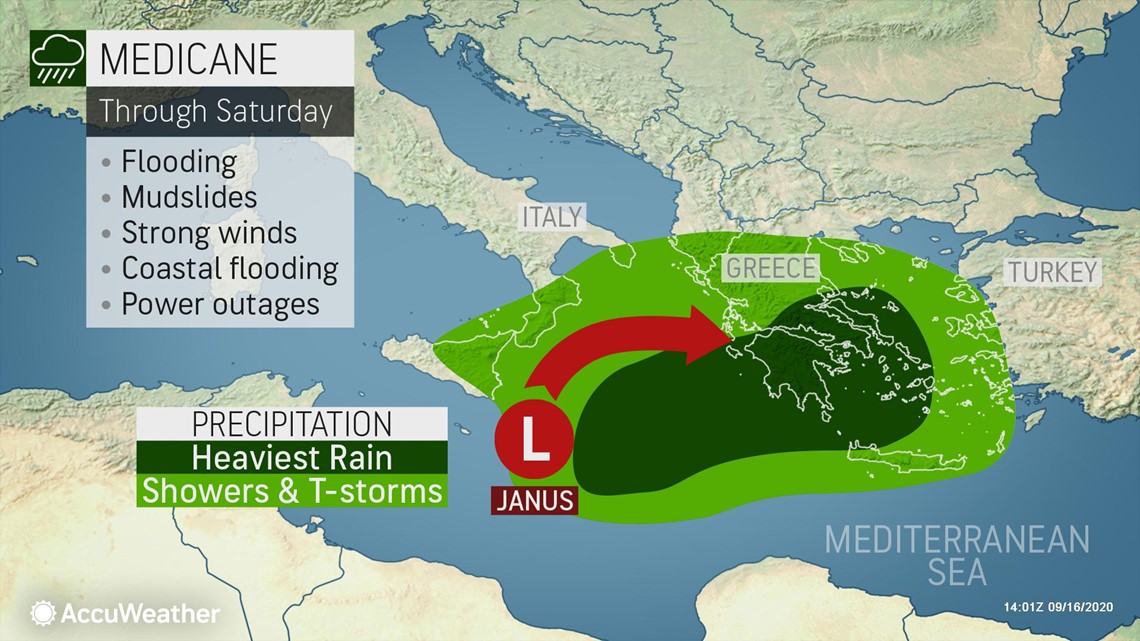 Medicane is an informal name for a nontropical storm system that moves over the Mediterranean Sea and gains some tropical characteristics as it strengthens over the warm water. Medicane is a combination of the two words "Mediterranean" and "hurricane."
This medicane is expected to drift to the north toward southern Italy through Wednesday night before turning east toward Greece on Thursday.
Ahead of impacts from this storm, the National Observatory of Athens designated the medicane Storm Janus, spelled Ianos in Greek. The Hellenic National Meteorological Service also issued an extraordinary weather warning and a gale warning ahead of impacts expected from Storm Janus.
As the storm passes near southern Italy, it will bring rounds of rain and thunderstorms to far southern Italy from Wednesday night into Thursday. By Thursday, the storm will turn toward Greece, and the first rounds of rain will arrive across western Greece.
According to AccuWeather Meteorologist Tyler Roys, heavy rain and strong winds are forecast in parts of Greece as Storm Janus moves across the area. However, there is still some uncertainty regarding the exact track of the storm, which will determine where the greatest impacts occur.
A track over Peloponnese will bring the greatest impacts to this area and parts of central Greece through Friday and Saturday.
"This storm can bring wind gusts of 80-97 km/h (50-60 mph) to southwestern and southern Greece including the island of Crete with the AccuWeather Local StormMax™ of 120 km/h (75 mph) from Thursday afternoon through Saturday evening," stated Roys.
Winds of this speed can cause downed trees and power lines as well as localized structural damage. Power outages are also likely across central and southern Greece.
Roys added that coastal flooding is also likely along exposed beaches.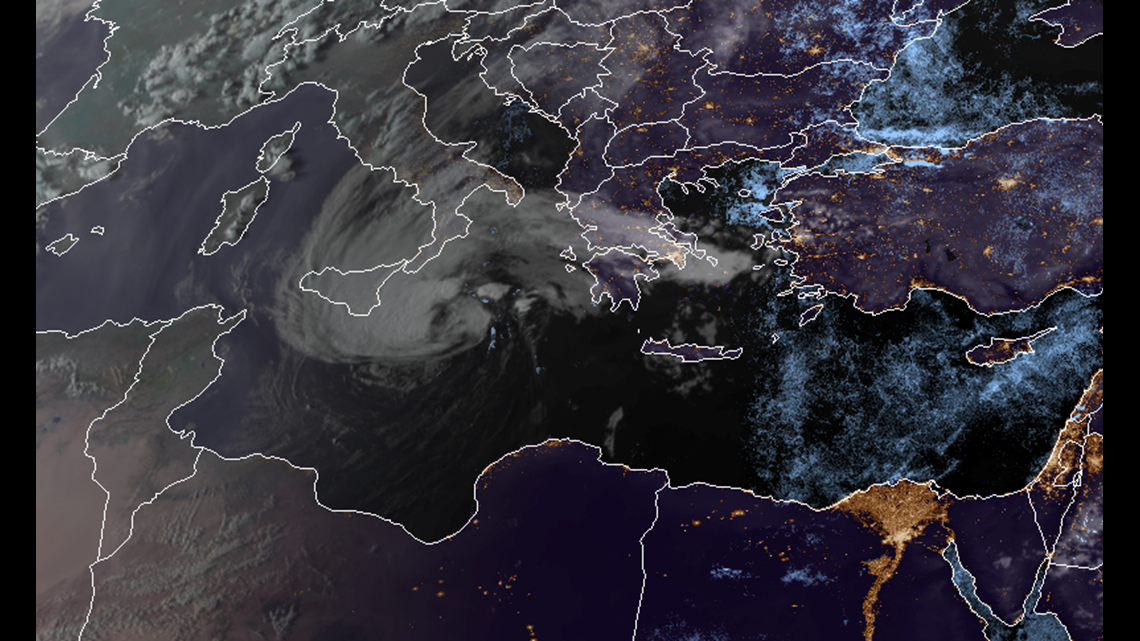 Flash flooding is also likely in areas across the western coast and east-central coast of Greece, where 50-100 mm (2-4 inches) is expected. Otherwise, 25-50 mm (1-2 inches) of rain can fall across southern Italy, much of Greece and the western coast of Turkey.
Storm Janus is forecast to begin dissipating through the end of the weekend as it slowly tracks to the south and east. Areas of rain and thunderstorms are expected to linger over southern Greece and western Turkey into next week.