As emergency crews continue rescue and recovery efforts, Texas Gov. Greg Abbott surveyed areas ravaged by a series of tornadoes, about 60 miles east of the Dallas metro area.
Four people have been killed and over 50 people were sent to the hospital for storm-related injuries. Two people were reported missing in Canton, but were confirmed safe by the mayor Monday morning.
In a news conference Monday, officials identified four people killed in the storms.
Both Lucretia Evette Sykes, 49, of Fort Worth, and James Clayton Young, 39, of Alba, Texas were found in their vehicles.
Officials located 51-year-old Russell "Rusty" Barlow, of Corsicana, in a building. Kenneth Hughes, 57, of Canton, Texas, was found inside a residence.
Authorities are still notifying next of kin about the other two who were killed.
Gov. Abbott said more than 5,000 buildings were impacted by tornadoes, whose path could have traveled up to 50 miles.
The National Weather Service confirms at least seven tornadoes struck Eustace, Caney City and Canton in Northeast Texas. A tornado briefly touched down in the southwestern part of Hopkins County, south of Cumby and Interstate 30.
Widespread damage has been reported across a large area of the county. Damage has also been reported near Emory, Texas.
A dusk to dawn curfew is in place for areas most affected by the tornadoes. About 14,000 residents remain without power, but officials hoped it would be restored by midnight Sunday.
Earlier, Gov. Abbott tweeted that Texas Task Force 2 had been sent to assist in Canton and Van Zandt County. Dallas Fire-Rescue sent 32 members and four dogs to help with the rescue. Rowlett Police and Fire Rescue units were en route to assist in the Canton area as well.
PHOTOS: Tornadoes strike east of Dallas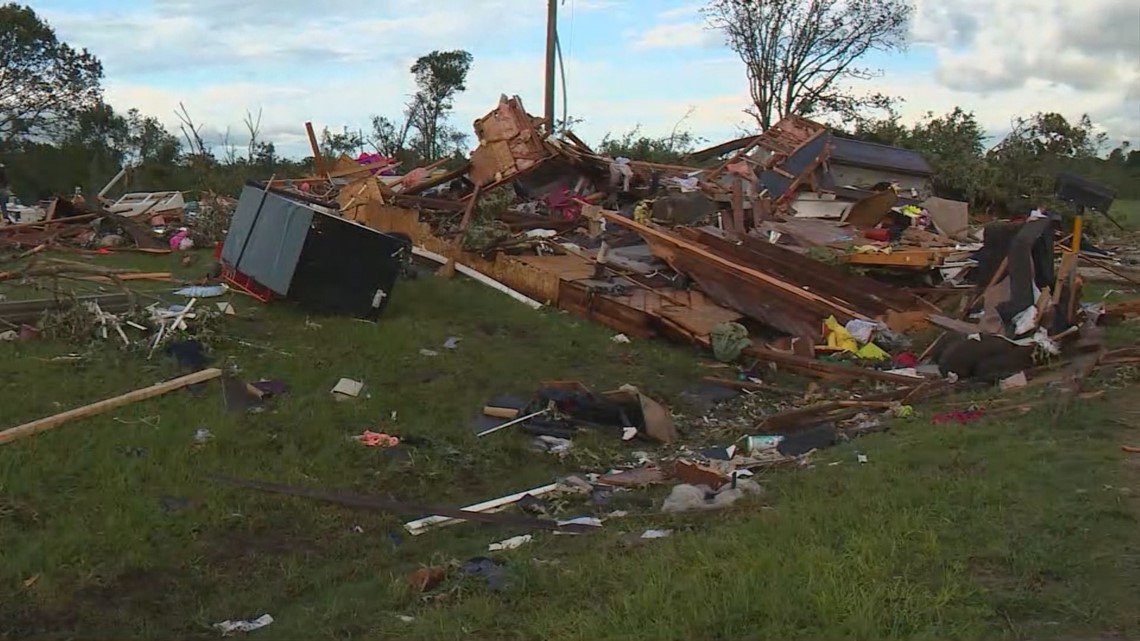 Local officials have issued a disaster declaration for Van Zandt County. Canton Mayor Lou Ann Gullett Everett said recovery and rescue crews continue to go door-to-door following a hasty search Saturday night, which was hampered by extreme weather conditions.
According to the Van Zandt County Sheriff's Office, Van Zandt County has established an account for donations.
Financial Institution: First State Bank of Ben Wheeler, Canton Texas Branch Name of Account: Van Zandt County Tornado Relief Fund Account Number: 4413270
Mayor Everett stressed conditions on the ground are too dangerous at this time for volunteers, but they will be needed once the situation is stabilized.
A triage center has been set up at Canton High School where many of the injured were transported to local hospitals. Residents are asked to conserve water as electricity is out.
Mayor Everett added residents and visitors should avoid First Monday Trade Days, while the cleanup and search continues.
Displacement centers have been set up to assist residents who have been impacted. The Red Cross is also on the scene and has set up shelters in the following locations:
First Methodist Church Life Center, 600 S. Buffalo, Canton, Texas
Emory City Center, 735 N. Texas St., Emory, Texas
A car dealership at FM 17 and I-20 sustained significant damage. Ernestine Cook rushed to check on her son who works at the dealership.
"I wanted to make sure he wasn't here," she said. "I'm just devastated. Thank God they weren't here."
Anyone needing assistance should contact the Red Cross at 866-505-4801.


Footage from HD Chopper 8 showed homes damaged or destroyed across Van Zandt County.