DALLAS — It was late – very late, we'd find out – after a power-outage-delayed Rangers victory over the Arizona Diamondbacks on Monday, July 30, that we'd find out the news. 2018 Texas Rangers' closer Keone Kela had been traded away to the Pittsburgh Pirates for…for…? Well, we wouldn't know for a bit, as the game had ended around midnight and the announcement had come shortly thereafter.
As we were all busy refreshing our Twitter feeds, trying to find out what the return was for the hard throwing right-hander, a phone kept ringing. Who knows how many times it rang, but eventually it was picked up by a 23-year old left-hander who had plans to wake up, report to Harrisburg, Pennsylvania with the rest of the Altoona Curve and take on the Senators.
Instead, he had another phone call to make.
Taylor Lynn Hearn, out of Royse City, Texas, was coming home. As Rangers Twitter reacted to the news and continued to search for information on who this hometown kid was, Taylor's sister, Robyn was celebrating with the Hearn family.
Taylor is a family-first kind of guy. A 2012 graduate of Royse City High School, Hearn was drafted three straight years in the MLB Amateur Draft (Pirates in 2012 [22nd round], Reds in 2013 [36th round], Twins in 2014 [25th round]), choosing to remain in college each time, before taken in the 5th round of the 2015 Draft by the Washington Nationals. He would be traded a year later to the Pirates in exchange for closer Mark Melancon.
His family was practically there, every step of the way. I reached out to Robyn to see if she would mind answering a few questions about Taylor and how vital a role family has played in his development. I didn't know that she would open the questionnaire up to Mom, Debra, and Dad, Robby, too.
MF: Is the whole family originally from Royse City?
Robyn Hearn: Taylor, myself and our mom are from Rockwall, TX, and our dad is from Lancaster, TX.
MF: When did Taylor start up with baseball, or when did you all first have that inkling that he had the knack for the game?
RH: He started playing when he was four, but we realized his potential when he was eight, playing kid pitch with his select baseball team Rowlett Bulldogs.
MF: Was anybody pushing him towards any other sport or was it all baseball all the time?
RH: No, our parents let him play multiple sports, but they allowed him to make his choice and it was baseball.
[Robyn went on to explain that Taylor played football, basketball and soccer until he got to high school, where he opted to concentrate on baseball.]
MF: Physically, what was the most impressive thing about Taylor as he grew up? What about mentally?
RH: He was taller than everyone! All of his teachers loved him because he has that magnetic personality. Our dad played basketball, but our mom's side is very athletic as well.
[She wasn't kidding when she said his teachers loved him. Several were present as his jersey was retired in 2017. One teacher introduced him before a speech to the National Honor Society, where he was speaking to members about giving back, helping youth and wanting to inspire and be a model of hard work. We'll see a little later how much he meant to the community, as the Mayor of Royse City declared a day of commemoration in his honor.]
MF: Taylor was drafted three times before finally signing with the Nationals after the 2015 Draft. What was the family going through in each of those drafts? Did he come to you for advice after each draft, or was college always the plan unless he was drafted in a higher round?
RH: It was very nerve-wracking. He came to us for advice after each draft; it was very hard for him to turn (the Pirates, Reds and Twins) down. College wasn't his first option. He always wanted to play baseball professionally, but he knew to get to that next level, he needed to go to college to improve his skills.
MF: Talk to me about that last draft when he decided to go into Pro Ball (with Class A Bradenton of the Pirates). You all seem very close; how did you help him get comfortable in his first year?
RH: Just being there for him as a support system, and reassuring him that he has the talent to get to the next level. Also reminding that we were just a phone call/plane ride away if he needed anything.
[During his jersey retirement ceremony, linked below, Hearn says that his mother and his relationship with God prevented him from quitting baseball altogether after his sophomore year in high school.]
MF: Robyn, you specifically said that he woke you up at 12:45 on the night/morning he learned he was coming home – has he always stayed that close with his pro news?
RH: Yes, Taylor keeps us very involved in every aspect of his career.
MF: I've heard that Royse City has Taylor Hearn Day – how did that come about?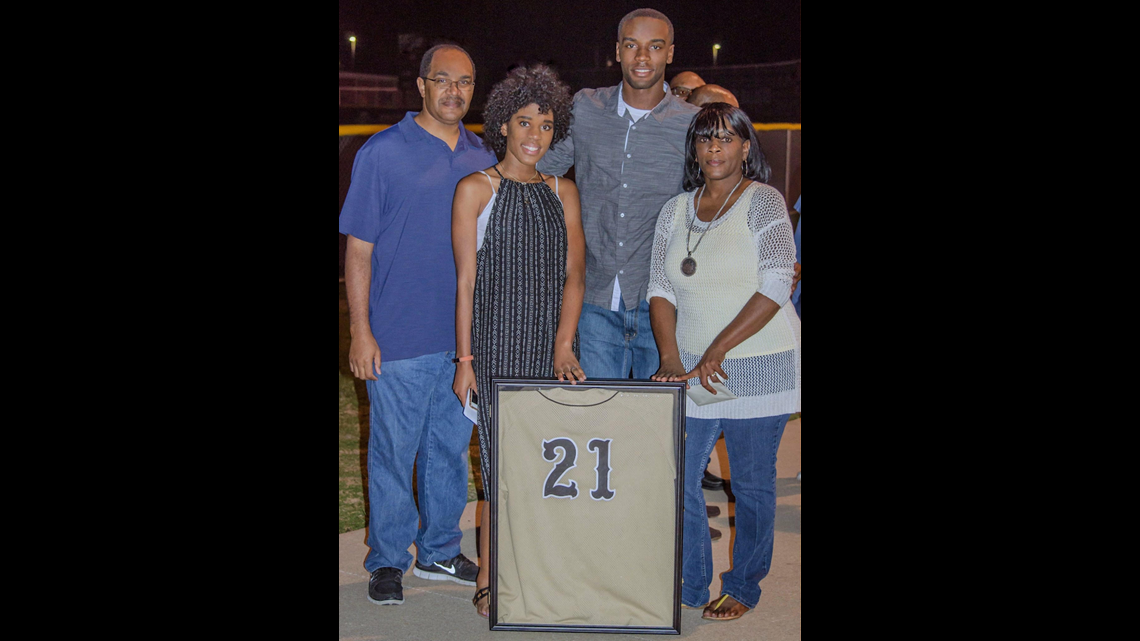 RH: Taylor was having his high school jersey retired, and the mayor of Royse City found out, so she wanted to honor all of his achievements on and off the field.
[It's true. Taylor Hearn Day in Royse City, Texas is February 23rd. You can read Mayor Janet Nichol's proclamation, given on the day his number 21 was retired for the Bulldogs, here, at the Royse City Herald Banner.]
MF: Do you all have a favorite baseball memory with Taylor from when he was growing up?
Debra Hearn, mother: His Pony League World Series game…Taylor was playing right field, the runner was going home to score and Taylor threw him out. He was eight years old.
Robby Hearn, father: When Taylor was nine, our dad took him to a pitching lesson with his trainer Omar Washington, and Omar looked at him and said, "He'll be in the Majors one day." Also, the day the Nationals drafted Taylor and he heard his name called.
RH: My favorite memory is when I am the loudest in the crowd when Taylor is pitching, because I want him to know I'm there and EVERYONE else to know that I'm cheering for my brother.
MF: Are you going to have a big welcome back party for him?
RH: Taylor is really low-key and he would rather come home to chill with our parents, myself and his German Shepherd, Rex.
[Oh, it's true. Taylor got home on Wednesday afternoon and there's a strong notion that Hearn will be starting in Frisco against the Corpus Christi Hooks tonight, Friday, August 3rd. At any rate, Robyn has confirmed that the family will be in Frisco for the game – for some reason or another.
You can follow Taylor at @THearn14 on Twitter.]