DALLAS — 7 a.m. MONDAY UPDATE: It's a tranquil start to Monday morning. It's expected to be cooler and pleasant this afternoon. The clean-up begins for many residents in Dallas after Sunday storms knocked out power and trees.
10:45 p.m. UPDATE: The area still has a chance for rainy weather Sunday night. See WFAA's Jesse Hawila for more:
6:30 p.m. UPDATE: After hundreds of thousands of power outages, numerous trees snapped and homes damaged, the severe threat is over for North Texas.
The cluster of storms that brought this path of damage originated all the way north in the central plains. For the rest of the night, we're tracking a cold front to sweep through and bring much cooler temperatures to the area for the beginning of the workweek. There could be a morning shower or two, but we are done with severe weather.
Multiple grocery stores - including Kroger on Haskell near downtown Dallas - are either closed or selling only non-perishables because electricity was out for hours after Sunday's severe thunderstorms. Milk, meat, cheese and other items were disposed of.
Electricity is still out in many neighborhoods. Stores have limited power and are using it for lights and cash registers. There's not enough power to run freezers.
The Kroger on Mockingbird and Greenville is closed because of no electricity.
So how did this happen? Jesse Hawila breaks down how the weather developed so quickly:
2:07 p.m. UPDATE: The worst of the weather is moving out of the DFW area. Damage coverage looks to be the main thing for DFW for the next little while. There are LOTS of trees down and power outages across the area and a crane came crashing down on an apartment complex.
If we had to pinpoint an area, it looks like North Dallas to Addison to Denton got hit the hardest.
Make sure to check the radar before you head to the Rangers game today! Storms may be moving in around game time. At most a delay is possible. Storms may fall apart before they make it to Arlington, but that's a low chance as of now.
A Severe Thunderstorm Watch has been issued for all of North Texas until 7pm this evening. Stay weather aware the rest of today!
Now - 3pm: a group of storms will move into northern North Texas and progress to the south. Most likely area to see storms will be areas along and south of the Red River. However, storms will likely survive long enough to reach the northern half of the DFW area by around 1pm to 2pm.
3pm - 7pm: Late afternoon and evening storm locations are less certain. Best chances will be development in areas that do not see storms earlier in the afternoon, but a second round even in those areas is certainly possible.
A cold front will start to move into western North Texas which will likely provide the focus for storms late afternoon into evening as well.
The main threat with any severe storm today will be damaging downburst winds. Those winds could top 70 mph in the strongest storms.
Any severe storm will be capable of small hail, but the threat for large hail looks low. Hail is not impossible, but the biggest concern is damaging winds.
Lastly, the tornado threat is low, but not zero. It's possible a storm could become capable of producing a tornado, but the main concern remains damaging winds.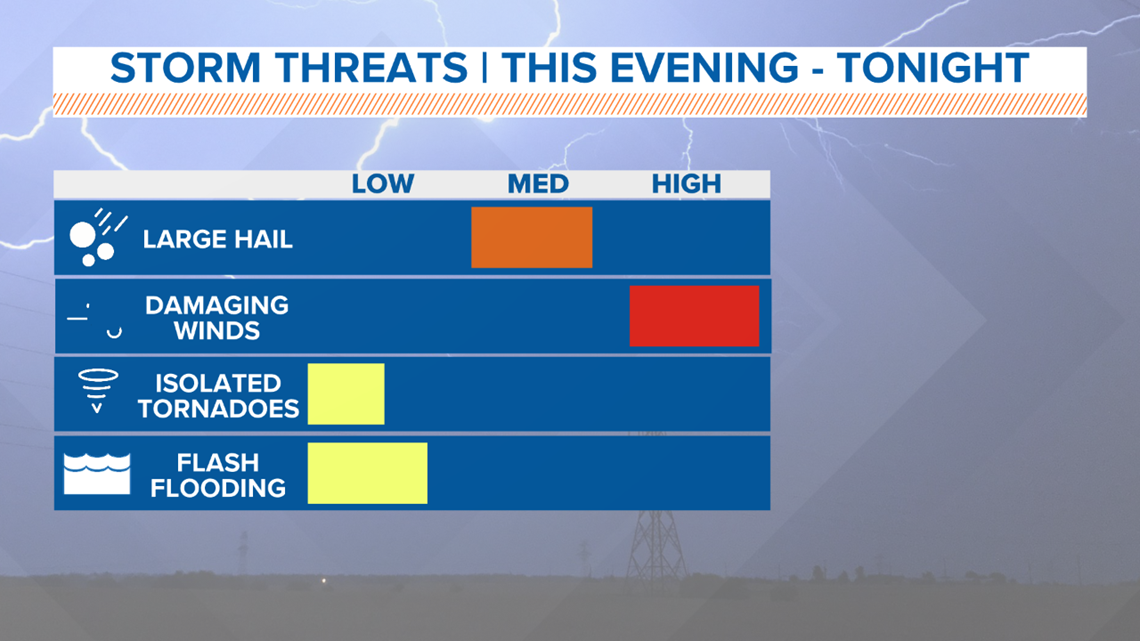 Places that don't see early to mid afternoon storms will heat up quite substantially today. Highs in the mid 90s with heat index values of 100° or hotter.
If you have outdoor plans today, make sure to have a way to stay cool and hydrated.