DALLAS — Sunday's storms left damage in several metroplex areas.
The winds were so bad that they knocked down billboards, took down trees, caused a crane to collapse downtown and even ripped the roof off of a hangar door at Dallas Love Field this afternoon.
Around 1:57 p.m., Dallas Fire-Rescue responded to a 911 call for an "Industrial Accident" after a crane collapsed onto the Elan City Lights building at 2627 Live Oak Street downtown, officials said. One person is dead and seven others have been taken to area hospitals.
Two other rescues have taken patients to the hospital. No other information is available.
Part of a roof and a section of a hangar door were peeled off a Southwest Airlines maintenance hangar at Dallas Love Field this afternoon around 1:30, WFAA's Jason Whitely reports.
Mechanics were working on 737s when the severe thunderstorm moved over the airport, bringing strong winds and peeling off the roof and damaging the door.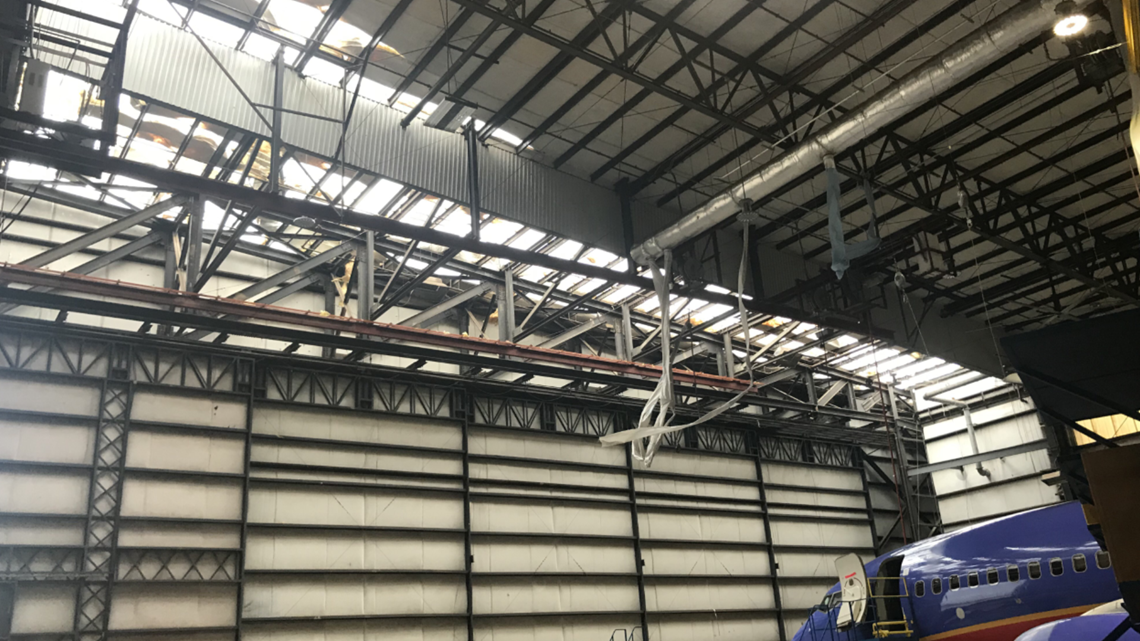 Mechanics sought cover in another part of the building, fleeing from the hangar.
Mechanics have not been able to inspect the aircraft to see if any were damaged in the storm.
Strong winds and rain move through metroplex on June 9, 2019
We will have the latest numbers on storm damage and flight delays as we get them.
Power outages
Oncor is reporting outages affecting 301,417 customers, including the following number of outages in the following counties:
Check back for more detailed numbers.
Flight delays/cancellations
Dallas-Fort Worth International:
Dallas-Fort Worth Intl (KDFW) is currently experiencing departure delays of 1 hour to 1 hour and 15 minutes (and increasing) due to thunderstorms. All inbound flights are being held at their origin until Sunday at 3 p.m. CDT due to thunderstorms.
Dallas Love Field (KDAL) is currently holding all inbound flights at their origin until Sunday at 4 p.m. CDT due to thunderstorms. Departure delays are at an average of 36 minutes and arrival delays for airborne aircraft are at an average of 39 minutes.
Photos/videos from around the metroplex
We want to remind our viewers to stay safe and take shelter if you need to. Your safety is always the No. 1 priority. But if you feel so inclined, send us what the weather looks like in your neck of the woods, either on Facebook, through Twitter @wfaa using #wfaaweather, or by emailing news8@wfaa.com.
Strong winds and rain move through metroplex on June 9, 2019