HONOLULU – From her hospital bed in Honolulu, Nikki Lewis might not know the impact she is having.
Her husband and mother are by her side, documenting her recovery, and every video they post to Facebook, especially the one from Sunday of Nikki singing "You are my Sunshine," is powerful.
"As kids, my mom always sang that song to us growing up," said Nikki's sister Ambyr Bouziden, choking back tears as she watched the video. "I just am so happy for the progress she's made. I was really scared for her."
On September 8, Nikki's destination wedding drew several friends and family members to Maui. "Will and Nikki love each other so much," said friend Tyacha Pillot. "It's almost like a fairy tale."
Pillot and Ja'Mikal Moorer are some of Nikki and Will Lewis's best friends, so it only made sense for them to join the Prosper couple in Hawaii.
On September 12, most of the family had gone home. But the flight back to Dallas for Pillot, Moorer and one other friend was delayed for a day, so the group went to Big Beach on Maui.
"I just saw the wave towering over her as she was on the boogie board," Moorer recalled, describing the last moment he saw the bride.
The wave overcame Nikki and slammed her into the sand headfirst. She broke her neck, was immediately paralyzed, and was unconscious.
"It took four grown men to get her out of the water - between the waves, the sand, the incline," said Moorer.
He feels like an angel was among them. An off-duty paramedic just happened to be vacationing on the same beach. "He immediately took his shoes off and ran in," Pillot said. "We did not know him."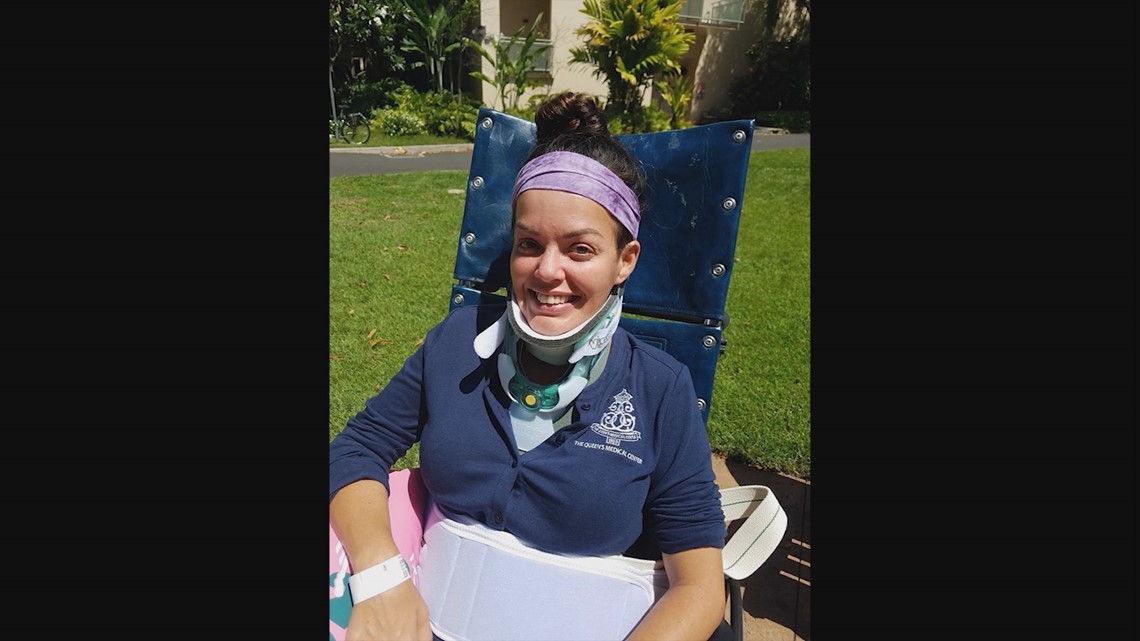 "He knew exactly what to do," Moorer added. "He stabilized her neck, which is the reason they say she's doing so well right now."
They don't know who that man was, but they are hoping someone who reads or sees their story can help find him.
Will has barely left his new wife's side as she learns to sit up, stand and even feed herself again. "He holds a whole new standard for men!" said Bouziden. "You can hear him in every video cheering her on. In every one!"
Nikki is making tremendous strides, and her friends and family set up a GoFundMe page to raise money to try to bring the newlyweds home to Dallas. Her friends are so inspired by her will to recover, they say her strength is making them stronger.
"You just have a renewed faith that everything is going to be fine," Moorer said. "She's going to get back to being her old self you can already tell nothing's going to stop her." "She's the reason why everybody else is like, 'Go Nikki! Go Nikki!'"