DALLAS — We're not crying, you're crying.
OK, we're all crying after watching this video posted by Southwest Airlines on Tuesday.
The Dallas-based airline on Feb. 2 had a very special guest on a Love Field-bound plane: Kaya, a German Shepherd service dog who was taking her final flight.
Kaya, who was traveling with her handler, Cole Lyle, was recently diagnosed with an untreatable form of cancer, as the flight's pilot announced to passengers.
As the pilot explained, Kaya was trained to help veterans with their mental health. And, even more notably, she was the inspiration for the PAWS Act, which created a program to provide canine training for veterans dealing with post-traumatic stress disorder.
She was a valued passenger for Southwest, traveling on their planes with Cole, a Marine Corps veteran, more than 250 times.
"We have the solemn honor of taking her on what will be her last flight," the pilot said, "as she goes home to rest where she was born and first met Cole."
After the pilot's announcement, the flight gave Kaya a round of applause, and she perked up from her blanket.
When they arrived in Dallas, Cole carried Kaya off the plane, and Southwest provided a cart, to help with her mobility issues in the terminal.
A few days later, Kaya passed away, according to Cole, who posted about her death on Twitter.
"My heart is broken and I'm numb without," Cole tweeted. "But it's gladdened because you're no longer in pain. Thank you for epitomizing 'Semper Fidelis.'"


The Backstory
In an interview with WFAA, Cole shared the story of how Kaya saved his life.
Cole spent six years in the Marine Corps with a tour in Afghanistan, and then came home to North Texas with PTSD.
"I tried pills and tried therapy. The pills just made things worse. I spiraled down and almost became a veteran suicide statistic," Cole said.
He was grasping for anything that might help when he met a fellow veteran with a service dog.
He found Kaya, a purebred German Shepard, the runt of a litter born between Denton and Fort Worth.
He spent $10,000 of his own money on Kaya and her training.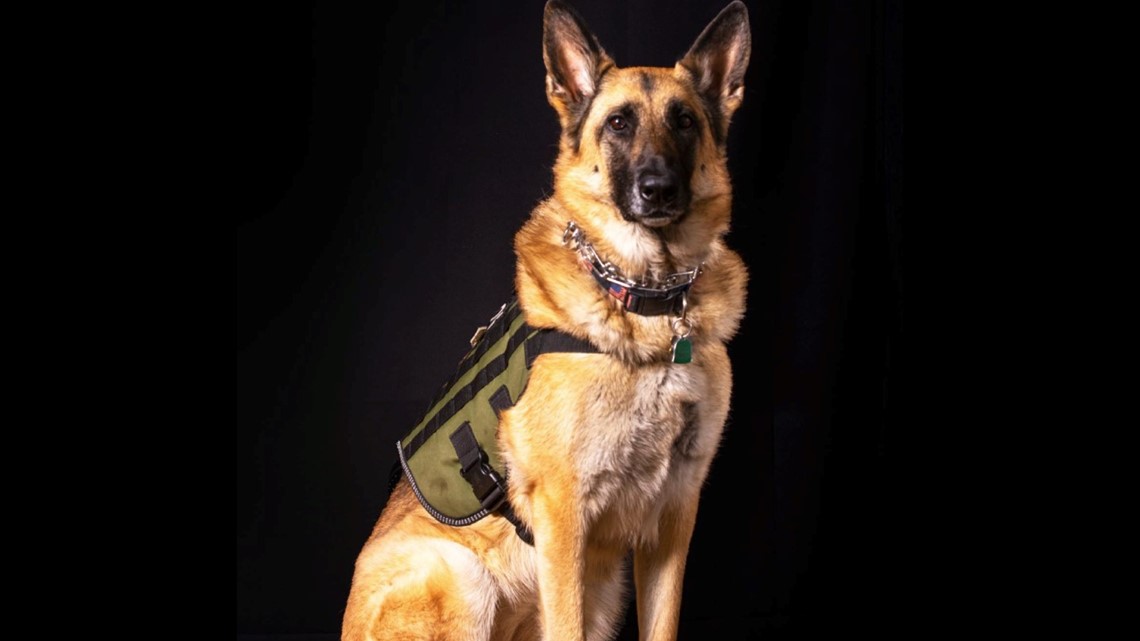 "She was specifically trained to help wake me up from nightmares and stop anxiety attacks and things like that," he said.
Cole says Kaya saved him from suicide.
"A dog can be a powerful thing to keep you around," he said. "If you get to that point, you look down at the dog and say, well, I can't leave the dog. The dog would miss me."
Kaya helped Cole earn his A&M degree and crossed the stage with him at graduation.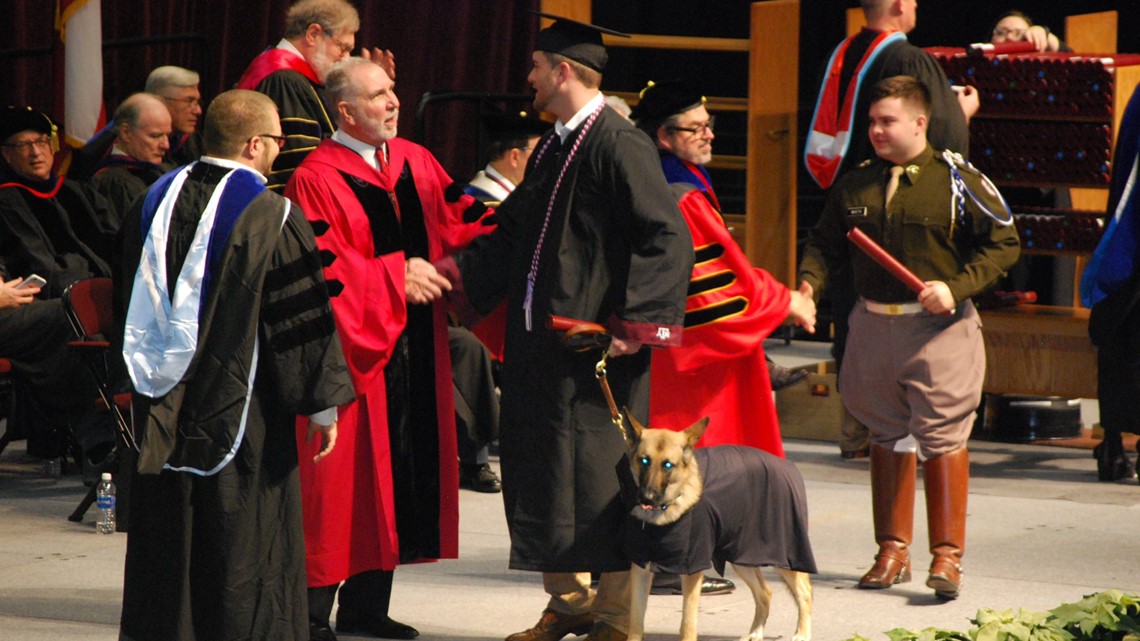 The two moved to Washington, D.C.
Cole became an advisor to the U.S. Senate on veterans' policies and discovered the power of a four-legged lobbyist.
The pair worked together to convince Republicans and Democrats in Congress to pass the PAWS Act.
Kaya was living a charmed and influential life in the nation's capital – she was well known and loved by politicians, she visited the U.S. Capitol and the White House, and she met celebrities and sports stars along the way.
But that charmed life came was cut way too short by a cancer diagnosis.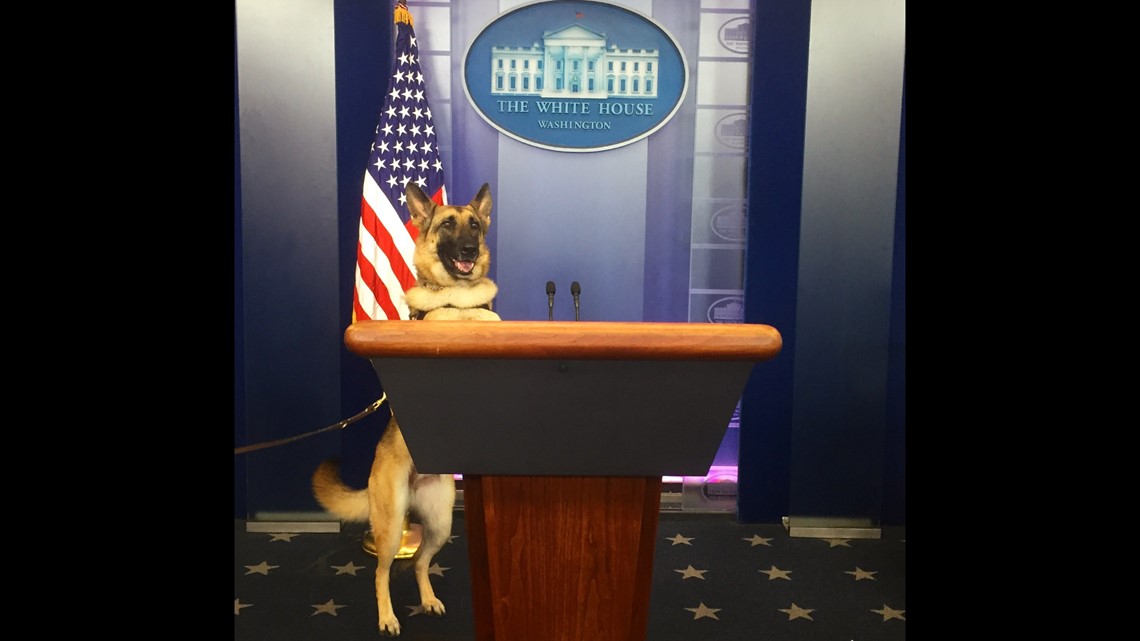 Kaya underwent surgery to remove a growth in January, but the cancer soon metastasized.
A tumor under her tongue prevented her from eating and balance issues kept her from walking or playing.
"I didn't want her to be in pain and suffer after all the pain and suffering that she stopped," Cole said through tears.
"She's a Texas girl and I didn't want her to die in Virginia," he said.
That's why Cole and Kaya made that final flight on Southwest Airlines.
When he landed in Dallas, his family, friends and fellow veterans said their goodbyes to Kaya.
Then Cole drove her to College Station and they visited all the places they used to go.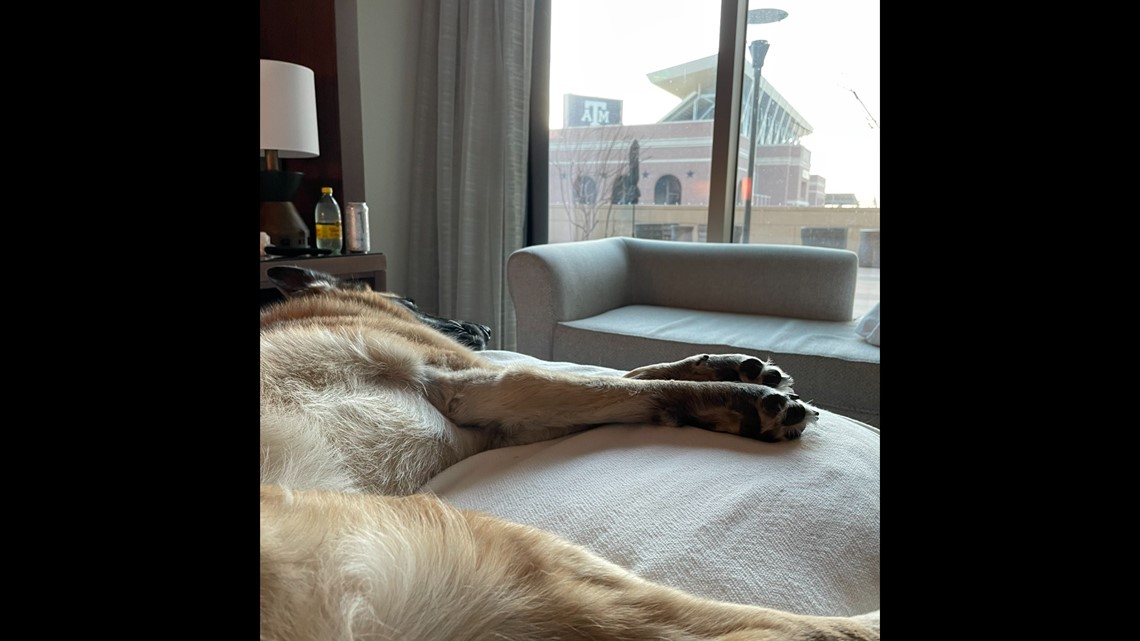 Texas A&M gave her a suite overlooking Kyle Field and brought her a breakfast of pancakes, eggs, bacon and sausage on her final morning.
Cole took her to the pond near the Bush School of Government and Public Service and spent a couple hours holding her.
Then the Small Animal Teaching Hospital peacefully helped Kaya fall into an eternal sleep.
"It was really hard waking up without for the first time, but she had a tremendous impact and a tremendous legacy," Cole said. "And if there's a little solace, it's that her story is resonating with so many people and hopefully positively impacting so many veterans."
Kaya would have turned 9 on April 26.