Updated at 12 p.m. Monday after University Park lifted its boil water order.
Many cities in North Texas are under notice to boil their water prior to consumption, including washing hands/face, brushing teeth, and drinking.
Those affected should boil their water vigorously for at least two minutes before letting it cool to be used or consumed.
The power outages across the region have impacted water treatment plants in several areas, which is forcing cities to issue boil orders.
Officials with the Texas Commission of Environmental Quality said ending a boil water notice isn't immediate.
Each entity has to get the water tested with a bacterial sample before the boil water notice can be canceled. It could take up to 24 hours for that sample test to be complete.
Benbrook
The Benbrook Water Authority said customers should boil water prior to consumption.
Children, seniors, and persons with weakened immune systems are particularly vulnerable to harmful bacteria, and all customers should follow these directions.
The general area affected is bounded by Loop 820 to the north, Bryant & US 377 to the east, and City limits west and south.
Water for drinking, cooking and ice making should be boiled and cooled before consuming.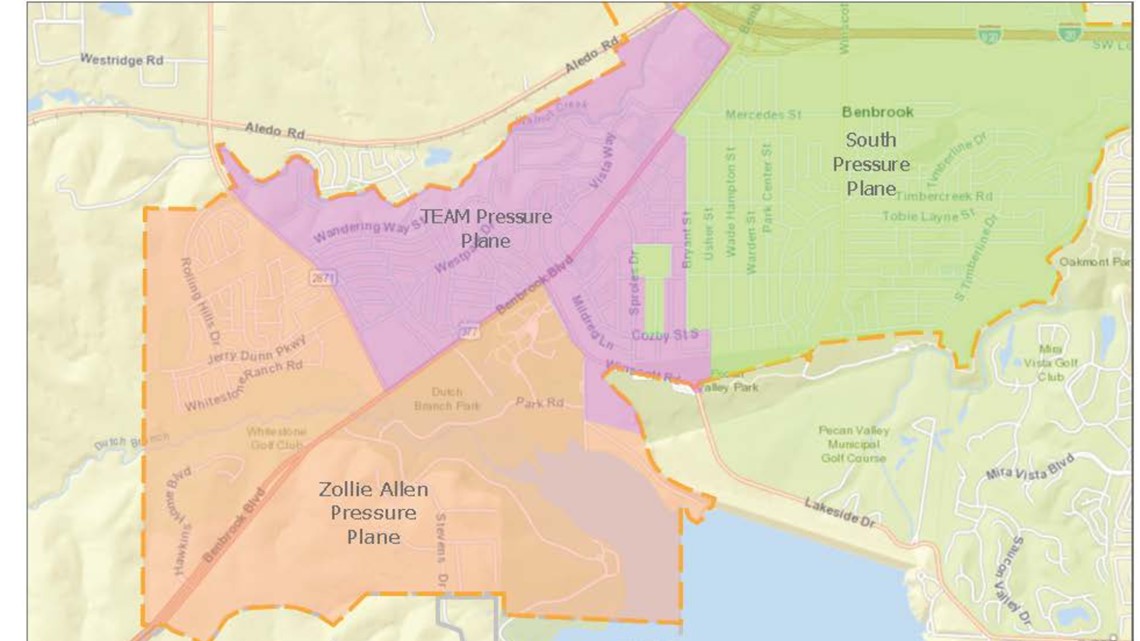 Boyd
The City of Boyd in Wise County issued a boil order Tuesday night for all of its residents.
Fannin County
The cities of Ector, Leonard, Savoy and Windom in Fannin County are all under a boil water order as of Wednesday.
Fort Worth
People who live in Fort Worth are no longer under any boil water notices, city officials announced Sunday.
Those who had been under the boil water notice for western Fort Worth can now use their water as normal, officials said. The city had previously lifted a boil water notice for north Fort Worth on Friday.
Cities that are customers of Fort Worth and were affected, however, still have to get their own orders lifted by state officials, the city added. Water customers in Aledo, Westover Hills and White Settlement should check with their own providers.
Earlier in the week, these other cities were also placed under a water boil order: Haslet, Keller, Lake Worth, Northlake, Roanoke, Saginaw, Southlake, Trophy Club, and Westlake.
Greenville
The City of Greenville has issued a boil water order and it will remain in effect until further notice. Officials said due to the power outages, they are unable to maintain adequate pressures in their systems.
Haslet
Due to a power outage at a water treatment plant, the City of Haslet is under a boil water notice prior to consumption.
If you have questions concerning this matter, you may contact the water utility at 817-439-5931.
Keller
Officials were able to get the system somewhat restored overnight Tuesday in Wednesday, but a boil water order is still in effect for Keller residents as water pressure returns to at least a trickle for most homes.
Officials ask that residents leave faucets closed as often as possible Wednesday morning to help their system refill and pressurize. Demand will slow down their efforts to return the system full online.
Kennedale
Officials said due to unprecedented demand causing a drop in system-wide water pressure, residents in Kennedale must boil their water prior to consumption until further notice.
Lewisville
The City of Lewisville issued a boil-water notice Thursday for one water service area because water pressure has dropped below the safe standard of 20 psi.
Officials said the boil-water notice only impacts Lewisville water customers and Denton County Fresh Water Supply District #1 water customers located within the area shown on the map below. Approximately 3,500 Lewisville residents are in the affected area.
The city said the public will be notified when the boil-water notice is lifted, but it's expected to last at least 72 hours or longer.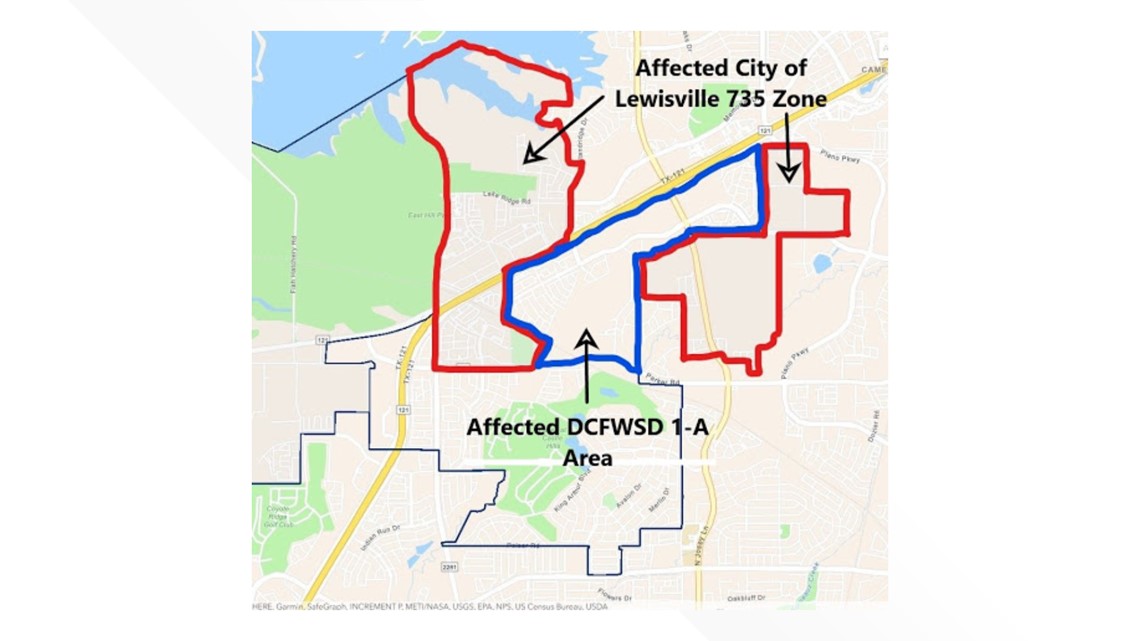 Mustang Special Utility District
The district has issued a boil notice for some of its customers, officials said Thursday. The problem stems from the fact that its supplier, the Upper Trinity Regional Water District, is unable to send enough water to supply their system.
The areas under the boil notice are:
Those in and around Sutton Fields, Sandbrock Ranch, Winn Ridge, Arrowbrooke, Union Park and Savannah; or on or near the 1385 corridor
Customers along the US 380 corridor
Those south of US 380, including Cross Oak Ranch, Wildridge, Shahan Prairie, Shahan Lake View, Woodridge, Prairie Oaks, Hillstone Pointe and all Mustang customers in the Oak Point area
All customers south of Fishtrap Road in Cross Roads
Paloma Creek
River Oaks
The city's water plant had to be shut down because intakes from Lake Worth froze, officials said, and the city's emergency backup, the city of Fort Worth, is dealing with their own water supply problems. Water pressure dropped below 20 PSI, leading to the boil water advisory.
Residents can contact city hall for help getting water.
Springtown
The city of Springtown in Parker County issued a boil order Tuesday night after losing power at water facilities. They are also asking residents to conserve water as much as possible until power is restored to their facilities to prevent a possible water outage.