ARLINGTON, Texas — Enhanced background check requirements and a new ability to suspend troubled caretakers, both aimed at making group homes safer for Texans with intellectual disabilities, are now law.
The measures, inspired by WFAA's "Disabled in Danger" series, were authored by State Rep. Chris Turner (D-Arlington). Texas Gov. Greg Abbott signed them into law Monday, and both take effect Sept. 1, 2023.
Turner introduced those two measures, and as well as two others, largely in response to WFAA's series, which began in 2018 and highlighted problems with oversight of taxpayer-funded group and host homes.
"These are very significant reforms for individuals with IDD who are in these types of facilities throughout our state," Turner said. "I and other legislators would not be as aware of the problems and challenges in group homes ... were it not for the investigative reporting that you did and WFAA did and continue to do on this issue."
WFAA learned that medical privacy laws prevented health care officials from sharing the assailant's violent history with Taylor's caregivers or mother.
A state report also found Paul's state-paid caretaker neglected him, but at the time, there was no way to prevent the caretaker from caring for other disabled people while appealing the State's finding.
Under Turner's new law, caregivers must be "immediately suspended" once regulators find they've abused, neglected or exploited a disabled person until their cases are adjudicated.
Susan Taylor, Paul Taylor's mother, told WFAA she's relieved to see changes finally being made to protect the disabled.
"There were times when I actually felt like I don't think I can fight anymore," she said. "I'm glad it's behind us, and we're making progress so it never happens to another individual."
Another of Turner's bills becoming law makes national background checks for caretakers a requirement.
Raul had the intellect of a toddler. He was severely-autistic and needed constant supervision. Raul lived with his mother for most of his life – except for his final 71 days, when he was placed with a caregiver in a Garland home.
By the time the 24-year-old died in April 2019, an autopsy showed Raul weighed 85 pounds. The pathologist found that he was malnourished and that lack of food contributed to his death.
A two-year WFAA investigation into Raul's case found his caregiver – licensed by the State of Texas – had a federal criminal conviction and should never have been looking after him or any other disabled people.
The caregiver managed to make it through a loophole in Texas' criminal background check process. WFAA found that Raul's State-paid caretaker used to live in Arkansas, and she pled guilty there to stealing money from federally-funded daycare program. But when she moved to Texas and applied for jobs taking care of the intellectually disabled, those providers were only required to check for Texas crimes, so they missed her federal out-of-state conviction.
"Had we had enhanced and more robust background checks, perhaps his story would have had a different outcome," Turner told WFAA.
In the waning days of the session, it appeared that only House Bill 1009, the legislation mandating national background checks, would make it into law. All House bills have to also pass the Texas Senate before they head to the governor's desk to be signed into law.
House Bill 1009, sponsored in the Senate by State Sen. Royce West (D-Dallas), had made it out of a Senate committee. But there wasn't time for House Bill 1008, the legislation that would allow for the suspension of caretakers, to be heard in committee.
Turner told WFAA he made a last-ditch effort asking Sen. Lois Kolkhorst, who chaired the health and human services committee, to take another look at HB 1008, the suspension bill.
Turner said Kolkhorst reached back out and agreed to offer it as an amendment to House Bill 1009.
"And that's how we got it done," Turner said. "You just have to be sort of a squeaky wheel, and I think that paid off in this case."
But the journey isn't over. House Bill 1010 would have banned a caretaker at a group home or other similar facilities from getting a life insurance payout on a non-relative.
Turner proposed the legislation as a result of what happened to Leroy Anderson. Anderson had the intellect of a 10-year-old. He was also diabetic, schizophrenic and bipolar. He lived in what's called a group home in Dallas. His caretaker was paid by the State. In 2018, the 49-year-old went into a diabetic coma and died. His family learned after his death that Anderson's group home owner, and not his family, was about to collect his $50,000 life insurance payout after he died – revealing a loophole in the law.
Turner said he hopes to reintroduce the bill in 2025, when the Texas Legislature next meets.
House Bill 1007, known as "Joshua's Act," would have prohibited firearms in group homes, intermediate care facilities and State-supported living centers that care for individuals with intellectual and developmental disabilities. Currently, there is no law banning guns in such facilities.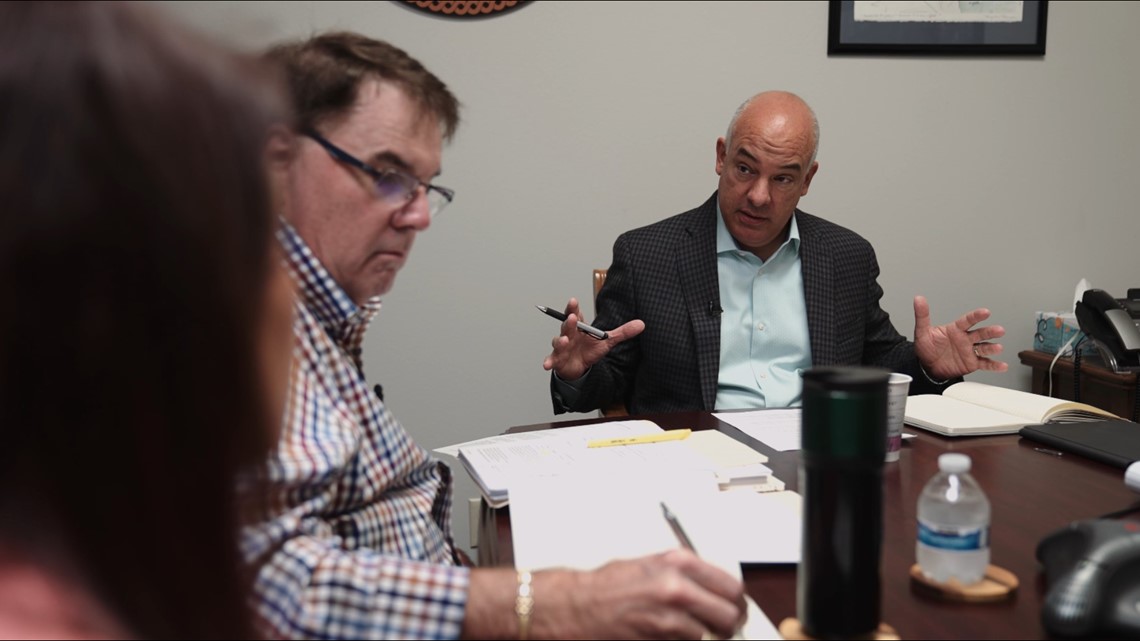 Moore's caretaker fatally shot him in the summer of 2021 after Moore attacked him with a knife. The caretaker was cleared of criminal wrongdoing, but was sanctioned by State health officials for leaving the knife where Moore could get it, and for shooting Moore. The company the caretaker worked for said it did not know there was a gun in the house.
"Just like we don't allow guns in hospitals, in nursing homes, there is no reason they should be allowed in a facility that cares for IDD individuals," Turner said.
More from WFAA Investigates: