Bart and Cynthia Zolnowski worry about the dangers that may lurk beneath their home.
They live miles from a fatal gas explosion last month in Northwest Dallas. The accident has led to hundreds of homeowners to voluntary evacuate while Atmos rebuilds its natural gas pipeline system.
"Our neighbors tell us it's a common thing to smell gas," Cynthia said. "No one wants a gas leak. It's kind of scary."
Their fears are not without merit.
While dozens of Atmos crews work to replace leaky steel pipes in northwest Dallas, the Zolnowski family has cast iron pipes near their home in the "M" streets.
Federal regulators have repeatedly warned of its dangers for decades. In fact, they have urged states to replace all cast iron piping.
To date, 21 states have replaced cast iron piping, eliminating it all together. Texas is not among them.
According to documents WFAA obtained through open records, Atmos (as of June 2017) has replaced 48.5 miles of cast iron pipe in Dallas over the past three years. But there is still 409 miles of the pipe running under the city.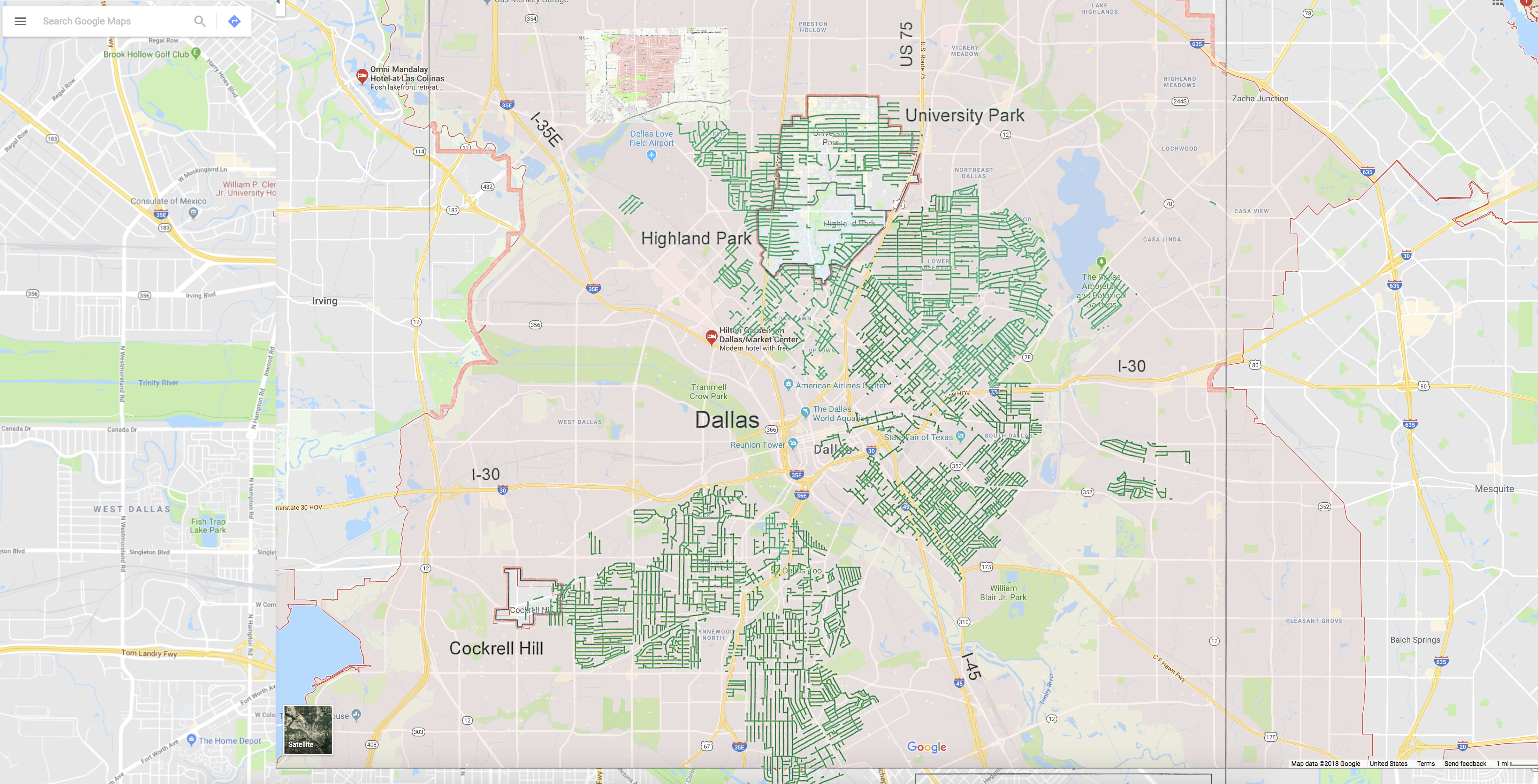 University Park has an additional 24.9 miles of cast iron pipe in the ground. Highland Park has 4.6 miles.
A 2013 map, also obtained through the request, shows cast iron pipe encompasses large portions of Dallas – from the city's wealthiest neighborhoods to some of the poorest. What they all have in common: the cast iron tends to be in the city's oldest neighborhoods.
In a letter, Atmos officials said they plan to remove all cast iron pipes in Dallas by the end of 2023. Atmos contract crews recently have grown 25 to 30 percent with over 30 work crews dedicated to replacing cast iron pipe in Dallas County, officials said.
Don Deaver, a pipeline safety expert based in the Houston area, said the company's replacement program has been much too slow, and most or all of the cast iron pipe should be out of the ground.
"It's a very brittle type of material," Deaver said. "Definitely, it should not be used to transport something this dangerous. You're exposing the people in Dallas to a form of Russian roulette."
Dallas County Judge Clay Jenkins requested the map and replacement report from Atmos.
Jenkins told WFAA he wants to see the cast iron pipe removed from the ground this year.
He's concerned Dallas could see another tragedy like the 2011 explosion that seriously injured Domingo Mendez, his wife, and son Pablo. Investigators discovered a crack in the cast iron pipe main near their home.
"My concern is that we have areas of the system that are aged out, that are old and that are more subject to leaks and breaks," Jenkins said.
Atmos has refused repeated requests to release a map showing the location of its cast iron pipe, as well as other types of pipe.
The company said in a statement to WFAA that the company has a "robust comprehensive pipeline replacement program that prioritizes segments based on various factors, not just pipe material."
The statement said Atmos had 841 miles of cast iron pipe in 57 cities across Texas. As of January, the number had fallen to 498 miles in four cities, it said.
Most of the cast iron pipe is in Dallas.
Atmos and its natural gas pipeline replacement program have come under scrutiny following a Feb. 23 explosion that claimed the life of 12-year-old Michelita Rogers in Northwest Dallas.
In the two days before that deadly house explosion, two other homes caught fire or exploded nearby. Both were natural-gas related.
Deaver, who has been an expert witness and consultant in a number of other Atmos-related cases, has strong opinions about how Atmos handled the situation.
He said after the first incident -- and most certainly after the second incident -- Atmos should have been "swarming" the area conducting leak investigations.
"To think you're going to have one leak and not have any others going on but that one single leak, it's ludicrous," he told WFAA.
When Atmos conducted leak tests soon after the fatal explosion, the company acknowledged that it found 28 leaks near the homes.
The explosion remains under investigation by both National Transportation Safety Administration and Texas Railroad Commission.
In the days after the house explosion, Atmos announced that they had decided to replace 27 miles of steel pipe in the Northwest Dallas neighborhood. Company officials blamed unforeseen shifting soil conditions for putting pressure on their system that created uncontrollable leaks.
Deaver called their explanation highly unlikely.
"That's their legal defense," says Deaver, a former Exxon pipeline engineer. "That's not their explanation."
If it were the case, investigators likely would have seen burst water pipes also in the area, he said.
Based on prior experience, Deaver said the leak and explosion may have been more likely caused by a corroded pipe or faulty pipe fittings known as compression couplings.
Compression couplings have been associated with other prior natural-gas explosions, and Atmos had previously pledged to remove many of them from the ground.
He also faults lax enforcement by the Texas Railroad Commission. Between 2012 and 2016, the Commission levied just $145,00 fines on Atmos.
"Even when there is an event and somebody gets hurt or killed and its clear negligence by the company, they don't look at the pattern," Deaver said. "Atmos found out many years ago that there's money to be made cutting corners. The consequences of regulatory action is negligible compared to the cost of going out there and doing something about their problems."