DALLAS — The Dallas City Council voted unanimously in support of an ordinance that limits operating hours at sexually-oriented businesses as part of a Dallas Police Department-backed plan to reduce crime.
Just before 2 p.m. on Wednesday, all 14 Dallas councilmembers and Mayor Eric Johnson voted 15-0 to pass the new proposal, which closes strip clubs and other Dallas businesses from 2 a.m. to 6 a.m.
"I think this is a very measured and proactive response to the violent crime that is still too high in our city," Johnson said minutes before the vote.
Along with Johnson, Police Chief Eddie Garcia spoke in support of the proposal.
Dallas police data presented to council showed that violent crime offenses increased between the hours of 2 a.m. and 6 a.m. as compared to the time frame of 10 p.m. to 2 a.m.
"It's a smart response, and it's a response that shows we are truly committed to that kitchen-sink approach to public safety," Johnson added just before the vote. "We need robust community policing, but we also need everyone else -- and that includes us [on council] -- to do our part."
A top priority of the council's is continuing to reducing the city's violent crime numbers. Violent crime in Dallas is trending downward both in overall violent crime and homicides, data presented by DPD shows.
According to representatives with Mayor Johnson's office, the new rules were set to go into effect upon the publication of the ordinance, which had been expected to arrive on Monday, Jan. 31. On Friday, however, during a hearing related to a lawsuit filed by attorneys representing some of the affected businesses, a judge ruled that she would hold a preliminary injunction hearing by Feb. 10 on the matter, thus delaying its implementation until at least that date.
Previously, there were no regulations on hours of operations for fully nude strip clubs and adult video stores in the city. Through the passage of this ordinance, a total of 28 businesses within city limits will be affected, including adult arcades, adult bookstores, adult theaters, topless strip clubs and fully nude strip clubs.
The city's new ordinance also cites the state's new law, SB 315, which prohibits a sexually-oriented business from employing or contracting a person who is under 21 years old.
Mayor, councilmembers discuss ordinance
Before it passed unanimously, Mayor Eric Johnson said the vote would show how committed the council is to reducing violent crime. He said this isn't a vote about being "morally puritan" or shutting down the businesses, but the city is trying to prioritize public safety.
"We're talking about businesses that have been operating for a long time between those hours contributing to a considerable amount of violence in the city," Johnson told WFAA on Tuesday.
At Wednesday's meeting, various councilmembers discussed how their constituents were tired of gunshots and crime in their area.
Councilmember Omar Narvaez, meanwhile, asked that the city figure out a way to provide resources to the workers who will lose hours.
Narvaez also requested an amendment be added that would allow this ordinance to be reviewed every two years by the city's Public Safety Committee. He said he gets frustrated when he hears about policies that haven't been looked at in decades.
"I think this is just good policy," Narvaez said. "To have, I call it a sunset, but just a review period when we come back and, just as a body, sit there and look at it," Narvaez said.
Narvaez's amendment passed with 10 councilmembers voting for it and five councilmembers voting against it.
"My residents are on the front line of this," said councilmember Gay Donnell Willis. "They deserve to have the PD protection they pay taxes for."
Mayor Pro Tem Chad West said he initially had some concerns about this ordinance being "rushed" without more substantial data.
He said even with the new data recently provided, he was still worried about unintended negative side effects for companies acting legally.
"I'm concerned that there might be businesses that we are unfairly shutting down because they're falling under the blanket umbrella ordinance that's being passed today," West said.
Protests
Protesters showed up outside Dallas City Hall to speak out against the ordinance. One person held up a sign that said, "This is a curfew. Adults have the right to choose how to live their lives."
Another sign read, "Single moms need to work. We have families too." Yet another said, "Crime knows no time."
Violent crime data
The police department created a northwest club task force in March 2021 "due to multiple shootings and other violent crimes occurring at or near sexually oriented businesses," the city said.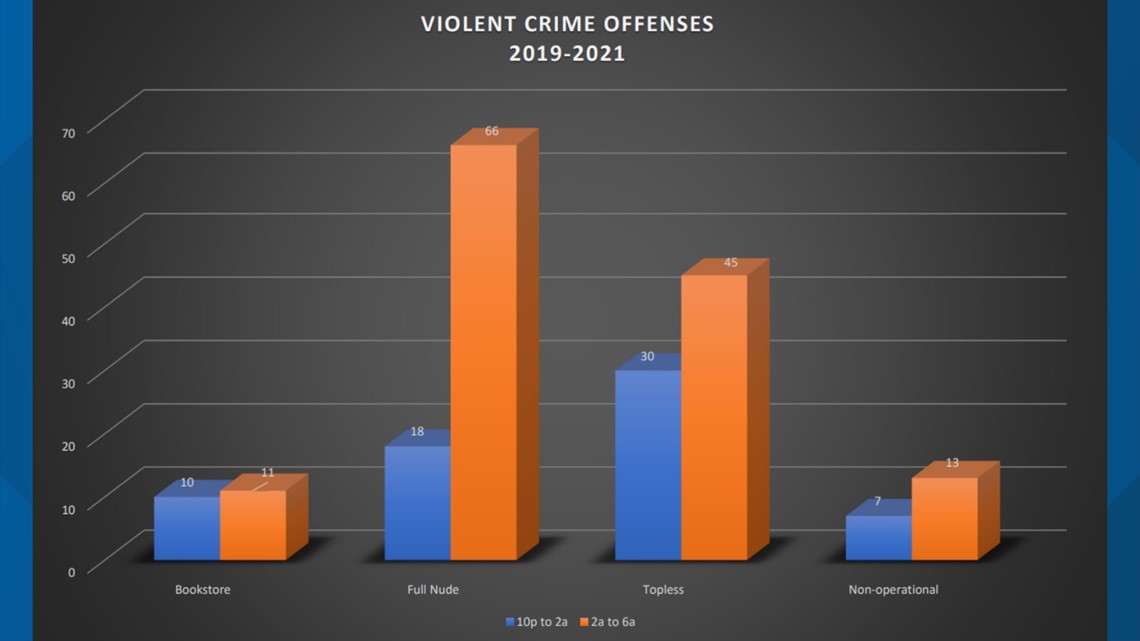 According to the city, from 2019 to 2021:
Bookstores accounted for 5% of violent crime offenses from 10 p.m. to 2 a.m. and 5% of offenses from 2 a.m. to 6 a.m.
Full Nude Cabarets accounted for 9% of violent crime offenses from 10 p.m. to 2 a.m. and 33% of offenses from 2 a.m. to 6 a.m.
Topless Cabarets accounted for 15% of violent crime offenses from 10 p.m. to 2 a.m. and 22% of offenses from 2 a.m. to 6 a.m.
Non‐Operational SOB's accounted for 3% of violent crime offenses from 10 p.m. to 2 a.m. and 6% of offenses from 2 a.m. to 6 a.m.
The police department also said it hopes the ordinance would free up officers to respond to other calls.
If the ordinance is violated, the business license will be suspended for no more than 30 days for a violation of the hours of operation. The ordinance also added the possibility of a penalty of no more than $4,000 and no more than one year of jail time for operators.
The ordinance also includes a new section that prohibits a sexually-oriented business from employing or contracting with a person who is under the age of 21.
Note: This story has been updated to more accurately reflect the expected institution of the new ordinance.