McKINNEY — No one ever could have predicted that an end-of-the-school-year cookout at a neighborhood pool and park would end the way this one did: With a 15-year-old girl's head on the ground and a McKinney police officer on top of her.
But how things got to that point is a story in itself.
It all started with a flyer, advertising a free cookout and deejay Friday evening at a Craig Ranch pool, where teen organizers Tatyana and Aryana Rhodes say they are members.
The girls and their mother, LaShauna Burks, said the point of the event wasn't to swim in the pool — which is reserved for members and their two guests — but witness Sean Toon said that's exactly what happened, and the situation was becoming chaotic.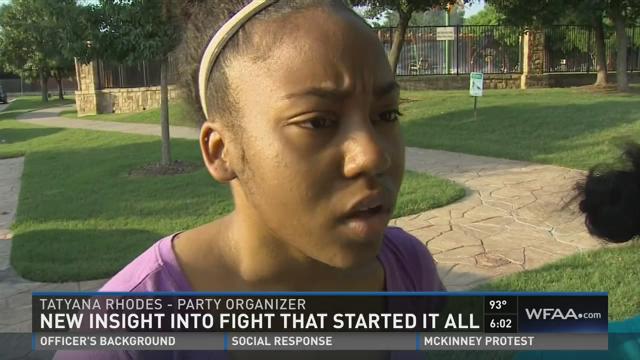 "We were telling the security guards, 'hey, these guys are jumping the fence, the'yre passing access cards through to each other, they're not supposed to be here," Toon told News 8 on Sunday.
There is a rule at the pool about how many guests you can have; a rule Burks said is never enforced.
But when black kids showed up, it was.
"There's a double standard there," she said. "You're not giving the ability for everybody."
Burks said she had received permission to have the event from the homeowners association, but the HOA told News 8 Monday it had not approved such an event.
Tatyana Rhodes, 19, said two white women at the pool started an argument on Friday.
"Saying things like, 'You black [expletive],' and, 'That's why you live in Section 8 homes,'" Rhodes said, crying as she recalled the incident.
Rhodes said the dispute with the women then turned physical. That altercation was also recorded and posted to YouTube.
McKinney police said they showed up because of a disturbance call at the pool. Toon said he was one of the people who called 911 because of the chaos.
But we've seen how things went from there. Veteran McKinney police Cpl. Eric Casebolt told some kids to stay put, ordered others to go home, and ended up on a video recording slamming a 15-year-old girl down. He is now under investigation.