DALLAS — This story will be updated Friday as new information is released.
One of the 15 deaths in Dallas County on Friday was a solid organ transplant recipient who had received two doses of the coronavirus vaccine.
"Immunocompromised individuals are still vulnerable to this deadly virus even after vaccination. If you have family members who are high-risk, it's critical that you get the vaccine and avoid large crowds so that you can best protect them," Jenkins said in a tweet.
A breakthrough infection is defined as a person contracting an infection despite being vaccinated against it, according to Dr. Anthony Fauci. He addressed the concept Monday during a briefing.
According to the CDC, 7% of people with breakthrough infections have been hospitalized in the U.S. and 1% or 74 individuals have died.
As of April 13, the CDC said around 5,800 breakthrough infections have been reported across the country.
Dallas County health officials also announced 152 cases Friday, bringing the county total to 254,822 since tracking began in March 2020.
Of these new cases, 61 are considered probable because they came from antigen tests.
There are currently 198 people hospitalized with COVID-19 in Dallas County.
Tarrant County reports 162 hospitalizations
Tarrant County Public Health said that as of Friday, there are 162 people hospitalized with COVID-19. There were 157 the previous day.
This is the 22nd consecutive day the number of COVID-19 hospitalizations has been below 200.
The COVID-19 patients make up 3% of the total hospital bed capacity. The county currently has a 14-day average of 150 hospitalizations.
Health officials reported 234 new COVID-19 cases Friday. There have been 254,188 total cases in the county since tracking began in March 2020.
Health officials also reported two new COVID-19 death.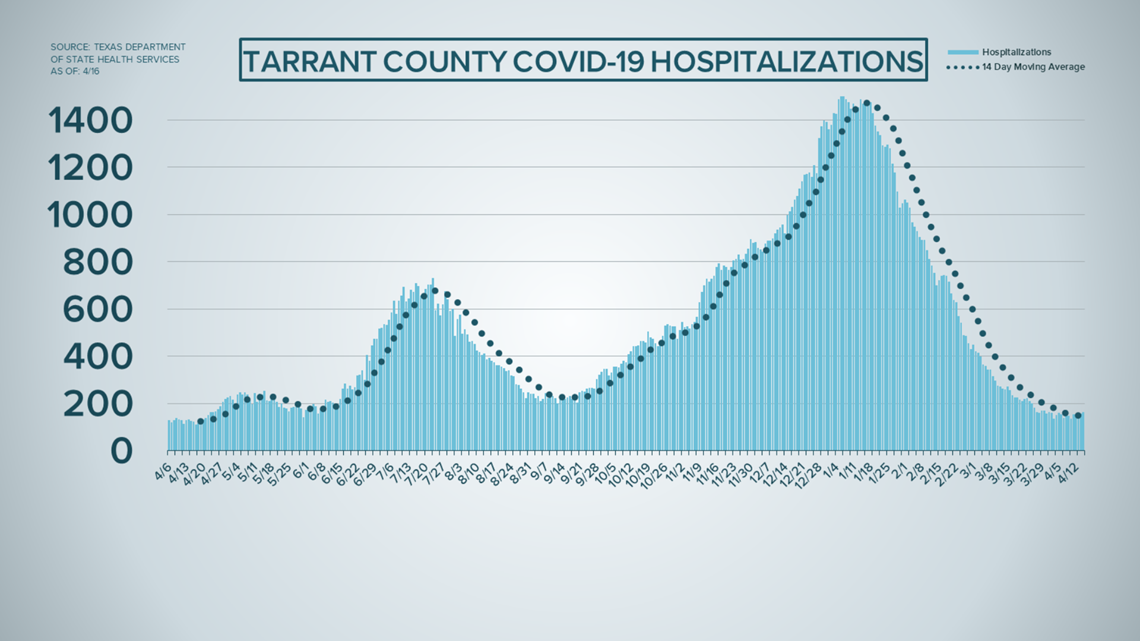 Collin County hospitalizations go back over 100
Collin County health officials say the county currently has 107 COVID-19 hospitalizations as of Friday, up from 93 on Thursday. This number has remained below 200 since March 8.
There were also 101 new COVID-19 cases in Collin County Friday, according to the Texas Department of State Health Services. This is down from 31 on Thursday.
Collin County is averaging 65 new COVID-19 cases in the past 14 days.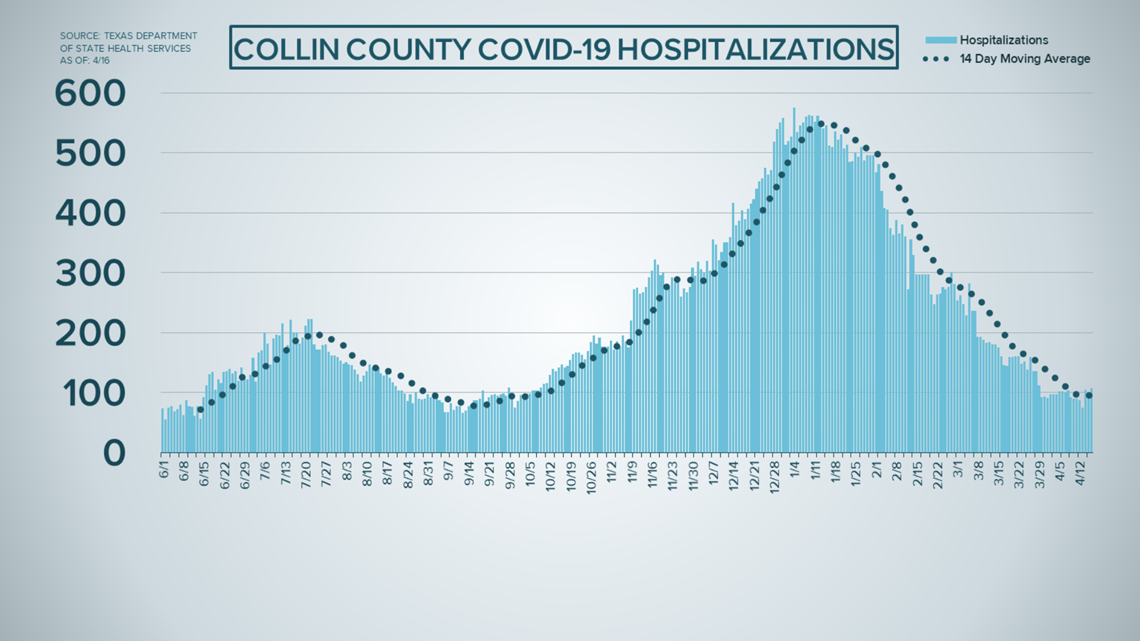 Denton County has fewer than 50 hospitalizations for 24th straight day
Denton County health officials announced there are currently 18 people hospitalized with COVID-19 in the county. There were 21 on Thursday and 25 and Wednesday.
The county currently has a 14-day average of 30 hospitalizations.
Health officials also announced 125 new COVID-19 cases Friday. There have now been 73,207 total cases since tracking began in March 2020.
There are also currently 14 ICU beds available in the county's hospitals.
As of Wednesday, 181,217 people in Denton County have received their first doses of the COVID-19 vaccine and 119,711 have received their second doses.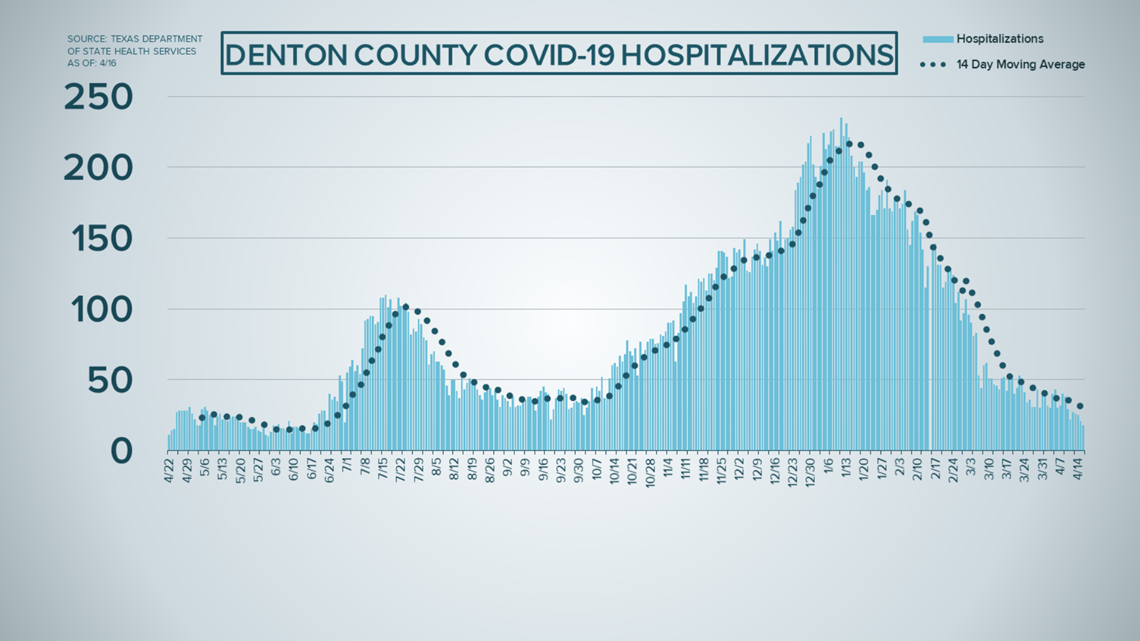 Vaccine hubs closed due to rain, storms
A number of vaccine sites across North Texas have closed Friday due to inclement weather, including clinics for Dallas and Denton counties, and the City of Dallas hub at The Potters House.
Denton County Public Health's drive-thru vaccine clinic scheduled for Friday is cancelled due and those who were supposed to receive their vaccine on Friday will be rescheduled for Tuesday, April 20.
Officials said the rescheduled appointment notifications will be sent via email or text message. No other clinic dates are affected at this time.
"Keeping our community members, staff, and volunteers safe remains a priority as we see threats of severe weather," Judge Andy Eads said in a written statement.
The COVID-19 vaccination site at Fair Park in Dallas will be closed Friday as well. Judge Clay Jenkins tweeted around 7:50 a.m. stating those who had appointments for Friday should return Saturday with their QR code.
Additionally, appointments scheduled at The Potters House through the City of Dallas are cancelled as that site will close at 9:45 a.m.
Officials said anyone with appointments on Friday can come Saturday to receive their dose.