DALLAS — Customers across Dallas-Fort Worth, and for that matter across the entire country, woke up to problems with their Wells Fargo accounts on Friday.
Direct deposits that were supposed to be posted as early as Wednesday were still not showing up in personal banking accounts on Friday morning.
"We've never really had any issues up until this point with Wells Fargo," said Hannah Bruton, of Burleson, who said her husband's direct deposit from work should have posted Wednesday.
But, with the money still not registering in their account this morning, automatic payments and other scheduled deductions had their primary checking account in the red when they woke up.
"And I don't know why," Bruton said of a 5 a.m. online check of their accounts. "I just had something tell me to check my bank account, but I did and I was negative quite a bit in the account."
And, stopping to get gasoline on his way to work Friday morning, Bruton told WFAA her husband's debit card was declined.
The website Downdetector, tracking online outages reported by customers, shows it was happening nationwide.
"So, it's frustrating when it almost just gets taken away from you and you can't do anything about it," Bruton said.
Customers signing on to their Wells Fargo online accounts received messages that said the problem "may be due to a technical issue and we apologize. Your accounts continue to be secure and we're working quickly on a resolution."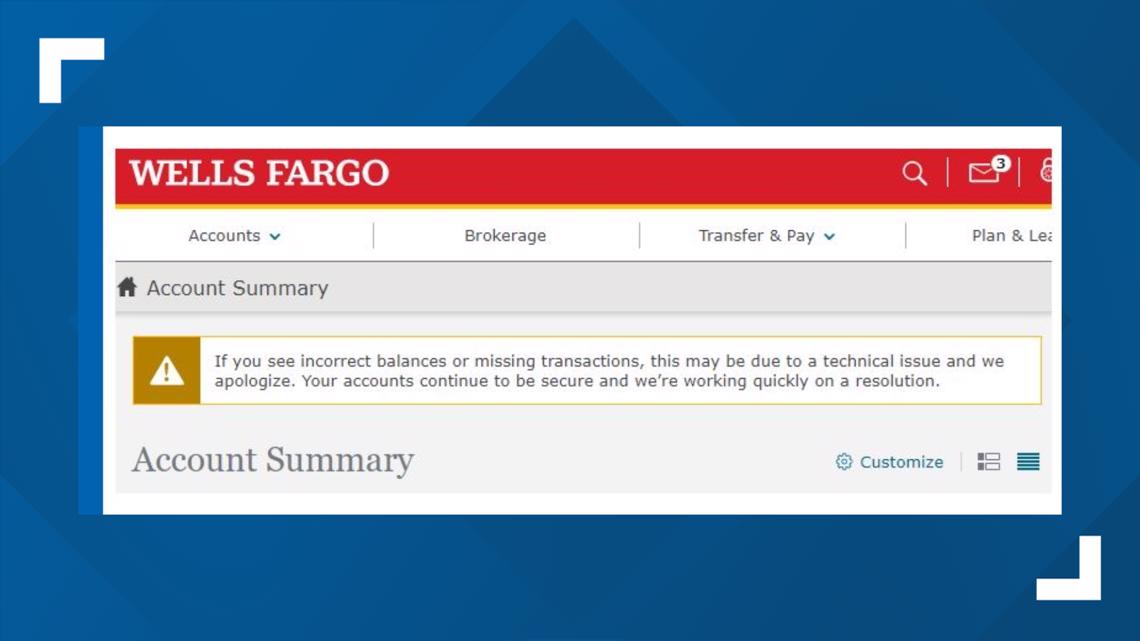 In a statement sent to WFAA, Wells Fargo said:
"Wells Fargo is aware that some customers' direct deposit transactions are not showing on their accounts. We are working quickly on a resolution and apologize for the inconvenience. Customers' accounts continue to be secure."
"This is deeply troubling," said DFW-area financial advisor Derrick Kinney of Good Money Framework. "And what it does is it erodes confidence as an investor. So, Wells Fargo has a crisis right now but I'm guessing, if I'm them, they are working to solve this crisis as quickly as possible."
And, it's certainly not the financial institution's first crisis. Wells Fargo has paid out an estimated $3 billion in fines and settlements, and the Federal Reserve placed a cap on the company's growth after the 2016 discovery it was opening fraudulent accounts in customers' names without their consent.
D-FW customers, in social media posts and in interviews with WFAA, suggest this latest "glitch" might be the final straw for them.
"Very frustrating," said Dani Turbeville in Fort Worth. "I've been with them since 1984, and I've gotten offers to switch to other banks. And I'm thinking apples to oranges I might just change."
"Definitely looking into different banking," Hannah Bruton said. "As of right now, we will probably be changing that up in the next month."