DALLAS — Have you climbed the ladder? Not the one at work. The one at home. I ask this because we recently explored how to choose a roofer to remedy hail damage. And I skipped the first rung on the ladder in that report: You may not even think you need to choose a roofer, because you may not even know you have hail damage.
Have there been more hail events in Texas this year?
The Insurance Council of Texas is a consortium of insurers in the state. I asked the ICT how hail claims this year have compared to past years. Here is what they reported: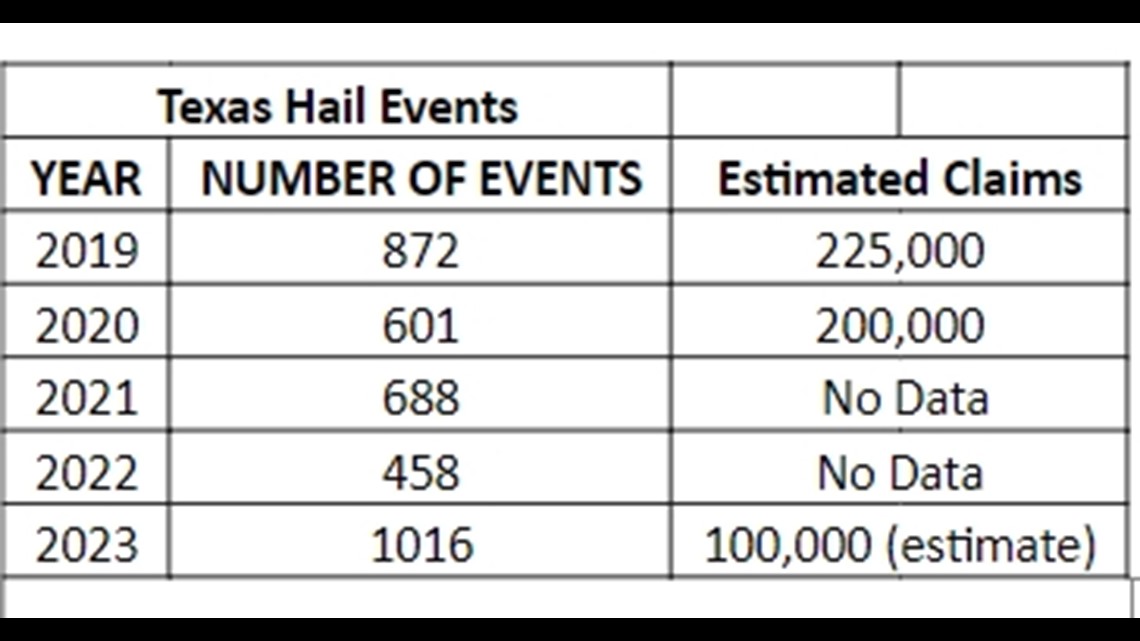 Notice that they have counted more hail events than usual. And yet, they show this year has been relatively light on hail claims. It could be that hail hasn't fallen as much in heavily populated areas as in past years, or that the hail wasn't big enough in many cases to do a lot of damage.
How do you now if you have hail damage?
It's also possible that there are property owners out there who do not know they have reportable damage. I say that because earlier this summer I started seeing a lot of those little granules that used to be on my shingles now spread out all over my patio.
I went up the ladder and looked for obvious hail damage. But I'm an amateur roof inspector, so exactly what was I looking for? There were no holes, no huge dents, no obviously broken shingles. So back down the ladder I went…case closed.
Then I asked someone else about it, and they suggested I have a professional come out. Three roofers came out for free to take a look. And it was unanimous: They said I had obvious, widespread, definite hail damage. Their extensive use of adjectives was humbling.
They also noted dents on gutters and on the outside air conditioning unit. Additionally, they pointed out divots on the fence where hailstones had wiped away the stain. Another warning sign: I had considerable auto hail damage this year. Roofers told me if it dented the cars, there is a good chance the hail was also hard on the shingles.
The kind of insurance coverage you have matters a lot
After I paid my deductible, my roof was taken care of by insurance. I had a total replacement cost policy. I always get that coverage, even if it is more expensive. A friend of mine, who also just needed a new roof because of hail damage, was unpleasantly surprised to find out they had actual cash value coverage, which means the insurer pays for damages after deducting for depreciation like age and wear and tear. My friend had to pay for most of the cost of the new roof out of pocket.
Whatever your insurance, most insurers have a cutoff for when you can file a claim. The Texas Department of Insurance says some policies have a one-year deadline from the date the damage occurred.
Know what your date is, because there were storms even last year that might still be covered if you find and claim the damage now. And check your policy to be certain what kind of coverage you have. And perhaps have a professional check your roof. In many cases they will perform that inspection for free. Just do all of this before you notice drips coming from a stained ceiling above you.