TEXAS, USA — Take a bite out of this: Whataburger (allegedly) has the healthiest cheeseburger on the fast food market.
Yes, Whataburger. Let's break down how it was explained and talk about it.
So ... Gambling.com, the authoritative source on all things health food, says it gathered the most popular fast food burger chains from a Visual Capitalist report and broke down each cheeseburger's nutritional values into four categories: sugar, fat, sodium and calories. Each of the four metrics were broken down into how much the burger had per ounce (28g), and then was inverted into a "score" using the PERCENTRANK function.
For example: Whataburger's cheese burger was weighed at 340 grams and has 12 grams of sugar, 32 grams of fat, 1651 milligrams of sodium and 680 calories. When comparing these metrics per ounce/28 grams (1 sugar, 2.66 fat, 137.66 sodium and 56.69 calories) to the rest of the field, Whataburger's inverted scores came out to the following:
*Note: The closer these scores are to 10, the better.*
Sugar: 7.2
Fat score: 9.3
Sodium: 7.9
Calories: 9.3
Overall: 8.4
Here is the top 10 overall health rating scores, according to Gambling.com's metrics:
Whataburger – Whataburger with cheese: 8.4
In-N-Out Burger – Cheeseburger: 8.2
Checker's/Rally's – Checkerburger with cheese: 6.3
Culvers – ButterBuger Cheese: 5.7
Del Taco – Del Cheeseburger: 5.5
Dairy Queen – Original Cheeseburger: 5.2
Carl's Jr./Hardee's – Small Cheeseburger: 5.0
McDonald's – Cheeseburger: 5.0
Five Guys – Cheeseburger: 4.8
Wendy's – Jr. Cheeseburger: 4.6
In-N-Out's cheeseburger ranked the best for lowest calorie count per ounce, scoring a 10.0. Checker's ranked the best for lowest fat content per ounce, scoring a 10.0 in that metric. Culvers scored the best for lowest sodium per ounce, also scoring 10.0.
The most unhealthy burger, according to this "study," was Burger King with an overall health score of only 2 out of 10.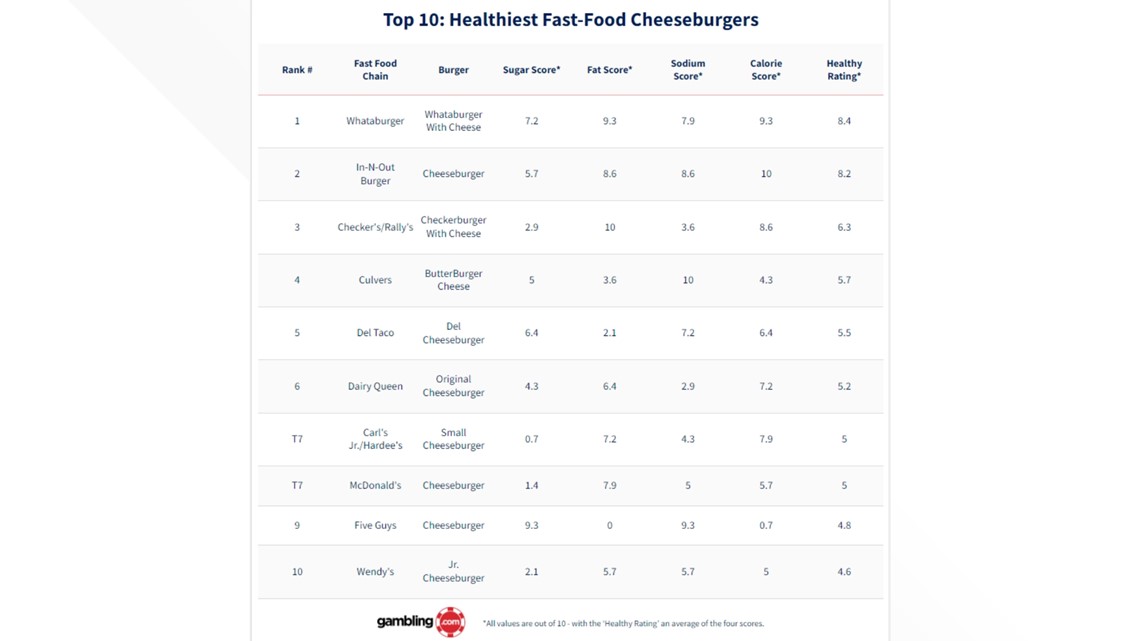 Take these rankings with a grain of salt – or perhaps not, since it is salty enough.
What say you? Everything is bigger in Texas, but healthier too? That's debatable.