DALLAS — Mariano Martinez has been a North Texas entrepreneurial legend for most of his 76 years. But if you don't know who he is, and the impact he had on a little thing called Happy Hour, maybe the 50th anniversary of his life-changing invention is the time to pay him the proper homage.
In the world of inventors, Thomas Edison still reigns supreme. He did invent the light bulb after all.
But, do you know the story about Mariano Martinez and the world-changing lightbulb moment of his own?
"Does it seem like 50 years today when that lightbulb came on?" I asked him.
"No," he laughed. "It really doesn't."
Fifty years ago, he was trying to get his new Dallas restaurant off the ground, "and the bartenders couldn't keep up," he recalled.
They couldn't keep up with the limes, the tequila, the Cointreau and a failing blender. Everyone, or so it seemed, at Mariano's new Mexican-themed restaurant wanted a blended margarita.
"'Your blender conked out about an hour ago,'" Martinez recalled of the conversation he had with an increasingly frustrated bartender who had to run to his apartment to get his own blender to replace the one that failed.
"So he was threatening to quit."
"And a man stopped me and complained, 'These margaritas are terrible,'" he said of a customer upset about decreasing quality and decreasing potency in the drinks as the night went on.
But on the wall of Mariano's Hacienda on Skillman in North Dallas, in a series of portraits, the story tells itself: the story of the dejected young restaurateur on his way home that night.
"I stopped at a 7-Eleven. I said, 'You know, if I had a package of gum and coffee, I'd be OK. And that's when I saw the Slurpee machine."
"And the light bulb went off," Mariano said. "And I said, 'Aye caramba....that's a great idea!'"
A great idea that maybe - just maybe - that Slurpee machine could hold all those limes, and tequila and Cointreau, too. With a few modifications, it did more than that.
"That machine changed Happy Hour forever!" he said.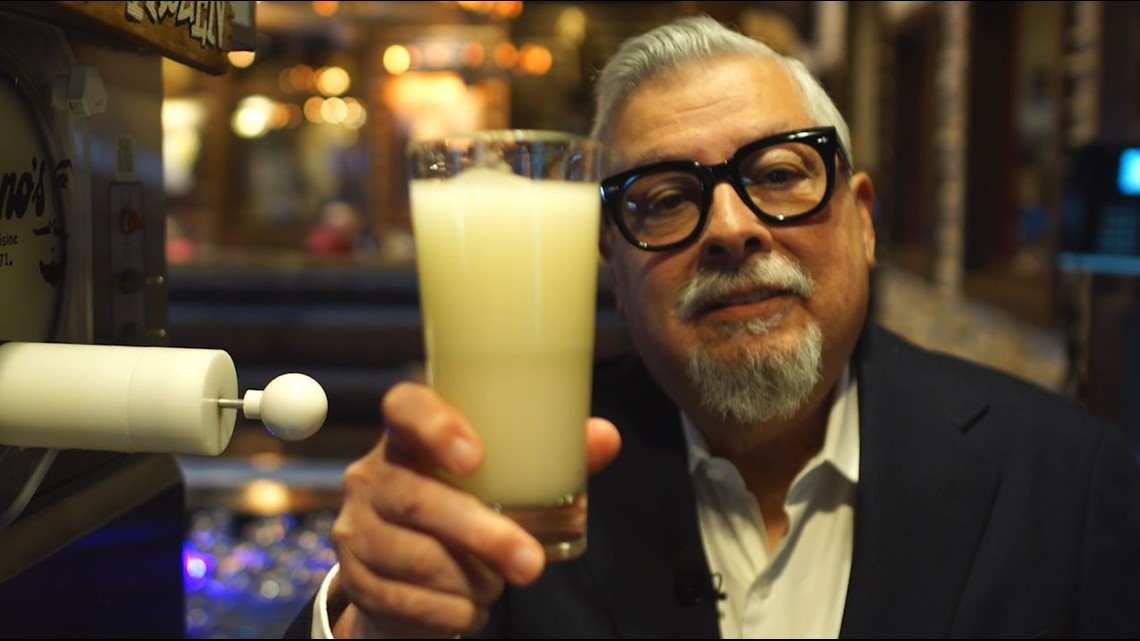 Yes, Mariano Martinez is the inventor of the world's very first frozen margarita machine. It was May 11, 1971, recorded as the official date throughout his restaurants.
"It was popular right away," he said. "And people really loved it."
Loved it so much, that his competitors started doing the same. Everybody copied him.
"I created something when everybody thought I was crazy when I did it, and they told me it wouldn't work. And now it's all over the world," he explained.
"When I felt like a nobody in high school, well hey, I'm a somebody now," he added. "I got something in the Smithsonian!"
"I loved it! I loved it," he said of the unofficial title. "I'm elated."
"I'm happy to be known for something," he laughed.
And someday, he'll be known for something else, too. Mariano has five restaurants and more than 600 employees. And when it's time to hang up his apron, he plans to give his restaurants not to his own family, but to a group of his employees.
"I have no plans of retiring. I want to go until I can't go anymore."
"I'm very grateful for everyone that's been involved in my success, because you don't do it by yourself," Mariano added.
By the way, no, Mariano did not get a patent on his amazing machine. Yes, maybe he could have made an even bigger fortune.
But, you quickly notice, as he moves from table to table at Mariano's Hacienda, meeting and greeting his customers, that this is a celebrity who has all the fame and success he ever wanted: all because of one innovative idea.
"It's a dream come true," he said. "It's the all-American dream. I'm living the all-American dream."
So, the next time you enjoy that frozen margarita, remember: it's the product of Mariano's American dream.
Take that, Thomas Edison.
A light bulb never tasted so good.
Try it out yourself: Below is the recipe for "Mariano's Margarita."