DALLAS — The sights of the ongoing Texas drought are striking. Large cracks can be seen all across North Texas due to hardened soil from lack of soil moisture.
One year ago, Texas was 94% drought-free. Now, over 97% of the state is under a drought.
A combination of La Nina conditions and a summer-time ridge have kept rain away from North Texas. DFW is currently under a 56-day streak of no measurable rainfall making it the 4th-longest dry streak in recorded history. We are also on track to record one of the driest years on record with a current rain deficit of nearly 10 inches.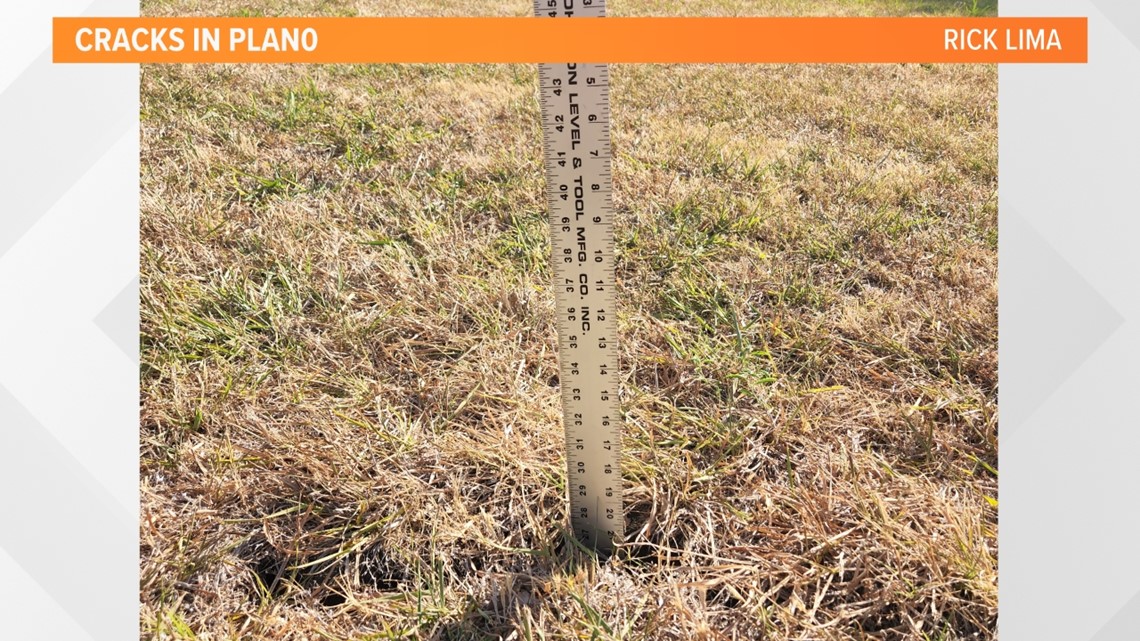 The latest drought monitor shows widespread severe, extreme and exceptional drought conditions for North Texas. An estimated 24 million Texans are living in drought stricken areas.
North Texas ranges from "exceptional" drought conditions in Johnson, Hood and Ellis counties, and parts of Tarrant and Parker counties; to "extreme" drought conditions in Tarrant County and parts of Dallas County extending towards the Red River. Other areas of North Texas are under moderate and severe drought conditions.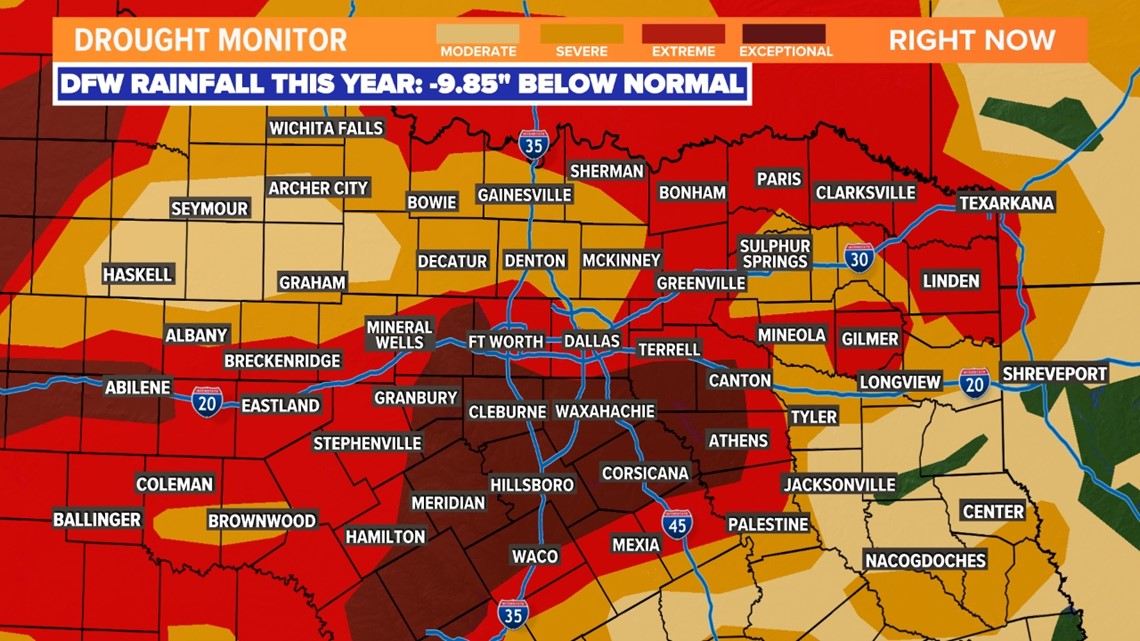 The drought monitor considers "exceptional" conditions as being when there are widespread crop/pasture losses and shortages of water in reservoirs, streams and wells that can cause water emergencies.
"Extreme" conditions are when there are crop/pasture losses and widespread water shortages and restrictions.
On the week of July 29, 18% of the state was under exceptional drought conditions and 60% of the state was under severe drought conditions.
Here are some of the local impacts based on the top three drought statuses.
Hardened soil due to lack of moisture.
Crop yield decrease meaning higher food costs.
Wildfire danger is severe leading to fires easily starting and spreading.
Burn bans are put in place by local county officials.
Wildlife moves into populated areas due to stress and lack of resources.
Water restrictions are implemented in some areas.
Soil has large cracks due to low soil moisture.
Some crops fail to germinate meaning stress for the harvest season.
Decreased yield for crops translates to higher food costs.
Need for supplemental feed for livestock due to the lack nutrient-rich fields.
River flow slows causing a stress for water access.
Exceptional drought impacts
Widespread crop loss
Ranchers are forced to wean calves early and liquidate herds due to high costs of feed and water.
Agriculture sectors suffer financially
Tourism sector suffers financially
Extreme sensitivity to wildfires and grassfires
Non-native trees struggle to survive.
Wildlife health and populations begin to suffer
Algae blooms occur due to stagnant water and pollution
Water quality is poor due to low water levels
Water shortages are noted
Water levels significantly drop
Prolonged periods of severe, extreme and exceptional drought cause strains on our resources. This impacts our water supply, agriculture, property and even tourism!