DALLAS — This story will be updated throughout the day Tuesday as new information is released.
Weather officials so far have confirmed at least five tornadoes touched down across North Texas during severe storms on Monday night. Two of those tornadoes were EF2s, one in Hill County near Blum and a second in Ellis County near Waxahachie.
Roofs were ripped off and buildings destroyed near Forreston, Blum and other parts of North Texas amidst severe storms Monday night.
Tornadoes
Late Tuesday morning, NWS survey crews said an EF2 tornado struck around 7:30 p.m. Monday northwest of Blum with winds estimated at about 130 miles per hour. The tornado traveled 3.36 miles between 7:18 and 7:29 p.m.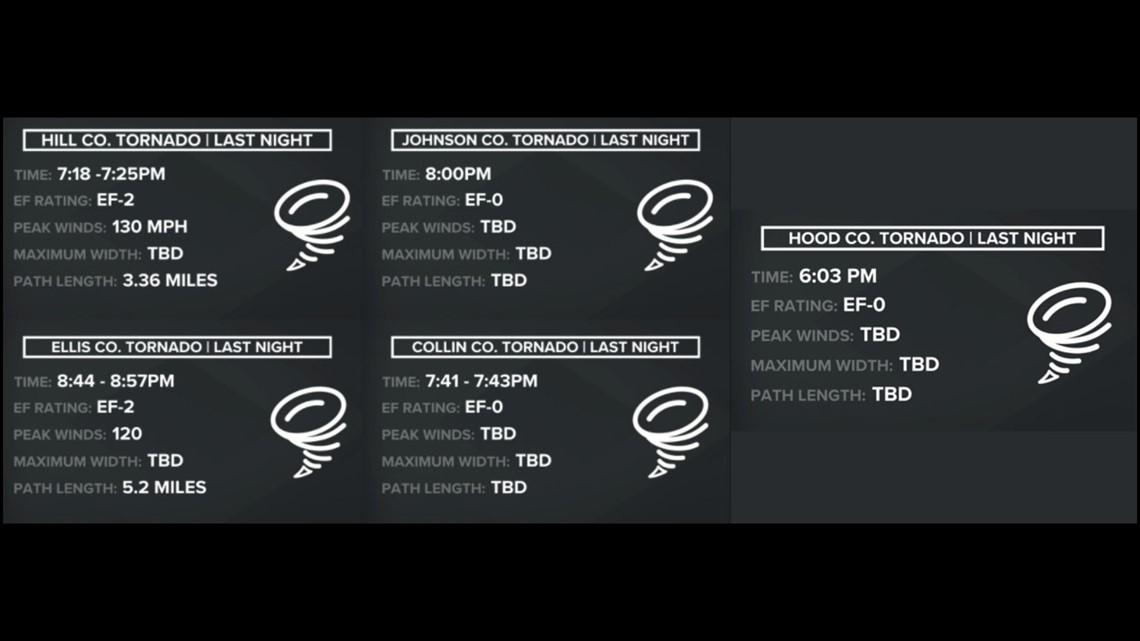 Later Tuesday afternoon, the NWS confirmed a second tornado hit the region, a "brief" EF0 tornado that touched down in far southeastern Johnson County just east of Grandview around 8 p.m. No significant damage was reported from that tornado, NWS officials said.
A third tornado -- also an EF0 -- was confirmed in northern Collin County, by NWS. Officials said data confirmed it was on the ground for two minutes south of Weston and caused minor damage to trees and powerlines in the area.
At a briefing on Tuesday afternoon, the National Weather Service confirmed an EF2 tornado with winds up to 120 mph that touched down in Ellis County. It tracked 5.2 miles between Waxahachie and Forreston between 8:44 p.m. and 8:57 p.m. and crossed Interstate 35.
Warnings were issued across North Texas Monday night as severe weather and hail rolled through, just five days after previous severe thunderstorms that brought large hail and wind.
Homes and other structures along Highway 77 in particular were damaged, though crews have yet to confirm if the damage was from a tornado.
Ellis County officials said between 25 and 50 structures were damaged when severe storms moved through the area, but there have been no reported deaths.
The NWS deployed teams to Ellis, Johnson and Hill counties to conduct damage surveys on Tuesday. They expect to have a preliminary assessment completed by the end of the day.
Around 2,000 customers were still without power Tuesday afternoon in the North Texas area, according to Oncor's Outage Map.
Ellis County Sheriff Brad Norman told WFAA that as of 10 a.m. Tuesday there were no reports of any deaths. Search and rescue operations began Monday night to get people to safety.
Later Tuesday, Norman said in a press briefing that 12 homes were destroyed in the storm, seven suffered major damage and 10 suffered minor damage.
"We've seen houses that have had roofs ripped off, houses that looked like pretzels," he said.
Officials also said state troopers are organizing search crews to make sure those that were in the storm's path are accounted for.
Norman said Highway 77 in the area probably won't be open "until way later" due to storm damage.
The Ellis County tornado crossed over I-35 and caused damage to vehicles there.
North Texas storm damage: Roofs ripped off, buildings destroyed
Ellis County 18-wheeler wreck
Three people were hurt in a massive car wreck on that highway. The crash involved multiple 18-wheelers near Johnson Road. One person, a semi-truck driver, was hurt seriously, Norman said.
Three 18-wheelers flipped over and the road median shifted in the crash, according to reports from the scene. Two trucks and a van on the southbound side were involved in the crash, as well as another northbound 18-wheeler, officials said.
The two southbound 18-wheelers were pushed into the center barrier of the highway while the van was pushed into one of the trucks before it was able to drive over to the shoulder, an initial investigation found. The northbound truck was pushed off the roadway into a field.
Emergency responders used the jaws of life to extract people from at least two of the trucks.
"Several people came to their aid, at least one was a retired firefighter," Norman said in the press briefing. "Another guy had a saw and helped saw some people out immediately. We definitely had a lot of people who went above and beyond to help their neighbor."
No hazardous materials were released in the crash, DPS officials said. They are continuing to investigate the crash.
There were also five other people sent to the hospital from homes in the area, unrelated to the car wreck, Norman said, for a total of eight people hospitalized in the Ellis County area Monday night.
Southbound lanes on the interstate had reopened by 1:30 a.m. Tuesday, and northbound lanes appeared to have reopened by about 5:30 a.m. after debris had been cleared off the highway.
Photos: Semi truck accident off I-35E in Waxahachie
Other North Texas areas impacted by damage
Elsewhere in North Texas, Hood County emergency dispatch officials reported multiple downed power lines Monday night. Emergency officials also said the Crossing Place Church located on Highway 377 lost its roof.
Up to tennis-ball-sized hail was reported in some areas of North Texas, with hail being reported in Azle, Aledo, Argyle, and other areas.
We want to remind our viewers to always stay safe and take shelter if you need to. Your safety is always the No. 1 priority. But if you feel so inclined, you can send us what the weather looks like in your neck of the woods, either on Facebook, through Twitter @wfaa using #wfaaweather, in our app using the "Near Me" feature or by emailing news8@wfaa.com.
Photos show funnel clouds move through the Dallas-Fort Worth area during May 3 severe weather