This story will be updated throughout the day.
The entire weekend will not be a washout, but showers and storms will be around the area throughout the weekend.
Sunday afternoon - evening
Gulf moisture continues to stream into North Texas, which will keep showers around again on Sunday.
Rounds of moderate showers are likely from the Dallas-Fort Worth area to the west through the afternoon. Pockets of heavier rain are possible, but the overall flooding threat is low.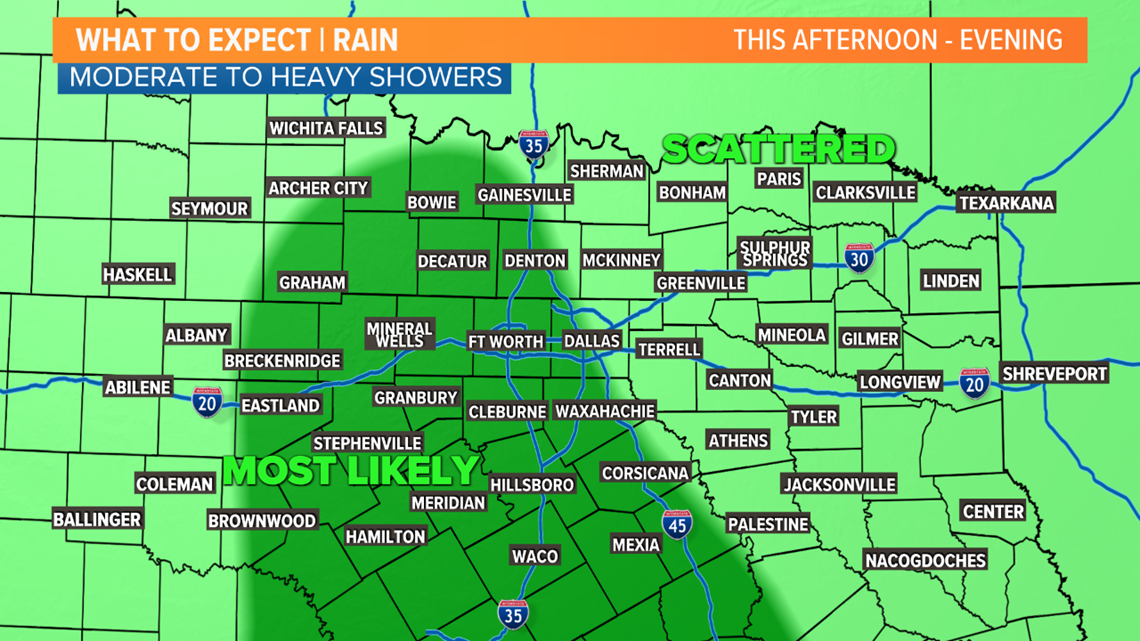 Rain will be in the form of showers as well, so the severe threat is extremely low. Can't rule out a few of those tropical funnels with a stronger shower, but they mostly are not a concern.
Clouds will hang around all day long keeping afternoon temps in the mid to upper 70s.
The week ahead
Scattered showers and storm chances continue into the workweek. Rounds of showers will be possible again on Monday.
Coverage of rain may decrease Tuesday and Wednesday, but scattered showers look to be out there.
Thursday looks to be the first day in quite a few that may not feature any rain chances at all!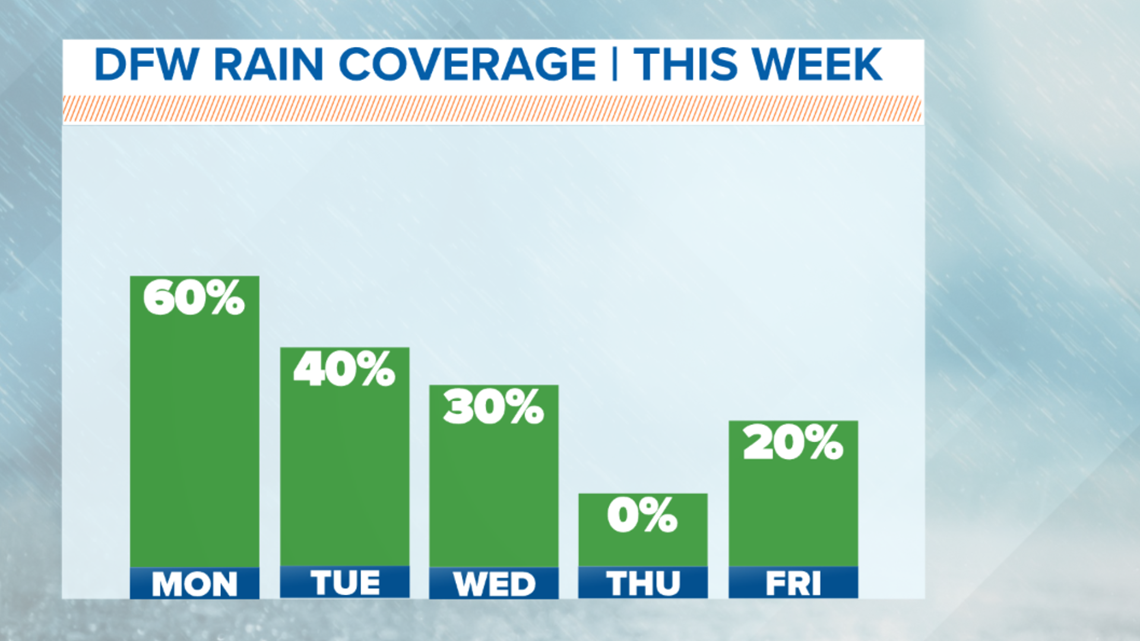 However, that looks to be short-lived as we'll be watching for some chances for showers and storms through Memorial Day Weekend.
As of now the holiday weekend doesn't look like a washout, but it does not look rain-free either.
What's the difference between a Flash Flood Warning and Flood Warning?
Flash Flood Warning
A Flash Flood Warning is urgent. If one gets issued for your area, rapid rises of creeks, streams, and rivers are possible.
A Wireless Emergency Alert will also be triggered on your smartphone if you are in the warning.
Unfortunately, this is when high water rescues are most common. People try to drive across or through flooded roadways and get stuck or swept away.
These are issued while it is raining, usually lasting for around 2 to 4 hours.
Water recedes to a more manageable level after the rain ends or lightens up, and the warning will no longer be in effect.
Flood Warning
A Flood Warning is issued for a slow rise of a creek or river into "flood stage."
Think seeing a swollen major creek or river.
Typical flood-prone areas or flood plains now have standing or flowing water.
This type of flooding can be significant if rivers or creeks rise and overflow their banks or flood plains. But it is usually a slow rise versus a quick rise like in a Flash Flood Warning.
These can be issued or stay in effect long after any rain ends because it takes a while for water in those creeks and rivers to recede to normal levels.