Updated at 9:15 p.m. Thursday with the latest forecast
First...
The chances of the D-FW area becoming a winter wonderland this week are VERY LOW. Sorry!
Now that we've gotten that out of the way, let's dive into what you can expect.
Winter Weather
Winter weather is looking likely across western North Texas. For MOST of D-FW, some flurries or sleet pellets are possible late Thursday night into Friday morning, but that is about it.
Western North Texas has a better chance at accumulating snow especially Thursday afternoon into Thursday night.
Winter Weather Advisories and Winter Storm Watches have been issued for western parts of North Texas from 6 a.m. Thursday through 3 a.m. Friday. Travel problems and slippery roads are most likely in areas under the watch and advisory.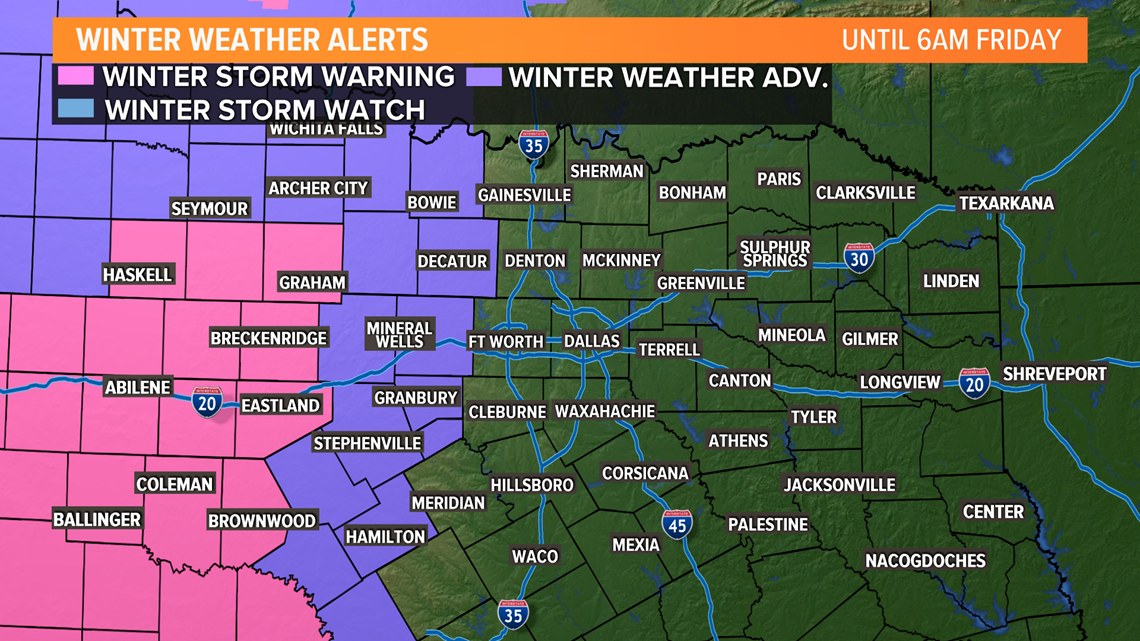 Tonight (New Year's Eve)
Widespread cold rain continues.
This time-frame will be the best time for western North Texas to see snow.
A transition from rain to snow or a mix of snow and rain is likely for western North Texas.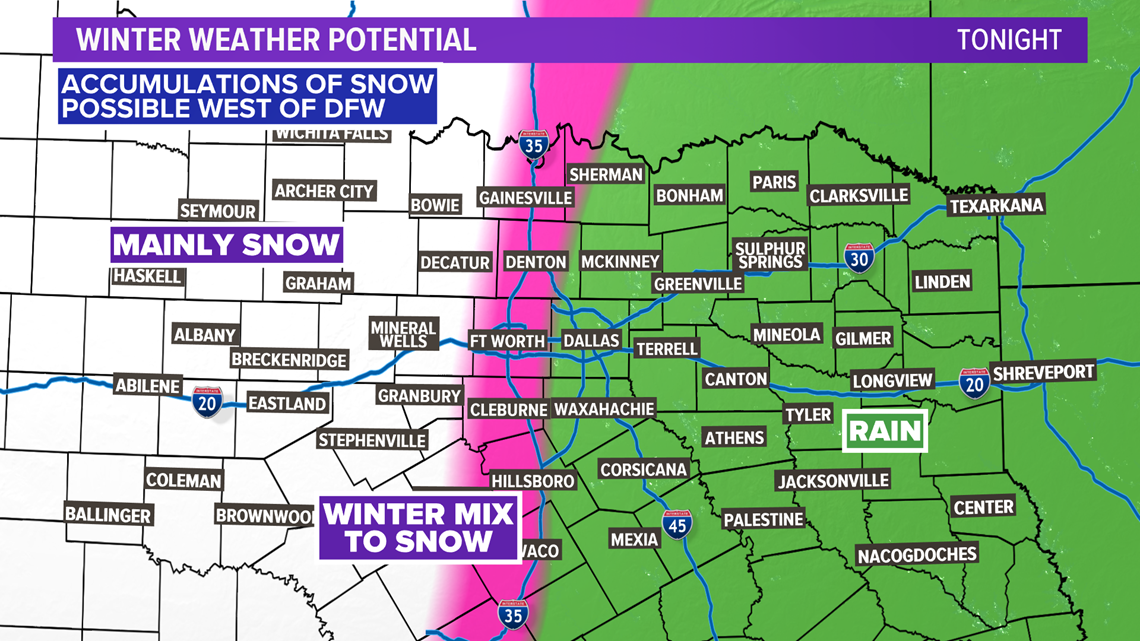 Areas west of HWY 281 will have the best chance at accumulating snow. From Graham to Breckenridge to Eastland, totals of 2" to 5" are possible. Areas closer to HWY 281 (Bowie to Jacksboro to Mineral Wells to Stephenville) could see between 1" to 2".
Areas between I-35W and HWY 281 (Decatur to Weatherford to Granbury) could see a light dusting or coating of less than 1 inch.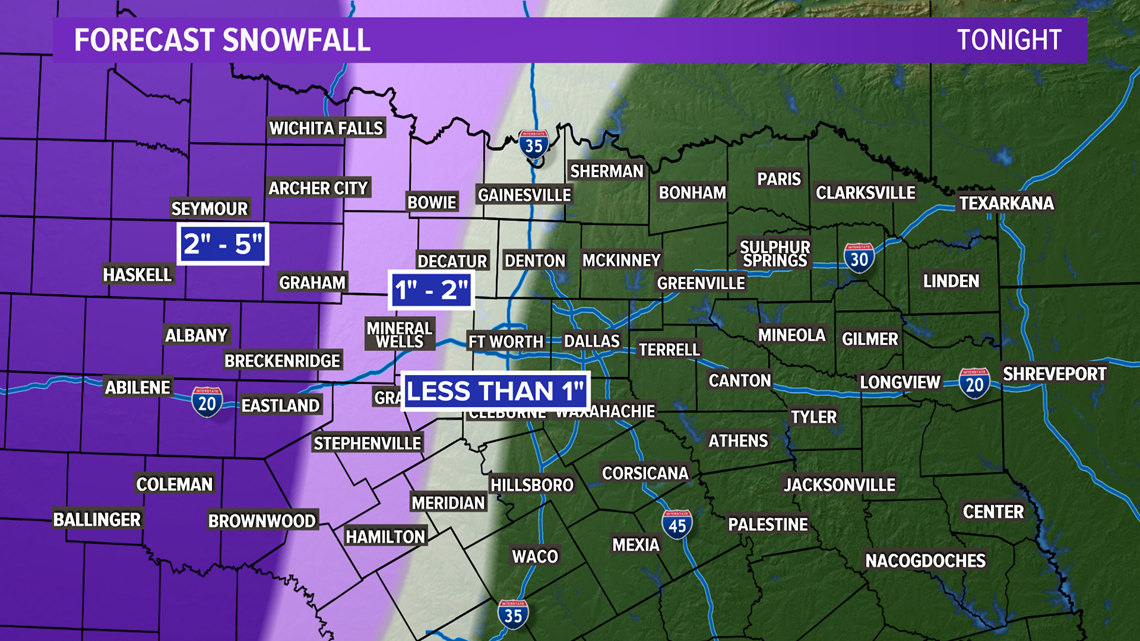 Chances for seeing any sleet and snow in the D-FW area continue to be very low.
IF anything occurs, it would be the chance for some sleet pellets or snowflakes to mix with a cold rain late Thursday night into early Friday morning mainly from Denton to Fort Worth to the west.
Any rain or wintry weather will exit North Texas heading into Friday morning. So a cold and dry New Year's Day is in store for the area.
Road Conditions
We don't expect any travel problems from the potential sleet/snow around DFW, but slick and snow covered roads will cause problems west.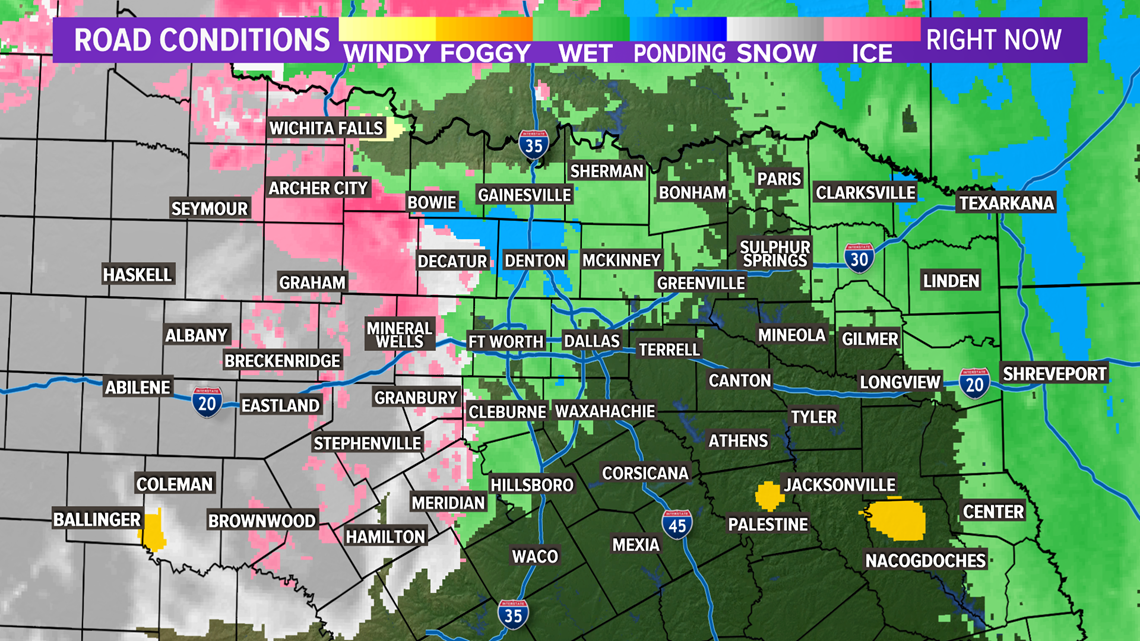 The highest snowfall totals in the state look to be across West Texas. Areas around Midland, Marfa, and Fort Stockton could see 6" to 10"+ of snow in spots!