DALLAS — It's been a historic 24 hours in North Texas as the area saw record rainfall, along with major flooding.
Some areas saw rainfall totals in the double digits.
As far as history goes, this weather event was one for the books, indeed: DFW Airport saw 9.19 inches of rain over a 24-hour period, which now stands as the second-highest total the airport has ever seen within any 24-hour window in history.
The highest recorded total was 9.57 inches over 24 hours between Sept. 4 and 5... in 1932.
The overnight, record rainfall also took DFW over another hump: August 2022 is now the second-wettest August on record (10.07 inches), and the wettest month since October 2018.
So, where did the rain come down the hardest?
Dallas-area precipitation map: The highest rainfall totals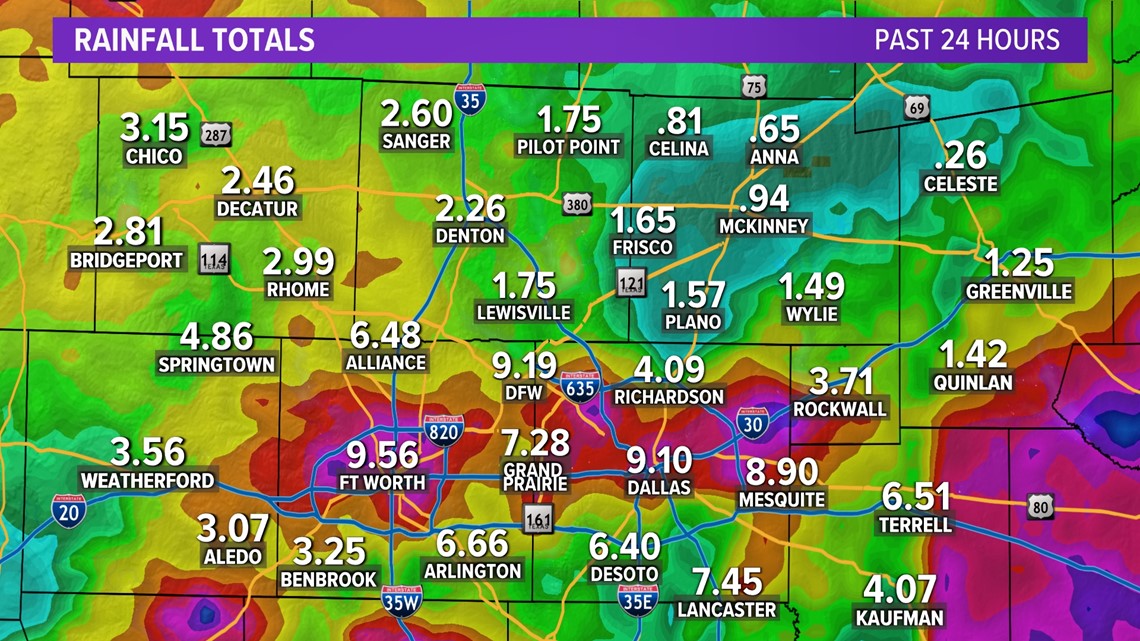 While DFW Airport saw 9.19 inches of rain, other areas of North Texas eclipsed that number -- and then some.
The southeast Dallas area saw the highest rainfall total of anywhere, amassing a whopping 15.31 inches of precipitation.
Balch Springs, which had major flooding issues in neighborhoods, had 12.60 inches.
An area of east Dallas near Garrett Park saw 10.12 inches.

Over in Tarrant County, meanwhile, Fort Worth saw a full 9.56 inches of rain.
After flash flood warnings in the morning, an areal flood warning was put into place for Dallas and Tarrant counties through the afternoon.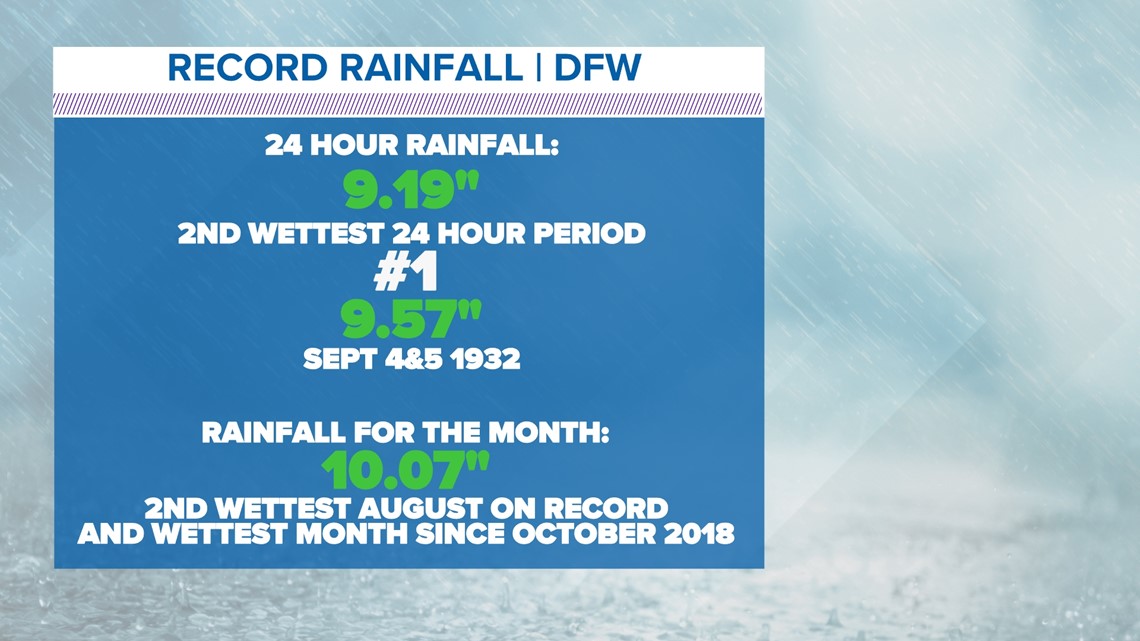 More rain means more high-water rescues, too
With heavy rain and flooding comes a a significant volume of high-water rescue incidents. That was certainly the case across North Texas on Monday, as crews in Dallas and Fort Worth responded to hundreds of high-water calls since the rains started coming down on Sunday evening.
In its latest update, Dallas Fire-Rescue said its crews responded to 195 high-water incidents and 39 water rescues between 6 p.m. Sunday and 2:30 p.m. Monday.
Meanwhile, the Fort Worth Fire Department said its crews responded to 133 high water calls in the last 24 hours.