(Update 12:30 p.m.) The Seattle Seahawks have released former TCU star Trevone Boykin after his girlfriend accused him of assaulting her, leaving her jaw swollen and wired shut.
Boykin has released a statement in which he says he "understands" the organization's decision to cut him but fervently denies the allegations. "This person has fabricated a story and it has cost me my job," the statement reads.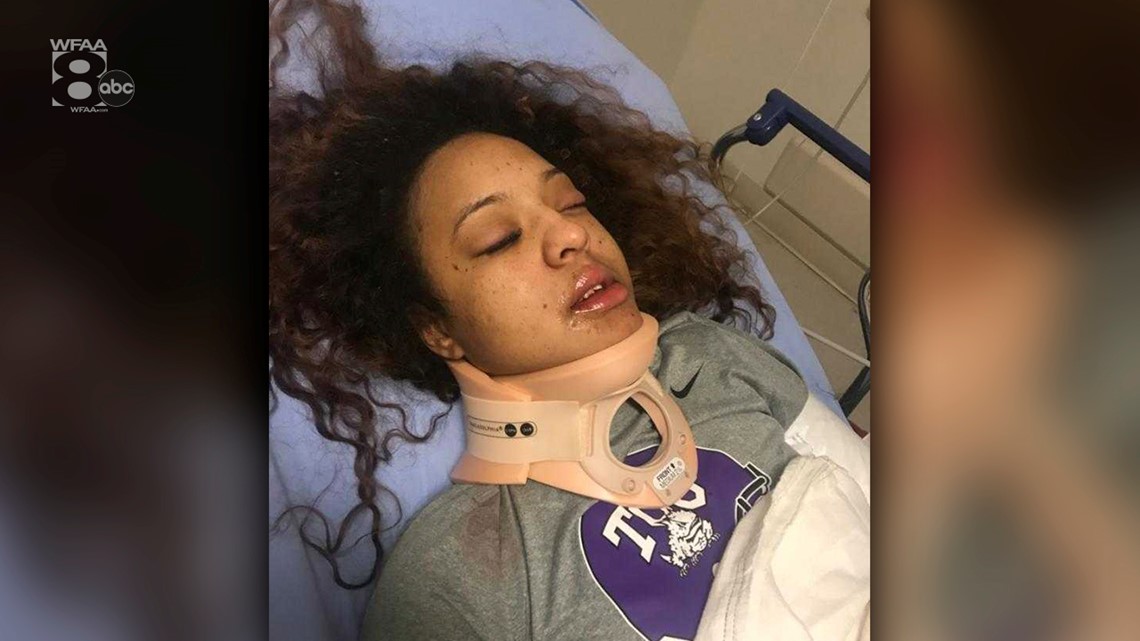 Police in Mansfield, Texas are investigating serious allegations of domestic violence against former TCU and current Seattle Seahawks quarterback Trevone Boykin.
His girlfriend, Shabrika Bailey, speaking exclusively to WFAA with a broken jaw swollen and wired shut, made the allegations public Monday night.
Bailey, who says she has been in a relationship with Boykin since their high school days in Mesquite, says she was at his home in Mansfield last Tuesday night when they began to argue over a text message he wanted to see on her phone. She says she refused to unlock the phone.
"So he goes into a choke. I remember him choking me and I'm trying to calm him down. And I just couldn't. And I blacked out. I just couldn't calm him down at all," Bailey told WFAA.
"The pressure was just hard. The pressure got hard to where I just remember just collapsing completely. And I just woke up in a puddle of blood on the kitchen floor. My whole right side was full of blood on the kitchen floor."
Bailey says Boykin eventually dragged her to a bathtub, took her clothes off and tried to clean her up. Hours later, on Wednesday, she said Boykin drove her to Dallas Regional Medical Center in Mesquite. But when hospital staff separated the couple and began asking them questions independently, she said Boykin fled the hospital and never returned.
Bailey suffered a broken jaw on both her left and right sides. Then, because she was having difficulty breathing from a swollen and constricted airway, she was airlifted to Parkland Memorial Hospital in Dallas for further treatment. She was released from the hospital on Saturday, three days later.
"And I've never seen that much blood. I thought I was bleeding from somewhere else cause it was so much blood, completely," Bailey said.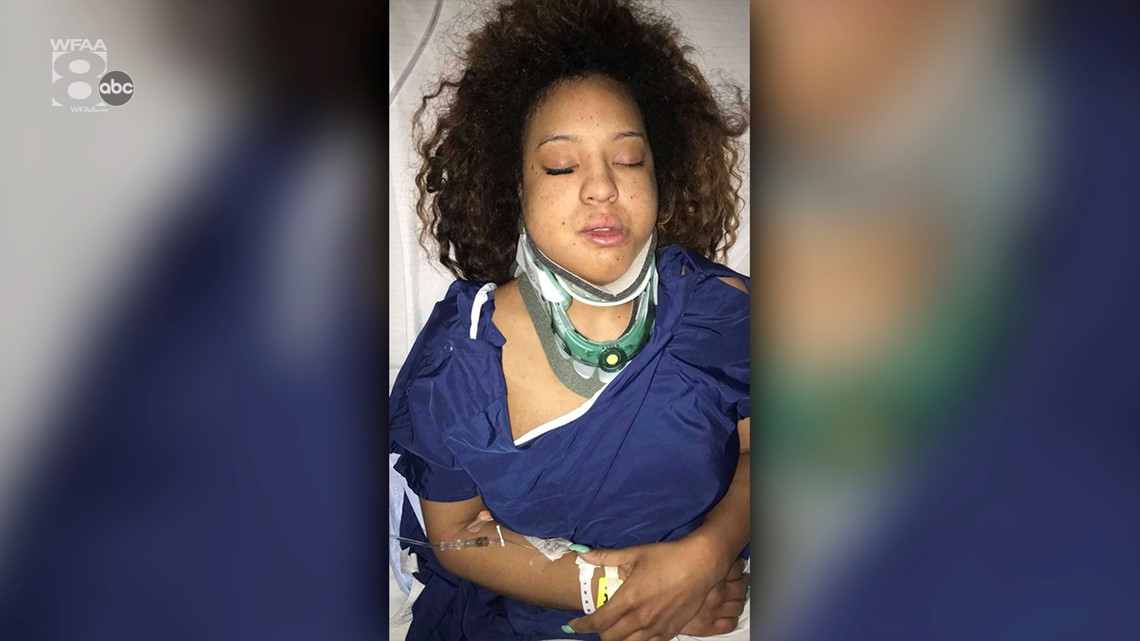 Detectives from the Mansfield Police Department arrived at Bailey's Mesquite home on Tuesday morning to conduct an initial interview. One detective spoke with Bailey inside the home while a second detective briefly interviewed Bailey's brother in the front yard. After an hour at Bailey's home, detectives confirmed to WFAA that Boykin was now under investigation.
Bailey is the same woman who was arrested with Boykin in March of 2017. Boykin was a passenger in her car when she backed into the outside wall of a nightclub in the Uptown neighborhood of Dallas striking and injuring several pedestrians at 2 a.m. Bailey was arrested on charges of intoxication assault.
Boykin, who initially fled the scene on foot but returned, was also arrested for public intoxication and possession of marijuana when he told police the 6.9 grams of pot in the backseat of the car belonged to him.
Now a year later, Bailey says the cause of that crash was also because Boykin was attacking her.
"He leaned over, attacked me, and choked me unconscious which made the car go into drive to reverse," she said
"Why didn't you say that a year ago?" we asked.
"I was scared. I was just scared. Terrified, of everything," she said.
Bailey says she covered for Boykin, calling it an accident, at his request to keep from damaging his fledgling NFL career. Now, after she says Boykin broke her jaw in multiple places, he's asked her to cover for him again.
"His first suggestion was to say that I fell. Then he suggested that I got beat up by a girl, or jumped. Then he suggested that I fell again," she said, while also providing an exchange of text messages that she says proves Boykin asked her to tell people her broken jaw was an accident.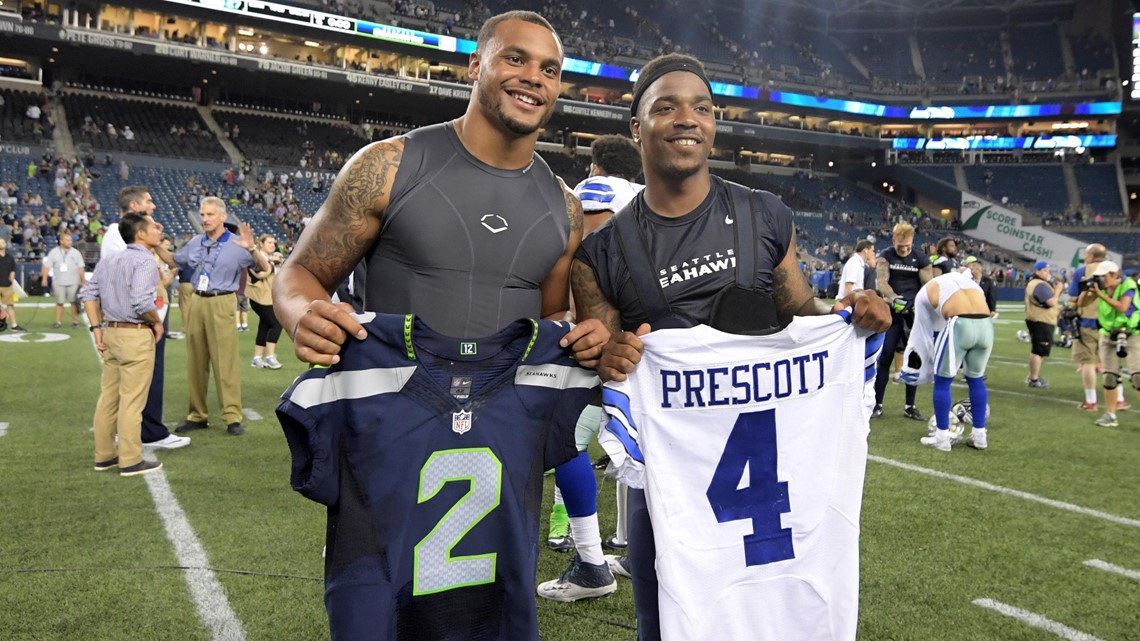 "He's saying basically since we've already been in a case we don't need nothing else. And of course his football career is on the line. That's his main goal, just 'my football career is on the line,'" she told us.
But now, in her exclusive interview with WFAA and in filing a criminal complaint with Mansfield police, she says she's not willing to protect Boykin anymore.
"Just because how he's leading about the situation, it's just not cool. Like we've been way better than that. Yes, I know I'm probably just dumb and shouldn't have did it the first time... but this time you could have killed me, like completely," she said.
"It just can't keep going on. He just can't get away with this. This is serious. This is domestic violence," she said. "You can't keep doing this, it's not cool, to constantly, like, make me the victim and you get away with it. Something has to happen because right now [he's] just consistent with it. Like he can get away with it and nobody ever know."
WFAA reached out to Boykin's agent Drew Pittman for comment Tuesday morning. Prior to Bailey going public he told us, "the info on Trevone as I'm sure you have heard was false. He was not involved in any situation."
Boykin released the following statement to WFAA:
"I understand the Seahawks decision to release me. The story that was reported casts a bad light on the organization and on me. I want to be clear that the story is false. The police have taken statements from the accuse, another witness and me. All of these statements confirm that I was not involved in the physical altercation.
"This woman has lied about me and it has cost me my job. I know guilt by association is real. This person has fabricated a story and I am suffering the consequences. I will let the legal system run its course and I know I will be vindicated."