Texas votes: Cruz beats Beto in Senate election; more updates and reactions here
Beto O'Rourke challenged Ted Cruz early, but Cruz's statewide strength led to a projected victory just after 9 p.m. in the race for U.S. Senate.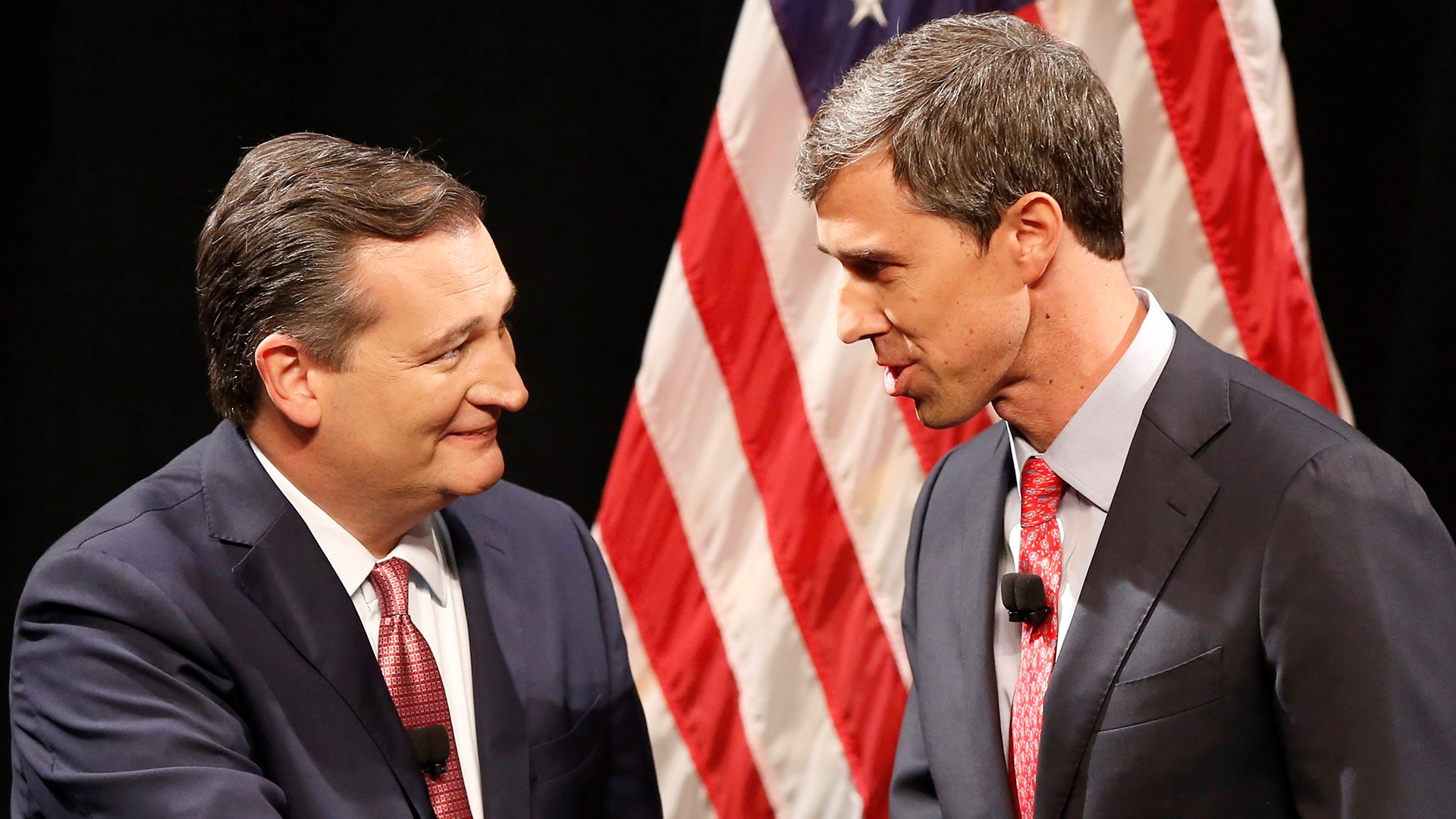 Sen. Ted Cruz is projected to beat Beto O'Rourke in his U.S. Senate re-election bid, but there's still plenty of news and reactions unfolding. We're keeping all the updates here throughout the night.
Beto in defeat: "I am as inspired...as I have ever been in my life'
:
Beto O'Rourke took the stage in El Paso just after 11 p.m. (10 p.m. local time).
"I am as inspired, as hopeful as I have ever been in my life," O'Rourke said. "Tonight's loss does nothing to diminish the way I feel about Texas or this country. To be with, and to see all of you tonight, reminds me why I set out to do this in the first place. We're not about being against anynody...we're not going to define ourselves by who we're against or what we're afraid of."
O'Rourke said he spoke with Ted Cruz and said "I want to work with him."
Pete Sessions in defeat: "I'll walk out...with my head high"
:
U.S. Rep. Pete Sessions is one of the longest serving congressman in Texas. So while Democratic challenger Colin Allred was up in the most recent poll before the election, it was still notable to see Allred beat Sessions in the race for U.S. House District 32 in northern Dallas County.
"I will walk out here tonight with my head high," Sessions told the crowd at his election party at the downtown Statler hotel.
Dallas state house district in extremely tight race
:
With 60 of 70 precincts reporting, Republican incumbent Morgan Meyer was leading Democratic challenger Joanna Cattanach by one(!) vote – 37,594 to 37,593 – in the race for State House District 108. This district covers much of downtown, Uptown and parts of north Dallas.
Creuzot projected to take back Dallas DA seat for Democrats
:
Democratic challenger John Creuzot is projected to beat incumbent Republican Faith Johnson in the race for Dallas County District Attorney. He was leading by more than 20 points – 60-39 percent – with most precincts reporting at 10:30 p.m.
Johnson was appointed to the position in 2016, following the resignation Susan Hawk. Creuzot's win gives Democrats the DA's office for the first time since 2015.
Republican Wright leading in race for Joe Barton's House seat
:
Republican Ron Wright, the former tax assessor in Tarrant County, was holding onto a comfortable lead over Democrat Jana Lynne Sanchez, up 53-45 percent with more than half of precincts reporting. This is for U.S. House District 6, a seat held by longtime Congressman Joe Barton, who decided to step down last year after a nude photo of him was leaked. District 6 covers parts of Arlington, Mansfield and Ellis County.
Cruz in victory: 'This election was a battle of ideals'
:
Cruz took to the stage at his election party in Houston for a victory speech just after 10 p.m.
"This election was a battle of ideals," Cruz told to a cheering crowd. "The people of Texas decided this race."
Cruz said O'Rourke "poured his heart into this campaign. He worked tirelessly and he took time away from his kids. I want to also say, millions across this state were inspired by his campaign...let me say to all of those who worked on his campaign, that I am your senator as well. My responsibility is to represent every Texan."
Republican incumbent Burton concedes state senate race
:
Tarrant County Republican incumbent Konni Burton is conceding her re-election bid for Texas Senate District 10, WFAA's Todd Unger reports. Burton trailed Democratic challenger Beverly Powell by about three points (51-48) as Burton gave a concession speech shortly before 10 p.m.
Powell's victory gives the seat back to the Democrats. Burton initially won the seat in 2014 after Democrat Wendy Davis stepped down to run for governor.
Democratic challenger Allred beats Sessions
:
Democratic challenger Colin Allred is now projected to beat longtime Republican incumbent Pete Sessions in the race for U.S. House District 31 in northern Dallas County. Allred led early – and stayed that way, leading Sessions by seven points (52-45 percent) as he gave his victory speech just before 10 p.m.
Allred was leading Sessions by several points in the latest pre-election poll. But his victory over a 20-year congressman could still be considered an upset.
Abbott in victory: "It is time for all of us to unite"
:
Gov. Greg Abbott took the stage in Austin shortly after 9 p.m. and emphasized a message of unity in his victory speech:
"Now that elections are over and the people have spoken, it's time for all of us to unite under the best banner of them all – the state flag of the Lone Star State."
Cruz now projected to win, according to ABC News
:
ABC News is now projecting Ted Cruz to beat Beto O'Rourke in what started as a highly-contested race earlier in the night. ABC News and several other national outlets called the race shortly after 9 p.m. We'll providing more updates as we get them.
Cruz nudges ahead, but the race stays tight early
:
While Beto O'Rourke performed well early in the larger counties, Cruz continued to get strong numbers in counties in more rural areas. Cruz was outperforming O'Rourke in Smith County (Tyler) and Lubbock County early. At just before 9 p.m., Cruz held a slim 50-49 percent lead.
The slight lead gave Cruz supporters reason to sight – if only a little. Here's what Cruz strategist Jeff Roe had to offer to Cruz's election party crowd, via the Texas Tribune's Patrick Svitek:
Cruz opens with big lead in Montgomery County
:
Montgomery County north of Houston was a crucial suburban area, and Ted Cruz started out strong, leading Beto O'Rourke 72-26 percent with mostly early voting totals counted. That's about 100,000 votes to 35,000.
O'Rourke opens with big lead over Cruz in Houston, El Paso
:
Beto O'Rourke was expected to do well in Harris County and his home county of El Paso – and through early voting, he did. He led Ted Cruz 57-42 percent in Harris County. That's about 479,000 votes to 356,000.
In El Paso, O'Rourke held a 50-point lead over Cruz – 74-24 percent, a difference of 101,761 early votes to Cruz's 34,358.
Cruz's father predicts 'red tsunami'
:
As the election results started to roll, Ted Cruz's father, Rafael Cruz, maintained confidence in his son and other Republicans. The elder Cruz, speaking at his son's campaign headquarters in Houston, predicted a "red tsunami."
Keeping an eye on Beto-Cruz results statewide
:
Statewide, Beto O'Rourke was leading Ted Cruz by about four points – 51.50-47.87 percent – by about 7:50 p.m. That was mostly with early voting totals.
Looking at that further, O'Rourke was leading Cruz, through early voting totals, in Fort Bend County in suburban Houston and Williamson County in suburban Austin. O'Rourke was up 54-44 percent in Fort Bend and 51-47 in Williamson.
In Brazoria County, south of Houston, Cruz was leading O'Rourke by 20 points, 59-39 percent, a difference of about 52,000 votes to 35,000.
We'll continue to drop other statewide results from the Beto-Cruz race in this section as they come in.
Republican incumbent Burton trails after early voting in Tarrant County
:
State Sen. Konni Burton was trailing after early voting results in her re-election bid for Texas Senate District 10 in Tarrant County. Democratic challenger Beverly Powell led Burton 51.21-48.79 percent, a difference of about 6,000 votes.
Burton won the seat in 2014 after Democrat Wendy Davis stepped down to run for governor.
Allred leading Sessions after early voting in U.S. House 32 race
:
The competitive race for U.S. House District 32 in Dallas County saw Democratic challenger Colin Allred jump out to a 53-46 percent lead over longtime Republican incumbent Pete Sessions after early voting. Allred earned 99,221 early votes to Sessions' 82,371.
O'Rourke holding big lead over Cruz in Dallas County; Cruz up in Collin County
:
Beto O'Rourke was expected to do well in Dallas County and the early voting totals reflected that: O'Rourke earned nearly twice as many votes as Cruz, holding a 66.02 percent to 33.43 percent lead. That's 345,607 total votes to 174,981.
On the flip side, Cruz was expected to perform well in more conservative Collin County and he did through early voting, holding a 53 percent to 46 percent lead. That's 153,219 votes to 132,895.
Cruz and O'Rourke nearly even in Tarrant County early voting
:
Tarrant County has been a Republican stronghold, but Democratic challenger Beto O'Rourke was nearly even with Sen. Ted Cruz after early voting totals rolled in Tuesday night: Cruz led O'Rourke 50.01 percent to 49.33 percent, a difference of less than 3,000 votes. More than 41 percent of all registered voters in Tarrant County voted early.
Live election coverage about to get underway
:
With *most* (see below) Texas polls closing at 7 p.m., we'll be breaking down the races and results live on WFAA.com and on our Facebook page. Check the video player at the top of this story to watch the live show throughout the night.
Polls open later in Harris County
:
Delays and technical issues have led to later voting hours at nine polling places in Harris County (Houston area) tonight, according to the Texas Tribune. Two voting rights groups – the Texas Civil Rights Project and the Texas Organizing Project – sued the county to extend voting hours to 8 p.m., and a federal judge granted the request. Our fellow TEGNA station KHOU will have more on this story here.
Why is this significant? It's just nine polling places, but the entirety of Harris County's early voting totals – more than 850,000 and the most in the state – won't be released until 8 p.m.
Inside campaign headquarters for Ted Cruz and Beto O'Rourke
:
All eyes will be on these two locations Tuesday night, no matter the results: The campaign headquarters for U.S. Senate candidates Ted Cruz, in Houston, and Beto O'Rourke, in El Paso.
Follow WFAA reporter Kevin Reece for Cruz updates and WFAA's Teresa Woodard for O'Rourke updates.
Last-minute campaigning in competitive Tarrant County race
:
Tarrant County Republican Konni Burton has been in a competitive re-election bid against Democratic challenger Beverly Powell in Texas Senate District 10. And Burton wasn't letting a campaign opportunity slip away Tuesday afternoon, making a last-minute pitch to voters outside an Arlington polling place:
Burton was elected in 2014, replacing Democrat Wendy Davis, who stepped down to run for governor. Senate District 10 covers much of Fort Worth south of Interstate 30, along with Arlington and parts of Northeast Tarrant County, including Burton's hometown of Colleyville.
Long wait times? Provisional ballots? What people are Googling on Election Day
:
Here's an interesting tool from Google – what are the top Election Day search terms? In North Texas, and across the country, "long wait times" and "provisional ballots" are gaining the most traction, along with "inactive voter status" and "voter intimidation."
Election rewind: Throwing it back to 1958
:
Our political reporter Jason Whitely posted this gem of a photo from WFAA's 1958 midterm election coverage. (Democrat Ralph Yarborough won that year's U.S. Senate election, by the way). Thankfully, we have automated elections results now...
It's voting day in Texas: Let WFAA know if you run into a problem while trying to vote
:
All eyes are on Texas today as voters cast their vote and judgment on one of the most-watched races in the country. On the heels of a record-breaking early voting total, WFAA's Hannah Davis shared video from a polling location in Tarrant County where the parking lot was filled with cars and a small line had already formed at the entrance before the doors opened. If you run into a problem while trying to vote today, share your story and polling location information with WFAA and one of our journalists from our Verify team will look into the issue. Download the WFAA app or click here to get to the form.
Beto O'Rourke on his chances today: 'I feel good!'
:
WFAA reporter Teresa Woodard captured video of Beto O'Rourke as he walked into his polling place this election day at El Paso Community College with his wife and three kids. About his chances today: 'I feel good!'
Ted Cruz voted in Houston during the early voting period.
Final day of campaigning: Where are Beto and Cruz?
:
The final push is here. The high-profile race for U.S. Senate on Monday saw Beto O'Rourke making stops in Houston (House of Blue's) and Dallas (Magnolia Hotel). O'Rourke was heading home to El Paso for a final rally Monday night.
Cruz was in the Houston area, at first in Pearland and Cypress. He was scheduled to have a final rally alongside Lt. Gov. Dan Patrick at the Redneck Country Club in Stafford on Monday night.
NYT poll: Colin Allred up by four points over Pete Sessions
:
While Ted Cruz vs. Beto O'Rourke has drawn the most attention, one of the most competitive Texas races is right here in North Texas: Republican U.S. Rep. Pete Sessions vs. Democratic challenger Colin Allred for House District 32, which consists of a large swath of north and east Dallas, along with the Garland and Rowlett area.
The poll was conducted from Oct. 29 to Sunday, and 477 people were surveyed. Here's what the Times had to say about the result:
"Our poll is a decent result for Democrats. But remember: It's just one poll, and we talked to only 477 people. Each candidate's total could easily be five points different if we polled everyone in the district."
WFAA's Jason Whitely spoke with both candidates for a story last week:
U.S. Justice Department sending election monitors to Tarrant County polls
:
The Justice Department on Monday morning announced that it will be sending election monitors to 35 cities and counties – including Tarrant County – on Election Day to ensure compliance with federal voting rights laws. Harris and Waller counties in the Houston area were also on the list:
The Justice Department didn't say why the election monitors were going to those specific locations.
Tarrant County has had several recent voting-related criminal cases. Earlier this year, a woman was sentenced to five years in prison for voting in the 2016 election while on supervised release from federal prison. Just last month, a former Tarrant County Democratic Party leader was indicted on voter fraud charges, accused of paying other women involved in an alleged voter fraud ring.
Texas Attorney General race showing signs of competitiveness?
:
Attorney General Ken Paxton won comfortably in his initial election bid in 2014, and despite being indicted on securities fraud charges in 2015, he ran unopposed in the Republican primary in March. But could Paxton be facing a challenge from Democratic challenger Justin Nelson?
Nelson, an Austin attorney, has focused heavily on Paxton's indictments. Now Paxton is firing back with a new attack ad, as the Texas Tribune reported Sunday night. The Paxton ad says "liberals abused our courts to attack" him and that Nelson is "running false ads to hide his own radical agenda."
Nelson, in a statement to the Texas Tribune on the ad, said Paxton "is desperate and running scared."
Our political team – reporter Jason Whitely and producer Berna Dean Steptoe and the Star-Telegram's Bud Kennedy – broke down the attorney general's race here:
Early voting totals shatter 2014 marks
:
More than twice as many Texas voters, by percentage, cast ballots during early voting this year, compared to the totals from the 2014 midterm elections, according to the Secretary of State's office.
Early voting ended Friday and already 4,884,528 (39.86 percent of voters) have gone to the polls or mailed in a ballot. In 2014, 1,715,731 (19.11 percent) early voted.
The most impressive early voting number came from North Texas, where 49.39 percent (286,393) of all registered voters in Collin County went to the polls early. That was the highest percentage of early voters in the state. Go here for the county-by-county voting totals from across Texas.
Here's a breakdown from the Texas Tribune of the early voting totals in Tarrant and Dallas counties, compared to previous elections:
Cruz in Collin County: 'We need to triple the U.S. Border Patrol'
:
One of the biggest issues of the elections is immigration, and Cruz harped on the subject again Sunday night at a campaign stop in Fairview. It was Cruz's second stop of the day in North Texas (see below) and he reiterated his support for a border wall and more security along the border.
"We need boots on the ground, which means we need to triple the U.S. Border Patrol," Cruz said.
"Where's Beto O'Rourke on immigration? He says he thinks we have too many border walls and fences as it is – we need to tear down the walls we already have."
O'Rourke has also tweeted that "we already have a border wall that we don't need," referring to sections of walls and fences along the border. "Don't need more walls and militarization at a time that the border has never been safer."
Cruz draws big turnout in North Texas
:
Cruz had scheduled stops in North Texas on Sunday in Bartonville in Denton County and Fairview in Collin County. From the looks of it, the crowds were big at his first stop at Marty B's, a barbecue restaurant with a large outdoor patio. Check out the Tweets below from the Star-Telegram's Bud Kennedy. Cruz won more than 64 percent of the vote in Denton County in 2012.
Cruz and the campaign later went to another conservative stronghold in Fairview in Collin County, where he also carried more than 64 percent of the vote in 2012.
O'Rourke in Austin: 'We should spare no expense' for veterans
:
O'Rourke also spent Sunday speaking to a large crowd, in Austin. At one point in his speech, he strongly emphasized support for veterans.
"We should spare no expense, bear any burden, for those who stood up for us," O'Rourke said, according to a video posted on his Twitter account.
When talking about the service members still stationed in Afghanistan, Iraq and other countries, O'Rourke said the U.S. "should be willing to ask the following questions: What is victory in these countries? What is our strategy to achieve it?"
"If we're unwilling to answer the questions or even ask them in the first place, then let's not only not start another war, let's end the wars that we are in and bring our soldiers back home."
Incoming: Even more campaign ads
:
Think there's been a lot of campaign ads on television over the last several weeks? Get ready for the final push. Campaigns will be flooding the airwaves over the next 48 hours, with some, of course, ramping up the attacks. Political consultants Matt Angle, a Democrat, and Vinny Minchillo, a Republican, joined WFAA's Inside Texas Politics on Sunday to discuss which candidates are in trouble and which mistakes are being made in the ads.
O'Rourke block walks in Dallas
:
O'Rourke spent part of Saturday in Dallas, block walking. He later spoke downtown at the Black Tie Dinner, the nation's largest LGBTQ fundraising dinner. O'Rourke is scheduled to return to North Texas on Monday.
Cruz at women's rally in Houston
:
Cruz spent Saturday at a women's rally alongside his wife, Heidi, his mother, Eleanor Darragh, and Texas First Lady Cecilia Abbott. Cruz later rallied Saturday in Victoria and Corpus Christi.
This is a live blog that will be updated continuously through election night Tuesday. Check back for updates.