Nine-year-old Hallie Scruggs was among the six who were shot and killed on Monday morning at The Covenant School, a Presbyterian school.
The victims were identified as Hallie, Evelyn Dieckhaus and William Kinney, all 8 or 9 years old, and adults Cynthia Peak, 61; Katherine Koonce, 60; and Mike Hill, 61.
The suspected shooter was identified as Audrey Hale, 28.
Hallie is the daughter of Chad Scruggs, who is a pastor at Covenant Presbyterian in Nashville.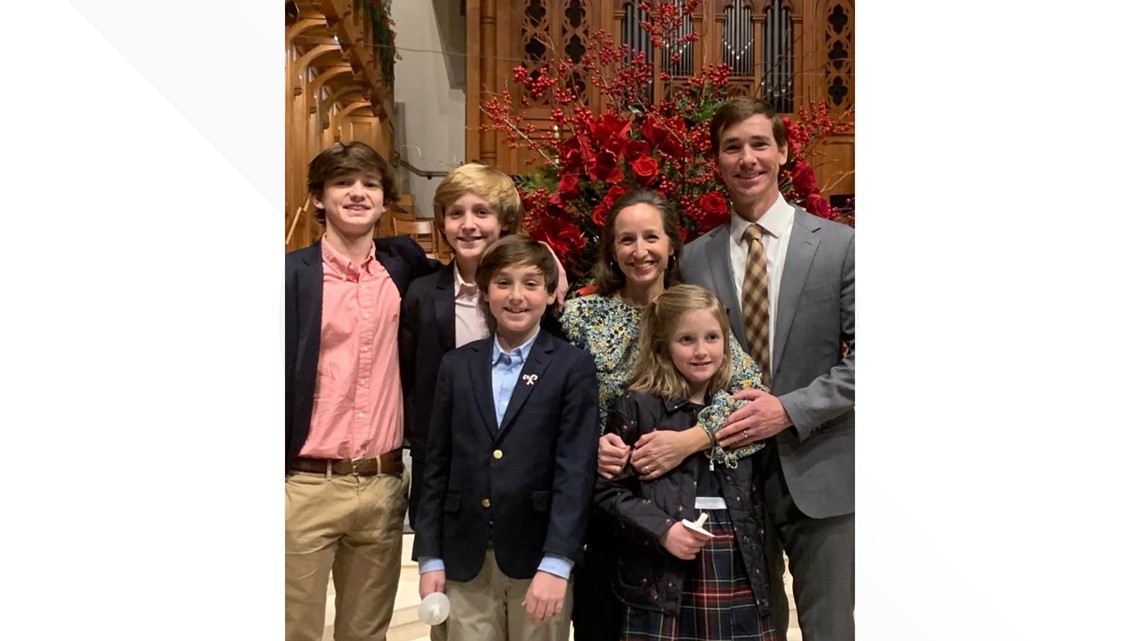 Scruggs spent almost six years as associate pastor at Park Cities Presbyterian Church in Dallas but lived in the city for 12 years, working previously at SMU.
Hallie was the youngest of Chad and wife Jada's four children.
"They are so deeply connected to this [church] body," Mark Davis, senior pastor at Park Cities Presbyterian, told WFAA.
"Even now, members of our church are flying to Nashville to be with them. The impact they had here was enormous," Davis added.
Davis said Hallie visited Dallas a few weeks ago when Park Cities Presbyterian invited her father to return as a guest preacher.
The sanctuary was full, Davis said, as it always was when Scruggs preached.
Tuesday, the church held a prayer service both for the Scruggs family and the family of Cynthia Peak. Peak was a TCU alum, and her sister is a member at Park Cities Presbyterian.
"Oh [we're] heartbroken. We were just devastated in thinking so much of Chad and Jada," Rebecca Lutz, a church member said. "We loved Chad so much when he was here. He was an amazing pastor and we're all just very very sad but not without hope."
Ann Claire Carlson also attended the prayer service. She was Hallie's Sunday School teacher when the family was still in Dallas.
"My heart broke for them," Carlson said. "Many people knew them and loved them so I'm sure it's a significant hurt and loss for all of us."
"All four of their children had that radiance, we talk about the radiance of Christ, even at a young age," Davis said.
"They're gifted children, they really are," he said. "But they're godly children."
Davis said he spent about 20 minutes on the phone with Scruggs on Monday, just hours after his daughter had been killed.
He called it a conversation between brothers.
"We really love each other," Davis said to WFAA.
He said he heard in Scruggs' voice a remarkable sense of despair and a deep sense of faith.
"I listened to him lament. I listened to him also say, we know she's in the arms of Christ and we know He loves her more than we did," Davis said.
Just three weeks ago, Scruggs had shared a sermon in Nashville on conquering death.
"The shadow, the sting and the possibility of death will be no more. The night of weeping will end," Scruggs preached. "If you are doubting his love for you, if you are struggling with his authority in the midst of sadness and confusion, let the cross speak to you again."
Covenant Presbyterian School has about 200 students from preschool through sixth grade, the Associated Press reported.
Police said the suspect had drawn a detailed map of the school, including potential entry points, and done surveillance before killing the three students and three adults.
Hale was killed by police responding to the scene and was believed to be a former student at the school.
Nashville Police Chief John Drake did not give a specific motive when asked by reporters during press conferences Monday but gave chilling examples of the shooter's prior planning for the targeted attack.
"We have a manifesto, we have some writings that we're going over that pertain to this date, the actual incident," he said. "We have a map drawn out of how this was all going to take place."
The Associated Press contributed to this report.