WASHINGTON — While some may call Aaron Rogers' torn Achilles bad luck, or just one of the dangers of being a professional football player, some believe there's a different explanation, one that's right underfoot.
An MRI on Tuesday morning confirmed that Rodgers suffered a complete tear of his left Achilles tendon, coach Robert Saleh announced Tuesday. That means Rodgers' season is done after just the fourth snap of his Jets' career.
Almost immediately after Rodgers' injury, some raised the possibility that the artificial turf at MetLife Stadium could be to blame.
Green Bay Packers offensive tackle David Bakhtiari criticized the NFL for using turf, calling on the league to bring back grass to all of the fields.
"Congrats @nfl," Bakhtiari wrote on X, formerly Twitter. "How many more players have to get hurt on ARTIFICIAL TURF??! You care more about soccer players than us. You plan to remove all artificial turf for the World Cup coming up. So clearly it's feasible. I'm sick of this. Do better!"
About half of the 30 NFL stadiums around the country have artificial turf, while the rest use real grass. Even though it's easier to maintain, the artificial turf has always gotten mixed reviews from players.
Cam Worrell, who played for six years in the NFL, offered his take on social media, indicating he also thought the turf caused Rodgers to slip.
"You can clearly see Rodgers foot slide through the infill before he tears his Achilles. Result of not using enough turf fiber for stability," Worrell wrote, adding in a follow-up post: "I really hope Aaron Rodgers is ok, but I fear this subpar Met Life turf has claimed another victim."
There has been no confirmation from either the Jets or the NFL about whether the conditions on the field contributed to Rodgers' injury during the sack.
The turf at the MetLife stadium has always been especially notorious for causing injuries, and was replaced earlier this year in an attempt to prevent more. In the preseason, players from both the Jets and the Giants (who both call the stadium home) gave it positive reviews.
"I'm a fan of grass, for sure. Got to admit that. I like wearing seven studs and playing on grass, but I feel like the field — it's supposedly the newest and the greatest," Rodgers told ESPN during the preseason. "It's our surface, so we're going to enjoy it. I've always felt a little faster on turf, so I look forward to that."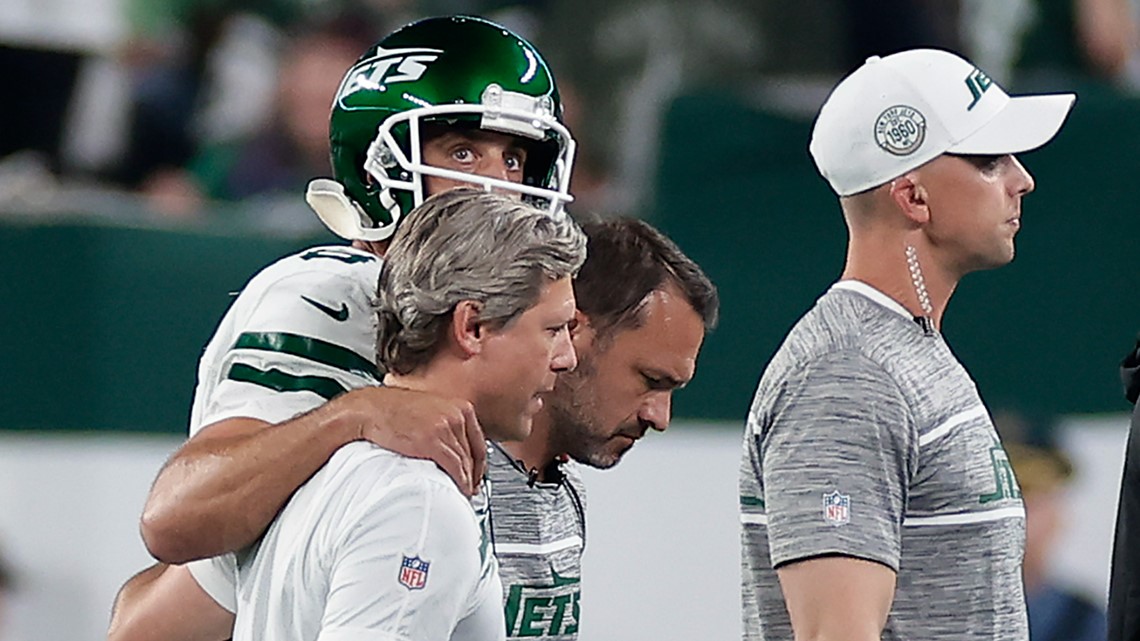 "I do think it's time to go all grass throughout the league," he said. "It's about cost. I don't know how much that would cost. ... But the league's been doing pretty well."
Even at the time, Rodgers acknowledged that the ask was unlikely.
"I don't have a lot of confidence when it comes to the league making that decision without some sort of big vote and gripes from certain owners who don't want to spend the money," he said. "This would be putting your money where your mouth is if player safety is important."
The NFL maintains that injury rates are approximately equal on grass and turf fields.