FORT WORTH – The family of a 72-year-old grandfather killed by Fort Worth police in his own garage in May 2013 filed a federal suit Tuesday against the City of Fort Worth and seven officers.
The suit describes a series of errors and alleged policy and procedure violations that led two rookie officers to confront 72-year-old Jerry Waller inside his own garage after the responded to the wrong address on an audible alarm call.
Waller was armed with a revolver to investigate noises in the darkness. He was confronted by Fort Worth Officer RA Hoeppner, who told investigators he was unsure if Waller was the homeowner or a burglar. Another officer, Benjamin Hanlon, entered the garage and both officers say they told Waller to put down his gun.
The 72-year-old set the gun down on his car and stepped back, but Hoeppner told investigators as he took a "half-step" towards Waller, the homeowner "scrambled" for the weapon and pointed it at the officer.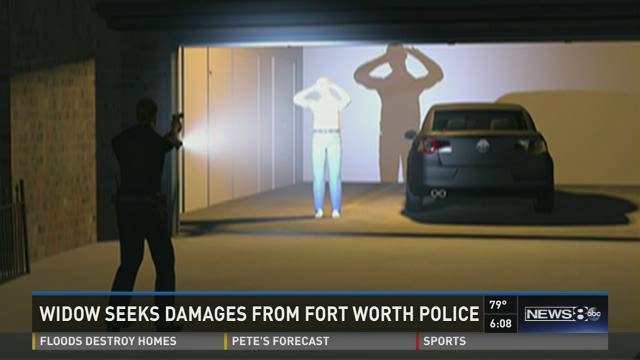 Hoeppner told investigators he felt like his life was in danger and shot Waller six times.
In January 2014, a Tarrant County grand jury declined to indict Officer Hoeppner for the shooting.
Later that week, the Fort Worth Police Department released the findings of their investigation.
Attorney Art Brender stood Tuesday with Waller's widow, Kathy. Brender said blood evidence and the angles of bullet wounds prove that Jerry Waller could not have been holding a gun when he was killed, as officers claimed.
Brender also said officers moved the body before calling the medical examiner.
"The only thing I can think of is they were trying to position the body before they called the medical examiner in a way that would somehow fit their goofy theory," Brender said.
Kathy Waller said she saw her husband on the garage floor with his arms out, as if to break his fall. She said what she saw that night did not match police crime scene photos released later.
She also said responding officers should have clearly seen that they were at the wrong house, because the address on the curb had just been repainted two weeks before the shooting.