RICHARDSON — An independent investigator has cleared Richardson Mayor Laura Maczka of any ethics violations.
The ruling followed calls for Maczka's resignation over an alleged relationship with a developer at the time of a critical zoning vote.
But the mayor isn't in the clear just yet; the investigator found that she may have violated public information laws by attempting to withhold critical records from WFAA.
Critics and supporters of Maczka filled the City Council chambers on Tuesday night to hear the results of the investigation into complaints filed last month. Residents had accused the mayor of carrying on an unethical relationship with developer Mark Jordan while Jordan's firm was asking the Council to vote on a zoning issue involving his Palisades development.
"Laura, the scandal involving you and your boyfriend/employer Mark Jordan... it's going to go away," said Ginny Clark, addressing the mayor at Tuesday's meeting.
Will Silverthorn had a different view. "The citizens have seen who you are: A liar and an opportunist who seeks to benefit for your own personal gain," he said.
News 8 had uncovered e-mails indicating the mayor and the developer had a personal relationship that both had apparently tried to keep under wraps. In one e-mail, Mayor Maczka told Jordan she was "taking bullets" for him in defending his planned development in front of a mob of upset homeowners.
But the special investigator told the City Council on Tuesday that written correspondence does not constitute an ethics violation.
Mayor Maczka did speak in her own defense and denied violating ethics or criminal laws.
"I also want to be very clear: My decision on Palisades zoning — and candidly, any other zoning that has come before me — was not influenced by that relationship or any relationship," she said.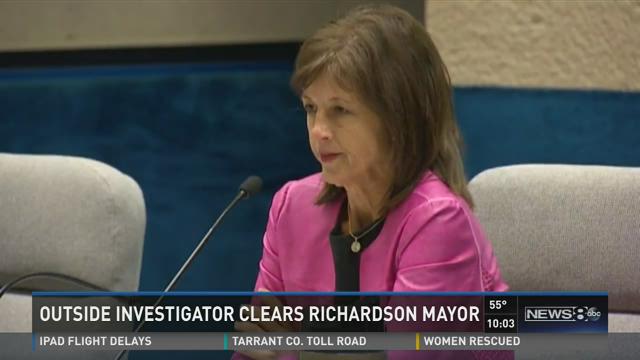 While the investigation did not find any violation of ethics codes, it did find that the mayor might have failed to turn over e-mails to News 8 in violation of the Texas Public Information Act.
The findings will be turned over to the Dallas County District Attorney's office for possible prosecution.