On a cold, rainy day this past February, Jed Allsup saw something that caught his attention.
Allsup spotted natural gas bubbling out of the pools of water in the alley behind his Northwest Dallas home.
An Atmos crew arrived and briefly studied the various leaks. An Atmos employee told Allsup a crew would return in five days to fix it.
Allsup told WFAA that he did not recall seeing the Atmos employees do any kind of digging or leak probe in or around the leaks.
"I said, 'Don't you think gas bubbles out of the ground is a priority?'" Allsup remembered. "He (an Atmos employee) said, 'Well, we have five-day work orders, we have 30-day work orders, 60-day work orders.' And I said, 'Well, I guess five days, if that's my fastest option.'"
"Isn't that crazy?" he can be heard saying on the video, as flames burst up through the pools of bubbling water.
He laughs often in the video. But he now realizes the bubbling gas was far from funny.
Allsup shot the video just hours before the first of three house explosions only blocks away.
The third explosion killed 12-year-old Michellita Rogers.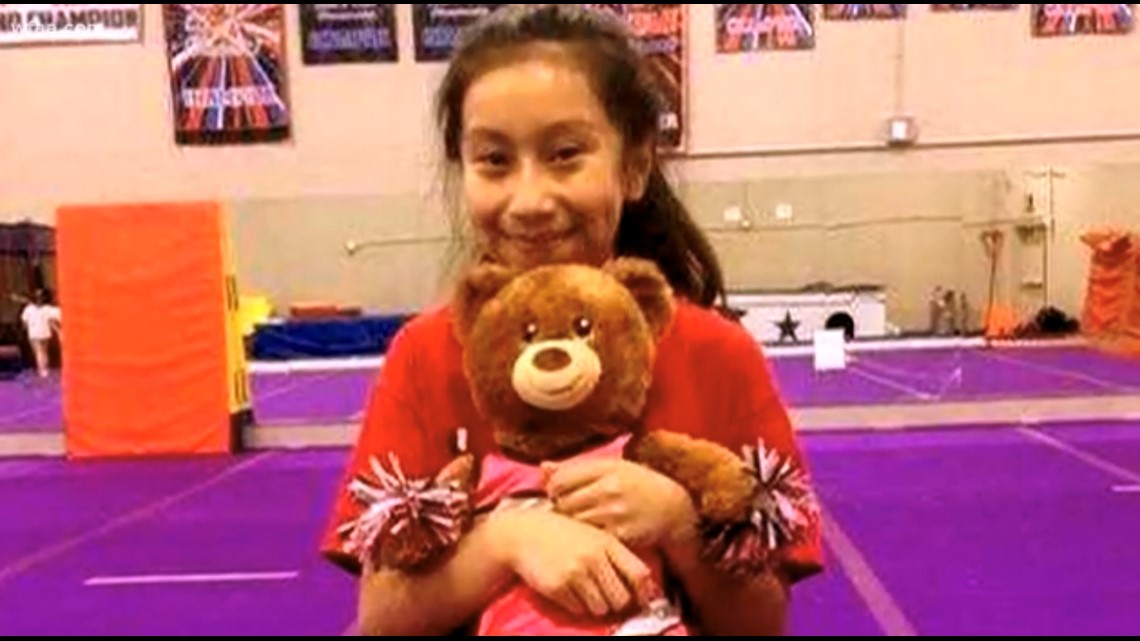 "I don't know what I'd do if I lost one of my kids," said Allsup, a father of four. "That's devastating. That's crazy."
A WFAA investigation found Atmos may often be slow to fix leaks – including some of the most serious – and that the company has lost or can't account for tens of millions of dollars of natural gas flowing through its system.
Atmos officials declined an on-camera interview with WFAA.
But advocates and public officials told WFAA that a lax regulatory system fails to hold companies like Atmos accountable for the potential danger to the public.
"The Texas Railroad Commission is supposed to regulate Atmos energy and they do a very poor job of it, almost don't do anything," said attorney Ted Lyon, who represents Michellita Rogers' family.
Lyon and others point out Atmos did not evacuate the Rogers' neighborhood until after the third gas explosion, which killed Michellita.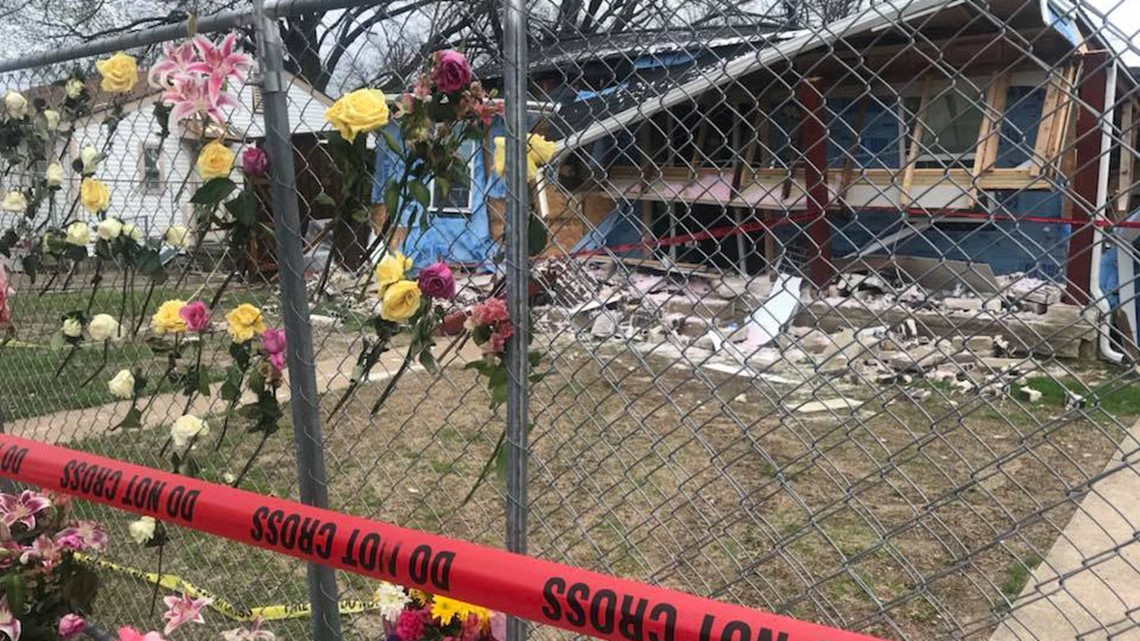 Her death spurred Atmos to embark on an unprecedented mass effort to replace gas mains and gas service lines in Northwest Dallas.
Yet, Atmos reports that more than a third of its pipes in the Mid-Tex division were installed prior to 1940. Nearly 500 miles of the older pipe in Dallas is cast iron, which deteriorates over time.
Unlike Dallas, cast-iron pipe in other cities like Houston already has been removed.
Allsup's leak was among the more than 5,300 North Texas gas leaks reported by Atmos in the first half of 2018. About 2,600 of those leaks were the most serious type, known as "Grade 1" leaks.
Texas pipeline regulations require gas companies to repair "Grade 1" leaks "immediately."
A WFAA review of Atmos reports found that on average the company took two-and-half days to repair "Grade 1" leaks. The review, however, also found that 160 of those most serious Atmos leaks took a week or more to fully repair.
One Dallas County "Grade 1" leak took almost five months to fix, according to Atmos reports.
"Leaks don't heal themselves," said Don Deaver, a pipeline safety expert who has been hired by Michellita's family. "They're like people. You get worse with time. You get worse with age and with stress."
Atmos also may have been slow at times to fix less serious "Grade 2" leaks, according to their own reports filed with state regulators.
The "Grade 2" leaks are required to be repaired within six months. Yet, the WFAA review found dozens of "Grade 2" leaks in North Texas that the reports indicate went unrepaired far longer.
So, what about Allsup's leak?
Atmos classified it as a "Grade 2," according to its report. Again, that meant they would have had six months to fix it. But was it incorrectly classified as a less serious "Grade 2"?
Deaver watched Allsup's video. He said if a leak can be seen or heard, is bubbling, or can be lit on fire, it should be classified as a more serious "Grade 1" leak.
He claims classifying the leak as a "Grade 2" shows an "indifference to the people and to this man and everyone else in the Dallas area."
Under Texas Railroad Commission rules, gas companies are required to take "prompt action to eliminate hazardous conditions" on "Grade 1" leaks. That includes "implementing an emergency plan" and "evacuating premises."
While Atmos officials declined an in-person interview, the company did answer questions via email.
In a written statement, the company said since 2005, it has spent $3 billion "to modernize our infrastructure" in the Mid-Tex division, which includes Dallas area. The company also plans to spend an additional $3 billion over the next five years.
Atmos added: "Today, our capital spending is the highest in the state and is among the highest of our peers in the nation. Even so, it will take time to modernize infrastructure that was put in place over four generations.
Atmos also said that pipeline age is not the greatest threat to safety.
"Our experience confirms that the age of the pipe involved is not the greatest threat to our system," Atmos said in a written response. "The greatest threat to our system is third party damage. Approximately 70 percent of Mid-Tex's hazardous leaks are caused by excavation damage. Nearly 75 percent of our reported incidents, including some serious incidents involving fatalities, involved third party damage or other outside forces."
In the meantime, however, gas continues to leak from their pipeline system.
One indicator of the degree of leakage can found in what's called a "lost and unaccounted for gas" report – which companies say are the difference between the amount of natural gas purchased by the gas company and the amount sold to customers.
WFAA discovered that since 2010, according to its own reports, Atmos lost or couldn't account for an estimated $98.6 million worth of natural gas in its pipelines in Dallas County alone.
That's 9.7 billion cubic feet of natural gas.
"It is a real big indication of the magnitude of the hazard that's out there," Deaver said.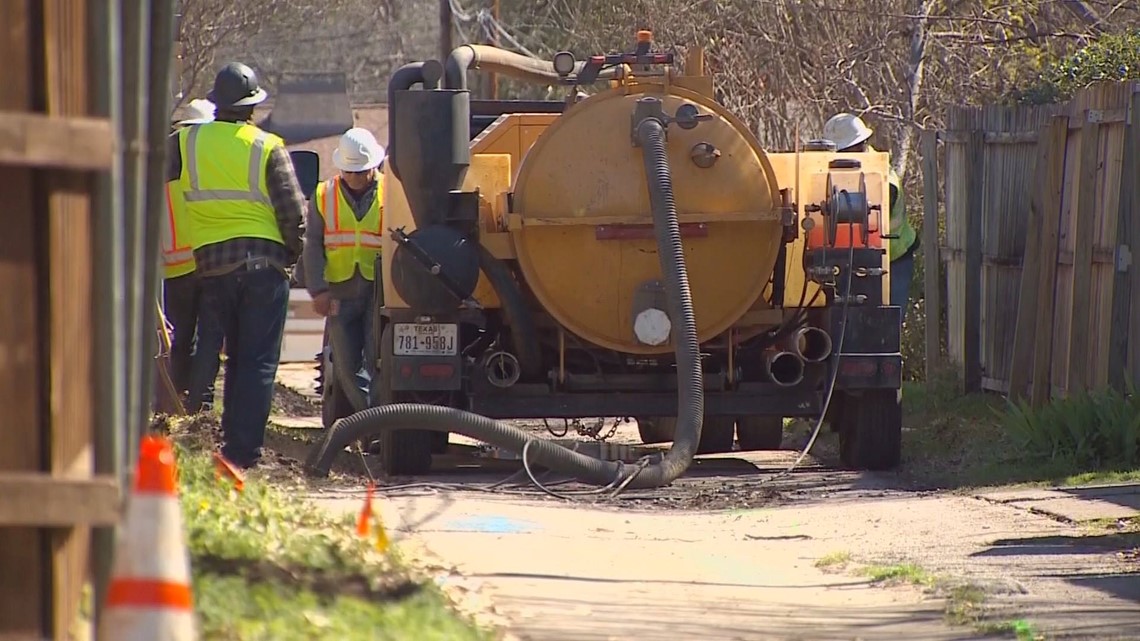 So how does that compare with other big Texas cities like Houston, for example?
Reports filed with state regulators show that in 2016, Dallas had a leakage rate twice that of Houston. CenterPoint Energy supplies the Houston area with natural gas.
The leakage comes while other U.S. cities have experienced troubling emergencies.
In September, a devastating gas explosion caused from leaks from a pipeline system operated by a New England company made a town look like it had been hit by a bomb.
One person was killed and at least 21 others were taken to the hospital from explosions and fires when high-pressure natural gas was released into a low-pressure gas distribution system near Boston. In all, five homes were destroyed, and another 100 homes were damaged. The company, Columbia Gas, is now replacing all cast-iron and bare steel pipe in the damaged neighborhoods.
In its review, WFAA also found nine Texas communities where Atmos lost, or could not account for, 20 percent or more of the natural gas flowing in the pipelines of those towns.
What percentage of gas is leaking in your town? Use this map to find out.
In a written statement, Atmos said the missing gas isn't necessarily all caused by pipe leaks, and that a portion of it can be due to inaccurate gas flow measurements.
"[Lost and unaccounted for] gas results from a combination of measuring difference and unknown leaks," Atmos said in a statement. "What are the measuring differences? When natural gas is delivered to a customer, the volume is measured at the meter. However, pressure and temperature have a strong effect on the measured volume."
State law allows the company to "recover" the cost for much of the lost or unaccounted for gas - specifically, the cost of gas lost or unaccounted for up to a 5 percent leak rate.
Dallas County Clay Jenkins is demanding that Atmos move faster to modernize its North Texas pipes.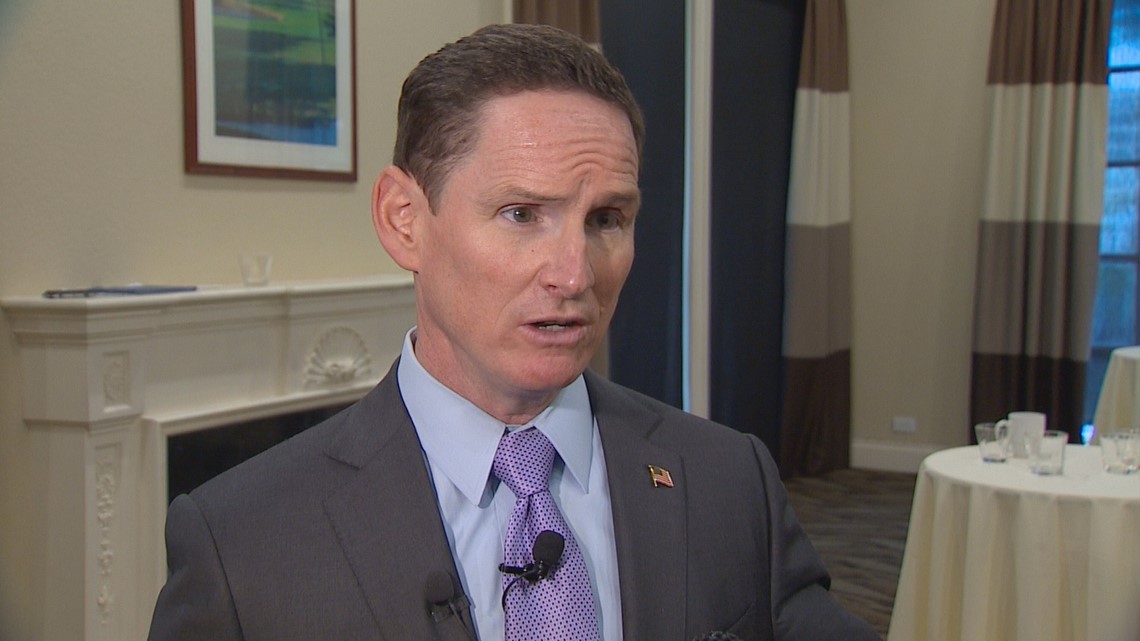 Atmos plans to replace about 500 miles of cast-iron pipe – most of it in Dallas – by 2021. But with more than a third of the Atmos pipe system more than 70 years old, Jenkins is concerned it is not fast enough.
He says that in many older neighborhoods in Dallas – East Dallas and Oak Cliff for example – the bare steel pipes running beneath the ground are more than 50 years old and have outlived their useful life.
He is also pushing Atmos to make publicly available an up-to-date, online map of Dallas County leaks.
"You need to know what's underneath your house of worship, your kid's playground, your neighbor's house," Jenkins said.
Jenkins, Deaver and various advocates blame a lack of state oversight for putting the public in danger.
"We have a very lax regulatory system here in Texas," Jenkins said. "The Railroad Commission gets their money from the companies that they regulate to run for office. And it seems they are very beholden to those companies."
Atmos paid $194,5000 in penalties over the past five years. If that sounds like a lot, consider Atmos earned about $3 billion in net income since 2005.
Questions about state oversight became an issue in an incident this past New Year's Eve.
In Irving, Atmos crews had been on scene for about eight hours trying to repair a leak near a home at the corner of O'Connor Road and Colgate Lane.
While crews worked, migrating natural gas ignited the pilot light in the furnace of a nearby home, according to fire investigators.
The house blew up. The sleeping family – including a woman and her 5-year-old son -- barely escaped.
Fire investigators would later determine that there was so much natural gas in the atmosphere that it was causing Atmos' backhoe to stall.
After the Irving explosion, Railroad Commission investigators found that the "Grade 1" leak had "not been continuously monitored to determine whether an evacuation was mandatory."
The Texas Railroad Commission's penalty to Atmos? According to records, it was $16,000.
A text message sent by a state Railroad Commission investigator to another investigator shortly after the fatal Dallas explosion may give an indication of the industry-friendly mindset, critics told WFAA.
In the message, the state investigator writes that a federal pipeline regulator was "always skeptical. To him operators are always guilty until proven innocent."
The attorney for Michellita's family told WFAA that change needs to occur.
"They (Atmos) needs to clean up their act before any more kids or parents or brothers or sisters or mothers or fathers are killed because of their leaking gas," Lyon told WFAA.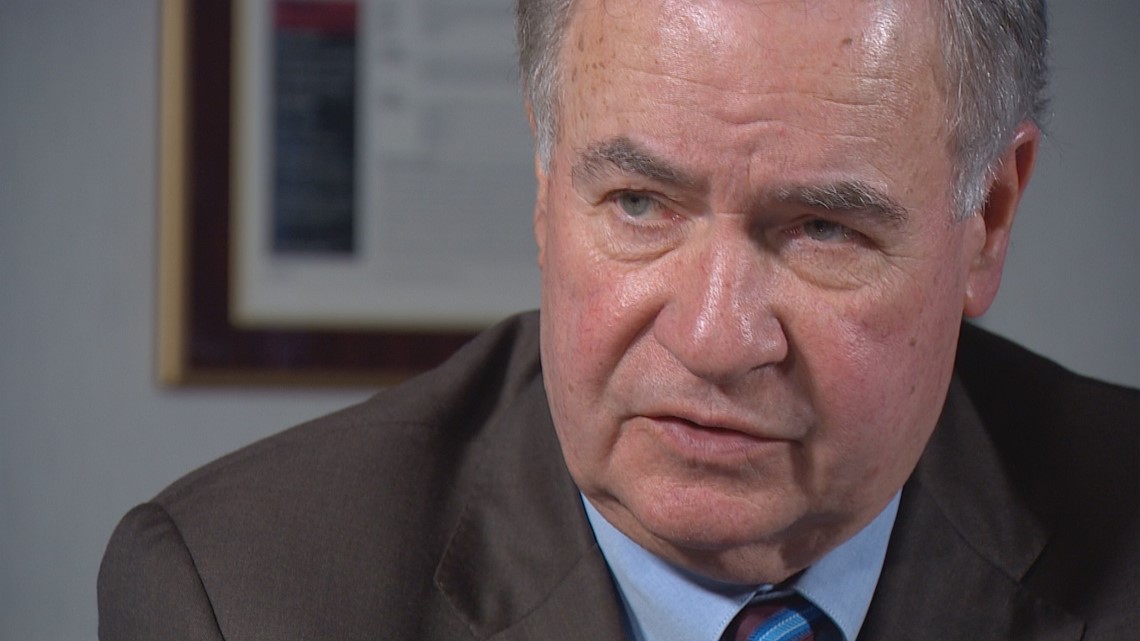 In written responses, Atmos officials say their gas pipeline system is becoming safer than ever – as shown in fewer violations and penalties found by state regulators.
"While we are being audited more frequently, the number of 'no violations' is increasing," Atmos said.
"…The RRC's rigorous enforcement process improves safety by ensuring the compliance of our procedures, practices, and training and thus making us better every day at safely operating our system," according to the response.
Recall that Atmos told Allsup that it would take five days to return to repair the leak behind his Dallas home.
After posting that video, an Atmos crew showed up within hours.
"Atmos got out here in a freaking hurry when I started posting bubbly, fiery stuff coming out of the ground," he said.
On a Facebook video, the distinct sound of spewing gas can be heard as Atmos fixed the leak. The first of three nearby home explosions would occur around the time they finished his repairs.
Atmos crews replaced the pipe behind his home, as well as his meter. New asphalt now covers the ground in his alley.
After learning about the fatal explosion of 12-year-old Michellita's house just blocks away, Allsup said he now realizes how much danger he and his family were in that day.
"God bless this family that lost their loved one," Allsup told WFAA.