To find out how big the problem is, we took a look inside the Drug Enforcement Administration's drug lab and vault and talked to those fighting this deadly crisis.
Inside the vault, in an undisclosed location, we found boxes piled up to the ceiling. Inside those boxes were drugs worth billions of dollars.
And the DEA says just one little pill from the mountain of drugs can kill you.
"It is by far North Texas' deadliest threat," said Eduardo Chavez, DEA Special Agent in Charge for the Dallas office.
We are talking about fentanyl, a synthetic opioid painkiller that is taking lives.
"I've been doing this for well over 20 years now and what I have seen with fentanyl is frankly scary," Chavez said.
Jamie Vasquez, a DEA forensic analyst, took us into the drug lab where they test the evidence that comes is seized on the streets. Many of the pills are labeled "M30" and are blue.
Last year alone, the DEA confiscated 11 million deadly doses of fentanyl in DFW.
The stuff is so dangerous there are warning signs inside the lab.
"We also wear N95 Masks when we are handling the evidence," Vasquez said.
That's because fentanyl in a powder form can be fatal if inhaled.
"So, fentanyl is 50 times more potent than heroin and 100 times more potent than morphine," Vasquez said.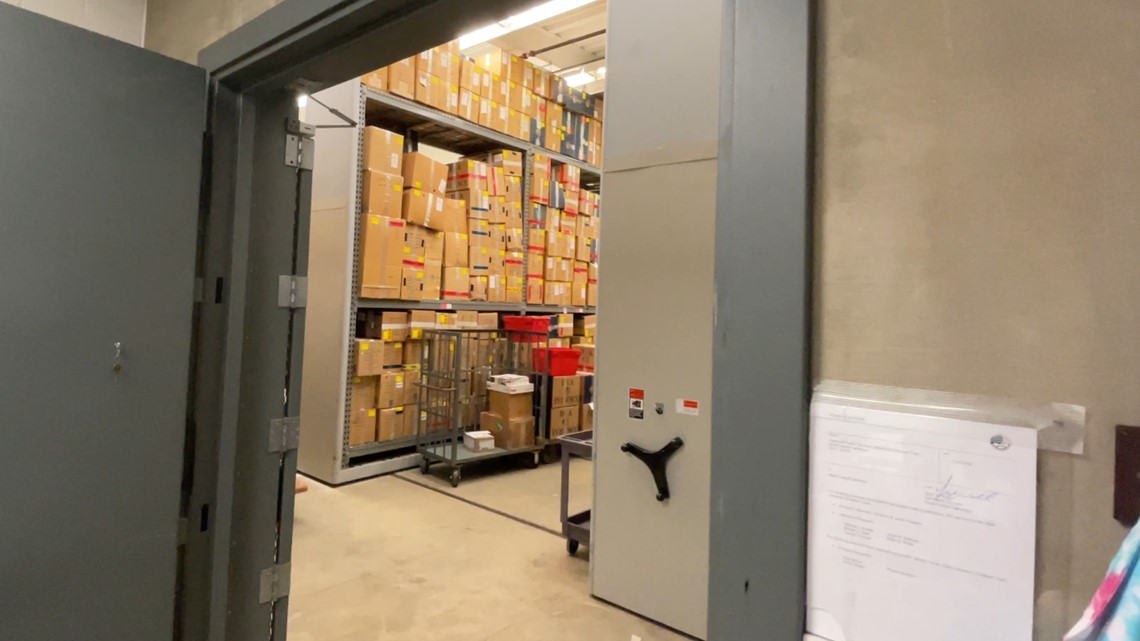 Just two milligrams is a deadly dose, Chavez said, using the example of a small packet of sugar.
"A sugar packet has enough deadly doses for 500 people," Chavez said. "It's just simply grains of substance."
The pills are typically blue and stamped with M30 on them made to look like real oxycodone pills. But these are laced with something deadly.
The Center for Disease Control estimates that more than 71,000 people died of fentanyl overdoses nationwide in 2021 and in Texas fentanyl overdose deaths have increase nearly 500 percent this year.
"We have investigated and have permeated every corner of the metroplex from suburban areas to gated communities," Chavez said.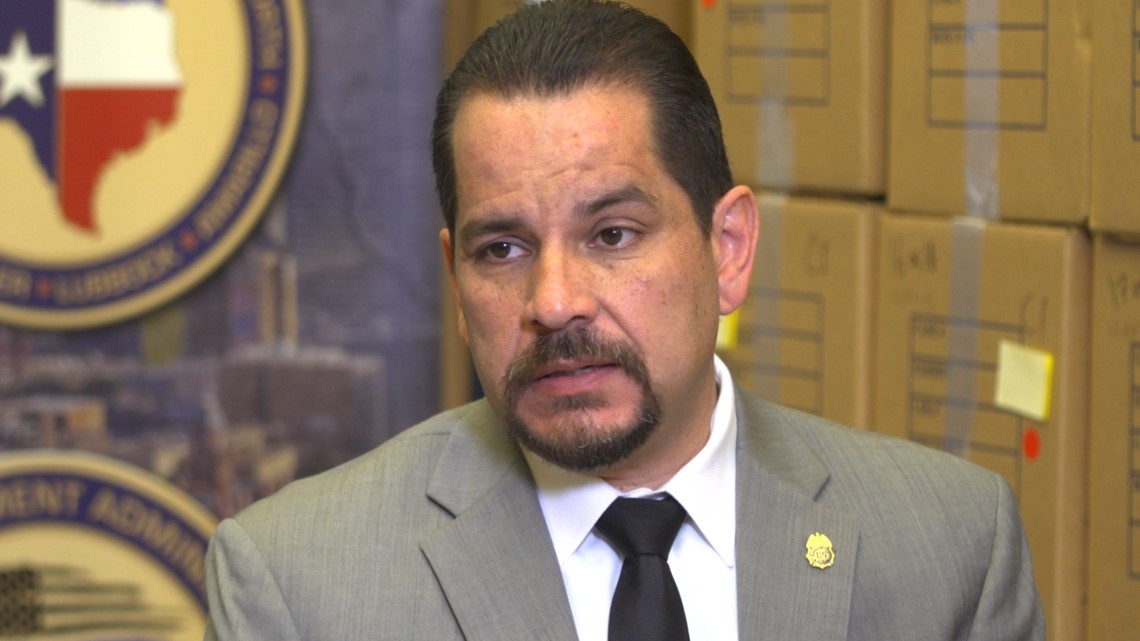 'My heart is broken in pieces'
The drug is really impacting teenagers in North Texas. In February, we learned three Carrollton teens died after police say they took pills laced with fentanyl and nearly a dozen more overdosed.
We spoke with a mom who asked us not to identify her. She said her teenage daughter nearly died from it.
"I cannot sleep, and my heart is broken in pieces because she was almost going to die," the woman said.
She said she had no idea her daughter was even taking the pills. He is now begging parents to pay closer attention.
"This is everywhere," she said. "We need to ask for help. We need to be attentive to our kids."
The DEA said, often times, the dealers who sell in schools are teenagers and use social media apps to attract customers.
But to find out where it's really coming from, you have to look to China, where raw fentanyl powder is made and then sold to Mexican drug cartels who press the powder into pills.
"Those cartels see it as profitable," said Chad Yarbrough, the Dallas FBI Special Agent in Charge.
Federal authorities said the biggest distributor of fentanyl in the U.S. is the notorious and powerful, Sinaloa Cartel, once run by Joaquin "El Chapo" Guzman, who is now in a U.S. prison. But authorities said his family is still very much in charge.
"They've broken the code to be able to try and make that raw fentanyl into pills that look very familiar to us," Chavez said.
While most of the finished product is coming from Mexico, the DEA said they are finding more pill presses when they are raiding homes.
Distributors use machines to press thousands of pills at a time.
"Even in the last six months, we have seized pill press operations here in the DFW area, where they are pressing fentanyl in their garages," Chavez said.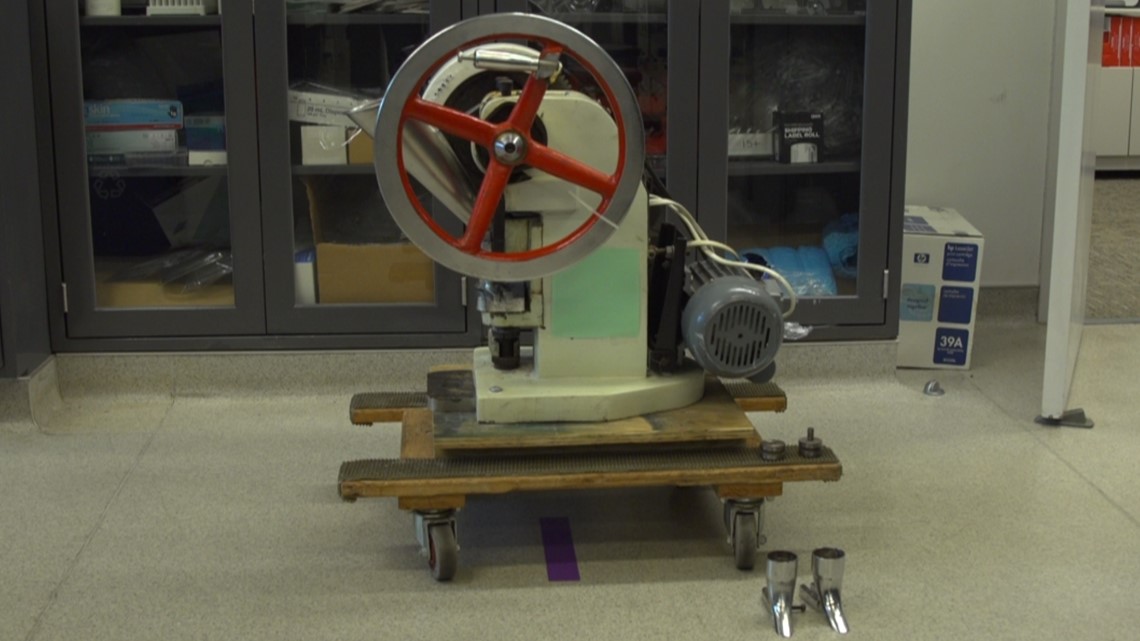 A big court case
There is a major drug case winding its way through the federal courts in Texas.
The DEA said it involves one of El Chapo's top suppliers, Rafael Galindo Gallegos, and his son, who based their operations in Plano and are believed to be some of the largest distributors of fentanyl in the U.S.
Court documents show that in November of 2019 the DEA raided a storage shed associated with Gallegos in DFW and found ledgers that "detailed 5.7 million dollars in U.S. currency and hundreds of kilos of narcotics that were distributed in DFW area alone."
The records also show the men were also supplying firearms purchased in the U.S and smuggled to Mexico.
"Those firearms were handed over to the Sinaloa Cartel to continue this ongoing drug war and to fight law enforcement and rival cartel members," the documents said.
The FBI said the blood and violence has also spilled into the U.S. and onto our streets.
"I will say when you have drug trafficking in your area, you have violence. It goes hand in hand," Yarbrough said.
Federal authorities said in 2010 Galindo-Gallegos ordered a hit on Raquel Ramirez. The mother of two was shot getting out of her driveway in Dallas after dropping off her kids at Bishop Lynch High school. Authorities said her husband, a suspected drug dealer, was taken to Mexico and assassinated.
The DEA said that while some may look at fentanyl as just pills, it takes blood and violence to get them onto Texas streets and into the hands of teens.
And those teens may not realize that just one pill kills.