DALLAS — The Dallas Zoo says its clouded leopard "Nova," who had been missing since early Friday morning, has been found.
The Zoo said Nova was spotted near her original habitat around 4:40 p.m. Team members were able to safely secure her just before 5:15 p.m. -- more than seven hours after they first reported her missing.
A Dallas Police Department spokesperson said during a 4 p.m. press conference that they believed the mesh fence surrounding the clouded leopard's enclosure was intentionally cut.
"Investigators looked at the area, and it is our belief this was an intentional act -- and so we have started a criminal investigation," DPD Public Information Officer Sgt. Warren Mitchell said at the press conference.
Mitchell said police don't know how the cat came up missing, but said they had dispatched a crime scene evidence team to investigate the scene. He added that police had reviewed surveillance video, but that they had not yet seen enough footage to share any information about what they have seen.
Police are encouraging anyone who knows anything about the incident or who may have seen anything leading to the clouded leopard's escape to call 911.
The saga began at around 10:15 a.m. on Friday, when the Dallas Zoo posted that it was closed "due to a serious situation." Zoo officials later added that they had issued a "code blue" for a "non-dangerous animal that is out of its habitat."
"One of our clouded leopards was not in its habitat when the team arrived this morning and is unaccounted for at this time," the zoo said in a statement on Facebook. "Given the nature of these animals, we believe the animal is still on grounds and hiding."
Dallas police quickly began assisting the zoo in its search for the Nova, who is 3 to 4 years old, officials said.
Multiple police units were on the scene, including officers with a drone.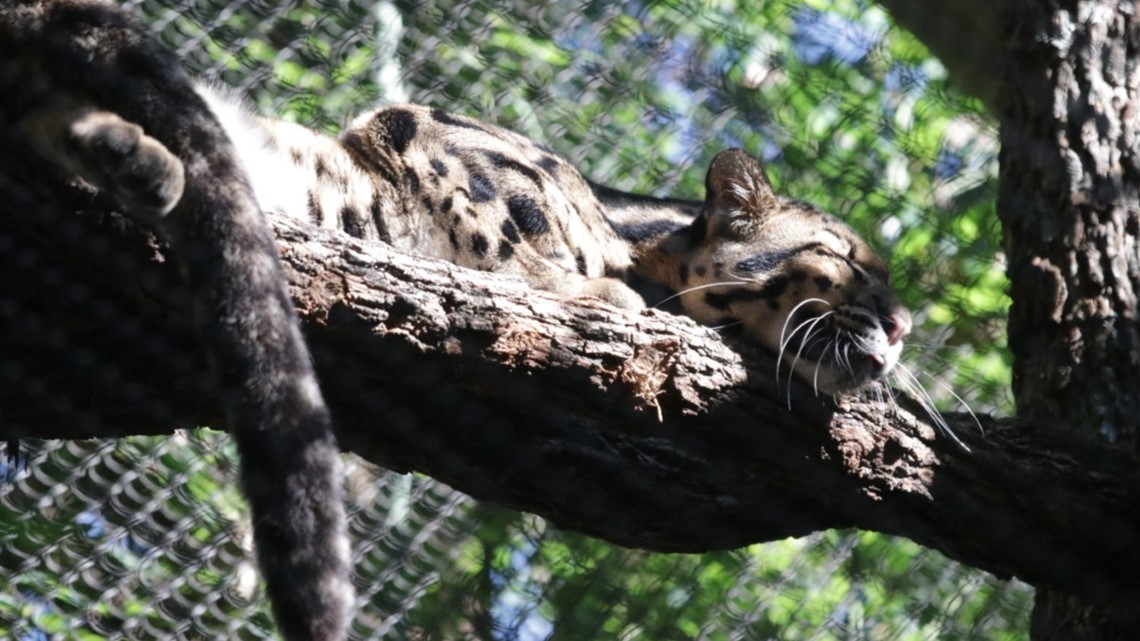 Harrison Edell, the executive vice president of animal care at the zoo, said zoologists discovered that Nova was missing Friday morning. Nova's sister, Luna, was found safe in the enclosure at that same time.
Edell said Nova, when scared, was likely to climb a tree, "hunt some squirrels and birds and hope not to be noticed."
"Thinking like a cat, she likely went straight up to the trees and has not come down," said Edell.
Zoo employees believed all along that the animal was still on zoo property, which is where Nova was eventually found.
Clouded leopards can weigh up to 50 pounds, although females are generally smaller, according to the Smithsonian's National Zoo & Conservation Biology Institute.
The Dallas Zoo last year released a video about the two clouded leopard sisters at the zoo, Nova and Luna.
Clouded leopards are native to Southeast Asia, according to the Smithsonian zoo.
"However, they are neither a true great cat nor a true small cat, because they cannot roar or purr," the Smithsonian zoo website said. "Poaching and habitat loss threaten this vulnerable species."