DUNCANVILLE, Texas — For a man without a background in the building trade, Alastair Howie is a fixture at DeFord's Lumber Company in Duncanville.
"We all have issues at some point," said Howie, a chaplain who was hired on here four years ago. "We don't leave them at home. We bring them to work. So, we see everything from marital issues, financial issues, addictions, all kinds of different issues."
Howie, who runs Chaplain 360, doesn't preach. He listens. His company is part of an emerging industry of for-hire chaplains who help corporate employees handle personal issues before they become distracting at work. It's designed to reduce absenteeism, as well.
"We're here to meet the needs of people. We're an employee care program not a religious program. That's the key takeaway," Howie added. "It's a great alternative to a traditional EAP [Employee Assistance Program] program. So instead of a 1-800 number, now you have the presence of a chaplain that's available to meet the needs of the people right where they are."
"Alastair comes in twice a week and he literally just walks around and lets you know he's there," said Barbara Wernli, the purchasing manager at DeFord's.
Wernli didn't expect what he would mean to her family.
"He would say, 'Now, you know I'm available for Glenn anytime," she said.
Glenn was her 44-year-old stepson stricken with a rare form of male breast cancer.
"We knew he was dying but we were both very heavy-hearted with the fact that he wasn't a Christian," Wernli said.
"He was put on morphine," Howie said. "He was given a short period of time to live, and the family and parents were told to say their goodbyes. About 24-hours later after the morphine, he comes to. And for whatever reason he did not pass, he reached out to his father and said to his dad, 'Could you send Alastair down here? I need to know how to get right with God.'"
So, with a small bowl of water at a hospital in Temple, Howie baptized Glenn in his wheelchair as his loved ones recorded the moment on mobile phones. In the video, Barbara's husband, Ed, gently placed a kiss on top of his son's head.
"He gave his life to the Lord," Wernli said emotionally.
Turns out, Howie later learned, Barbara's husband, Ed, was sick as well.
He had failing kidneys and was on the transplant list for almost two years.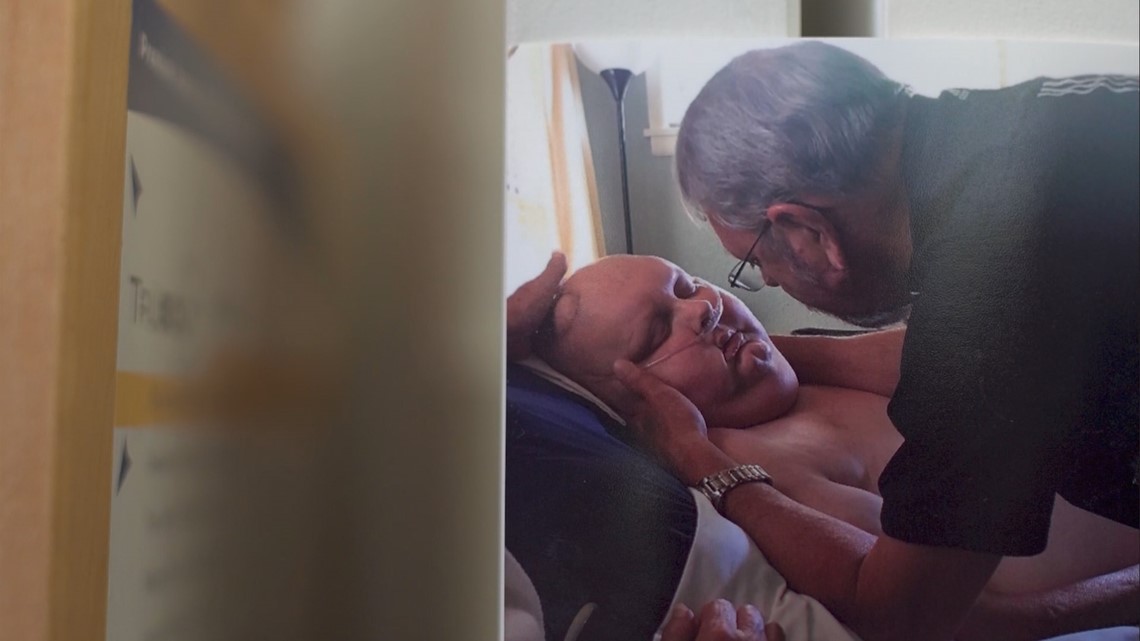 "I got to find out that he was on dialysis," Howie said. "And obviously, with the loss of his son, I began to feel a real empathy for him and started to pray to the Lord for a donor to come forward and increase his chances of getting further up the list."
But he later changed his prayer and sent Barbara a text.
"Barbara," he wrote. "I found out my blood type is A positive. If that's a possible match for Ed, I would be honored to be tested or screened as a possible donor for your wonderful husband."
"Alastair," she responded. "You are an amazing man but there are so many variables that go with that. Time and cost. Unfortunately, you don't have the time and we don't have the money."
"I've been praying for a while for this and I'm willing to go through whatever time or process for the chance that it may be able to help Ed," Howie texted back.
"God Bless you for the thought. I'm touched," she wrote him.
"I went home and read it to Ed and he just about fell to his knees," said Wernli emotionally. "It was something we didn't expect."
Before dawn at Methodist Hospital, a couple Fridays ago, Ed, Alastair, their families and fellow chaplains gathered for prayer.
With one prayer already answered, the two men only had to walk upstairs where surgeons would do the rest.
In a third-floor operating room, it took two teams four hours to remove Alastair's right kidney and walk it to the OR next door where Ed's doctors successfully transplanted it.
"Just for someone who's an acquaintance or friend to step forward truly is being their brother's keeper. This is where humanity transcends divinity," said Dr. Irfan Agha, a kidney transplant specialist at Methodist Dallas.
Two weeks after the transplant, Dr. Agha gave each patient an excellent prognosis.
"Both the kidney in the recipient and the kidney in the donor – the kidney that's left behind – increase in size and function a little bit. Between the two of them they would have actually grown another kidney more or less," Dr. Agha added.
His colleague, Dr. Silvi Simon, a fellow nephrologist at Methodist Dallas said there's a great need for living donors like Howie.
"It's very important. The waiting list is well over 100,000 donors," said Dr. Simon, "It really is the gift of life they are giving to these people. And from the donor perspective, they look at the mirror a couple weeks later and they don't even realize the kidney is gone."
"If it wasn't for my son, Alastair and I wouldn't be as close as we are," said Ed. "I'm thankful for God. I'm thankful for Alastair – for that nice organ that he gave me."
Alastair Howie ministered to one generation and saved the life of another – a workplace chaplain who's not only meeting spiritual needs but physical ones, as well.